Why There Are No Women In The Kentucky Derby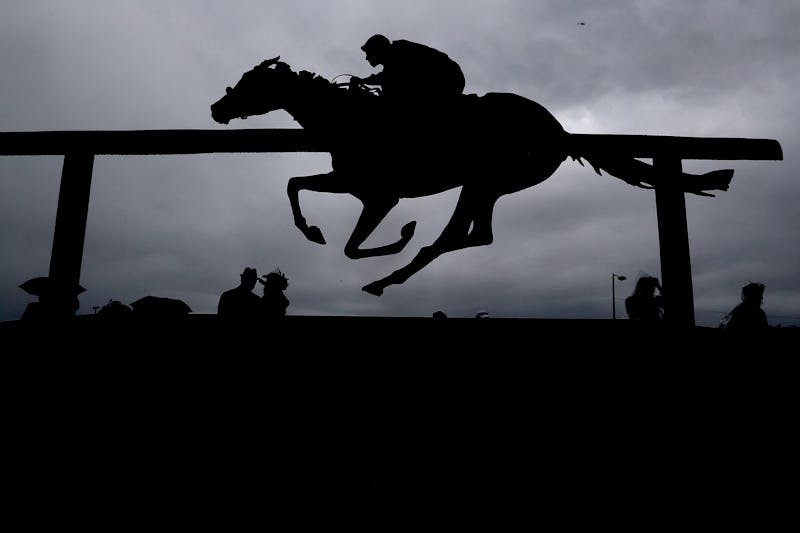 Patrick Smith/Getty Images Sport/Getty Images
In 1970, Diane Crump became the first woman to compete in the Kentucky Derby, breaking into what is now one of the only professional sports in which women and men face off. But since Crump's historic ride, there hasn't been the kind of sweeping change that many hope for within the sport. Men still vastly outnumber women as jockeys, and it's even more uncommon to see women on the track of a Triple Crown event. This year, there are no women riding in the Kentucky Derby.
That, unfortunately, isn't that uncommon. As Paul von Hippel, Katherine Keyes and Caroline Rutherford noted in an opinion piece for CNN, there have only been six women — including Crump — to ride in the famed run for the roses. Rosie Napravnik, the only woman to make an appearance in all three of the Triple Crown events, was the last woman to ride in the derby, taking a ninth-place finish in 2011 and fifth place in 2013. She retired three years ago and will be watching this derby from the stands as Girvin, the horse she's helped train with her husband, competes. That means that no woman has been on the been in the big show at Churchill Downs in four years.
As the CNN op-ed notes, this is bizarre for a few reasons. Jockeys are, perhaps, the slightest of athletes, short and light so the horse can run without a ton of excess weight. In the Kentucky Derby, horses carry 126 pounds, which includes around 7 pounds of gear. That means that rides can't weight more than 119 pounds. From the piece: "Between ages 16 and 30, there are 5.2 million women in the United States who weigh less than 120 pounds, versus just 800 thousand men — so jockey-weight women outnumber jockey-weight men by seven to one."
Increasing women in the sport would not only make strides toward gender equality, but help restore healthy habits in the sport. The CNN piece reports that 30 percent of jockeys struggle with bulimia, which has become so pervasive that tracks have installed "heaving bowls."
But women's smaller size isn't the only perplexing factor. According to CNN, 90 percent of Americans who own or manage a horse are women, so clearly the enthusiasm is there. Why aren't any of the thousands of little girls heading to horse riding camps every summer making a career out of it?
The simple answer is sexism. When Penny Ann Early, considered the first female jockey, secured her license to race in 1968, male riders boycotted races against her at Churchill Downs. Don't expect to see boycotts against female riders anymore, but the boy's club attitude has persisted to some degree.
And that's a shame. Women have proved that they can race alongside men without causing anyone to get hurt or panicking on the track (legitimate fears for male jockeys at one point). Even more, they've proved that they can not only race against men, but beat them. One day, and hopefully soon, a woman will win the run for the roses. Because women can do more than sip mint juleps and wear amazing hats at the Kentucky Derby.