Vanessa Trump's Relationship With Her Sister-In-Law Ivanka Has Been Low Key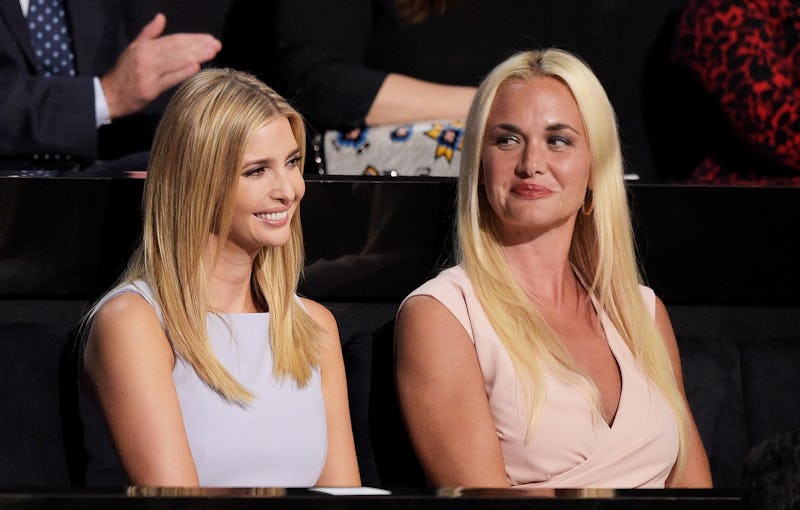 Jeff Swensen/Getty Images News/Getty Images
On Thursday, multiple media outlets reported that Vanessa Trump has filed for divorce from Donald Trump Jr. after more than 12 years of marriage. While the details behind the couple's decision to part ways is unknown, some people might be wondering if Vanessa and Ivanka Trump, her sister-in-law, are friends.
While there is not much known about their relationship, a recent incident demonstrated Ivanka's support for her sister-in-law. In February, Vanessa landed in a Manhattan hospital after receiving a suspicious letter from Boston. According to authorities, the letter was meant for Trump Jr., and had been opened by Vanessa. The former model was sent to the hospital as a purely precautionary measure. Later on, it was found out that the letter contained corn starch.
Soon after the incident, Ivanka tweeted at Vanessa and told her she was thinking of her. "Thinking of @MrsVanessaTrump [and] wishing I was by her side today. No one deserves to be frightened this way. There is no excuse."
Trump Jr. also tweeted, "Thankful that Vanessa [and] my children are safe and unharmed after the incredibly scary situation that occurred this morning. Truly disgusting that certain individuals choose to express their opposing views with such disturbing behavior."
Other than that, both Ivanka and Vanessa have been seen together at political events, including Trump's inauguration in January 2017. While Vanessa wore seemingly simple clothes on her father-in-law's big day, she went in a different direction when it came to accessories. According to Yahoo! News, Vanessa wore earrings worth $12,000 from Ivanka's fashion brand. The price, which may seem astronomical to some readers, was thanks to the pearl, white gold, and diamonds in the tassels.
Apart from wearing incredibly expensive earrings and tweeting words of support, Ivanka and Vanessa have shared a low-key friendship since Vanessa got married to Trump Jr. The couple married in 2005 at Trump's Mar-a-Lago resort in Florida. On the special day, Ivanka wore a light mauve dress while Vanessa wore white, like most brides do.
But recently, there was some confusion about the color Ivanka wore at her brother's wedding; some people thought she wore white at her brother's wedding. That puzzlement was quickly cleared up by Business Insider, which shared color-enhanced photos of the big day.
In 2016, Ivanka told People magazine that Vanessa was her "Wonder Woman" because of how she seemed to be an impressive, attentive, and responsible mother. Vanessa, who has five kids with Trump Jr., "is a machine," according to Ivanka. "She can take all of [my children] and not even notice. She has five children and she's Wonder Woman to me."
Ivanka went on to praise Vanessa's ability to be nurturing and engaging as a mom to her five children. "She can be taking care of them all simultaneously, each pulling on her and have direct meaningful connections with each of them at one time. It's remarkable," Ivanka said back then. Ivanka's praise for her sister-in-law didn't end there. She told People, "She really is such an amazing mother and really an inspiration to me."
With her relationship with Trump Jr. in the news, it isn't clear whether Vanessa will continue maintaining her friendship with Ivanka. The couple is keeping their divorce low key as well. Trump Jr. and Vanessa released a statement to People magazine, saying, "After 12 years of marriage, we have decided to go our separate ways. We will always have tremendous respect for each other and our families. We have five beautiful children together and they remain our top priority. We ask for your privacy during this time."