Judging By These Comments, Cheryl & Will.I.Am Could Be Reuniting VERY Soon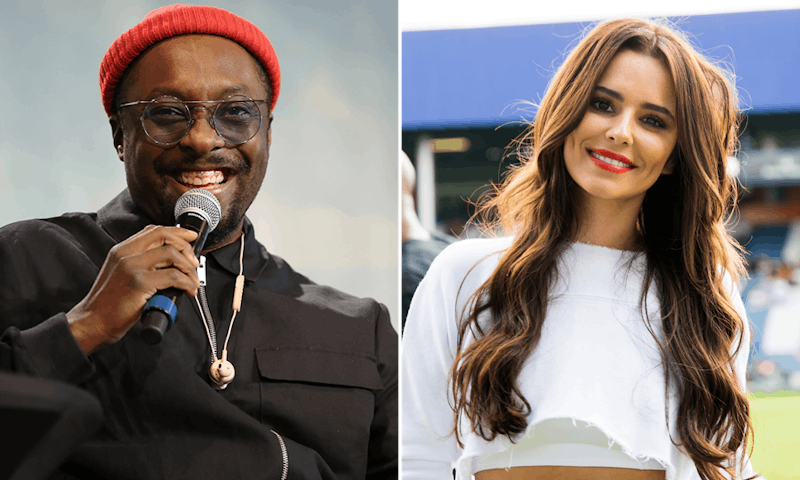 Phillip Faraone/Getty Images Entertainment/Getty Images/Tristan Fewings/Getty Images Entertainment/Getty Images
The new series of The Voice Kids started on Saturday and now I can't get Will.i.am's Fiyah out of my head. With Cheryl all over the news following her split from Liam Payne, she's kinda been at the forefront of my mind too. So that got me thinking, are Will.i.am and Cheryl still friends? They used to be BFFs, didn't they? So, what happened?
Rewind back to 2008 and you'll remember Will.i.am and Cheryl were super tight. So much so, they even collaborated with each other on his single Heartbreaker, with the Girls Aloud star providing vocals on the song's UK release. Will admitted to having a crush on Cheryl at this point, stating to the Mirror that if she were single, "she'd just have to holler." When Cheryl was told about his comments, she couldn't "believe he had a crush," and thought it was incredibly sweet.
Their friendship then carried on from there. A year later, the duo found themselves collaborating again on the title track 3 Words from Cheryl's debut album, with Will also executively producing the record, reports The Sun. He then officially became her manager and went on to help produce her second album in 2012, with his heart set on helping Cheryl to crack America, as reported by Marie Claire . "Over the next few months she's potentially going to be working with artists like Rihanna, Katy Perry, Usher and, of course, the Peas," the publication cites him telling Heat magazine.
However, in 2013, Cheryl decided to take a career break after she was dropped from US X Factor, and apparently gave up on making a name for herself in America, as reported by the Mirror. With that, she split from her US management team, which was headed up by Will and and his associate Seth Friedman. After that, the pair appeared to drift apart.
A year later when Will was asked about Cheryl's marriage to Jean Bernard Fernandez-Versini, the US star revealed he wasn't even aware that a wedding had taken place. He told the Daily Mail: "She got married already? Oh I didn't even know that. That's cool! I'm happy for her, that's dope." Awks.
But that was four years ago. Have the pair got their friendship back on track nw?
Not quite yet, but Will has hinted he'd like to. Speaking to The Sun at the launch of his range of glasses at Specsavers, he said he has "no hard feelings" towards Cheryl, and he's more than happy to reunite with his former BFF.
"I would like to collaborate with Cheryl again eventually, she's amazing." It won't be any time soon, though, as Will is currently working on the upcoming Black Eyed Peas album. "We're just knee-deep and laser-focused on this new Black Eyed Peas stuff", he said.
"We're repeating a sound that's reminiscent of our earlier matertial: jazz influence, soul influence, bossa nova influence, deep rhymes, metaphors, similies — just boom bap hip hop stuff". Who knows, perhaps Cheryl could end up featuring on one of the tracks?
And that's definitely not out of the equation, since Cheryl is actually back in the studio herself, getting to work on her fifth studio album. According to producer Naughty Boy, the singer is currently working up to "12 hours a day".
He told The Sun: "Cheryl has got back in the studio just after having a baby and it's still very personal, but she is a real artist and a perfectionist. It had got more edge than anything she has done before. I feel it is going to be very special and meaningful."
In addition to working on new material, rumour has it that Cheryl may be returning to the X Factor later this year. A source told The Sun: "Cheryl is the top choice and she is keen to come on board."
Personally though, I would love to see her work alongside Will on The Voice — you know, for old times' sake. Can someone please make this happen?