Aretha Franklin Is Apparently Retiring From Music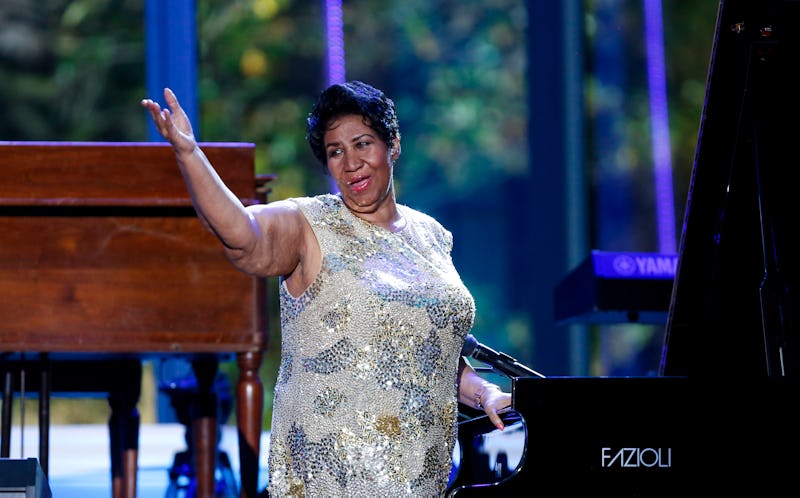 Pool/Getty Images News/Getty Images
Stop what you're doing a grab a box of tissues. The legendary soul singer Aretha Franklin is retiring from music in 2017. But the accomplished musician has quite a swan song planned, which includes recording an album with Stevie Wonder. The news of her retirement has understandably shocked fans worldwide, who have supported Franklin throughout her impressive career. The 74-year-old musician has a great reason for retiring though, and that's to spend more time with her grandchildren.
Franklin told Detroit TV Station Local 4, "I will be recording, but this will be my last year in concert." Basically, if you've ever wanted to see the Queen of Soul perform live, now is the time to secure some tickets. However, her retirement isn't completely final, as the singer also told Local 4, "I'm not going to go anywhere and just sit down and do nothing. That wouldn't be good either." She reiterated that she'll be open to doing select performances, but that her retirement marks the end of lengthy tours and new albums.
Even though Franklin will still be in the spotlight from time to time, it's strange to think of the icon retiring, and taking a step back from regular performances. Having achieved so much throughout her career, the "Respect" singer is leaving an amazing legacy behind her that will live on for decades to come.
She began recording music when she was just 18, but it wasn't until she signed to Atlantic Records in 1967 that she started to garner international acclaim. She was the first woman to be inducted into the Rock And Roll Hall Of Fame in 1987 and took home the Lifetime Achievement Award from the Grammys in 1994. In 2005, Franklin was awarded the Presidential Medal of Freedom by George W. Bush, which goes to show the widespread impact the singer has had on the world.
The soul singer told Local 4, "I feel very, very enriched and satisfied with respect to where my career came from, and where it is now." Franklin's musical talent is undeniable, and fans worldwide will agree that her songs will live on long after the icon retires.