Ariana Grande Canceled A Cancer Benefit Performance For A Reason Her Fans Will Understand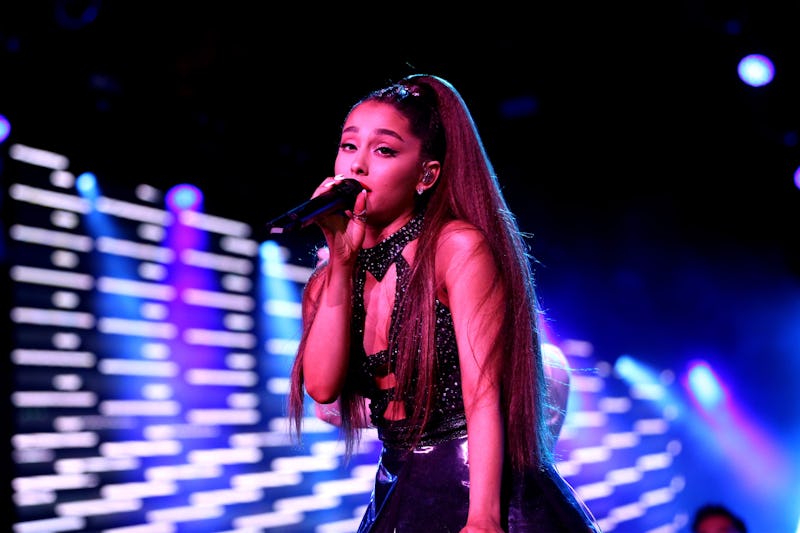 Rich Polk/Getty Images Entertainment/Getty Images
It's been a difficult year for Ariana Grande, and she deserves some time off. On Sunday, Ariana Grande canceled her performance at the F--k Cancer fundraiser, and it's understandable that the star needs more personal time. The appearance was supposed to be her return to the stage after several months spent away from the spotlight. It's been a tough month for the singer, whose ex-boyfriend and longtime friend Mac Miller died in September. Grande shared several tributes to Miller on Instagram, including a video of the late rapper and a message about the loss. She wrote:
i adored you from the day i met you when i was nineteen and i always will. i can't believe you aren't here anymore. i really can't wrap my head around it. we talked about this. so many times. i'm so mad, i'm so sad i don't know what to do. you were my dearest friend. for so long. above anything else. i'm so sorry i couldn't fix or take your pain away. i really wanted to. the kindest, sweetest soul with demons he never deserved. i hope you're okay now. rest.
The cancer fundraising gala was attended by Grande's manager Scooter Braun, who discussed the singer's absence during a speech at the event, according to E!. "One of the most amazing things about this organization is that they help people when they're having the worst moments in their life, and they give sympathy and a calm nature to people in need in those moments. And you saw your invite, someone I'm very close to was supposed to come sing for you today, and because of things that she's going through, she couldn't be here today," Scooter said, according to the publication. "And while I was frustrated, being the manager, my wife, being who she always is, just looked at me and she goes, 'She needs this time.'"
Braun's wife, Yael Cohen Braun, also received an honor for her work as a co-founder of the Barbara Berlanti Heroes charity organization. Luckily, comedian Trevor Noah was able to step in to perform a short stand-up set in the singer's place. Grande is taking the time she needs to relax and heal. The singer has kept a relatively low-profile over the past couple months, staying away from the spotlight and taking a healthy step back from social media.
The gala is not the first recent event that Grande has taken off for her health. In September, she and her fiancé, Pete Davidson, chose not to attend the Emmy Awards. Davidson was nominated for his work on SNL, but given the recent tragedy, it's understandable that neither star was up for the event. Grande's team shared a statement about the decision with E!, and it read:
"Contrary to reports, Ariana will not be attending the Emmys tonight. Pete has also opted to not attend to be with her in New York. Given the events of the past couple of years, Ariana is going to take some much needed time to heal and mend. She will be staying close to home and using this period to spend time with her loved ones and work on new music without deadline. She thanks her fans for their understanding."
Grande also canceled an appearance on the season premiere of SNL, though she was at the taping to support Davidson. She also hinted to fans that she won't be doing a major arena tour for Sweetener, which makes sense given the star is still recovering from the tragic terrorist attack that occurred during one of her concerts at the Manchester arena in England.
In late September, the star opened up to fans about having a difficult time via Twitter, and her conflicted emotions around touring. After tweeting about having a difficult time, she reached out to fans, writing:
"ily more i'm so sorry for yesterday yikes. i love u and never want u to worry ab me or think i want attention. i have way too much as it is w/o askin. jus had a human moment and wanted to confide. u know how much i love you. on some real life s--t. and yeah. sry & ily"
Given all that she's been through, Grande's desire to take some time to focus on herself should be commended.
She also addressed potential future tours in a Twitter thread, writing:
"i kno. but i miss u. i'm antsy. can't sit still. i wanna tour now. yesterday i jus wanted to sit home forever but today i wanna do shows and see u. it's all v up n down rn. but hi ily. i am working on it. i'll keep ya posted."
When fans urged her to prioritize her health and not do a tour if she'd regret it, she wrote:
"id never regret it. my happiest moments are with y'all and on stage and stuff. i think it's just the looooooong chunks of time away from home that are scary to me rn. hi i'm being too honest and people r gonna tear me apart but idc anymore. lol."
It's been a difficult couple of years for the singer, and her fans only want what is best for the star, whether that is performing or staying home with her newly-adopted pig, Piggy Smallz. Friends, family, and fans will support her healthiest decisions, even if that means spending time out of the spotlight.