Ariana Grande Is Bringing Back This '90s Hair Accessory & Lizzie McGuire Would Be So Proud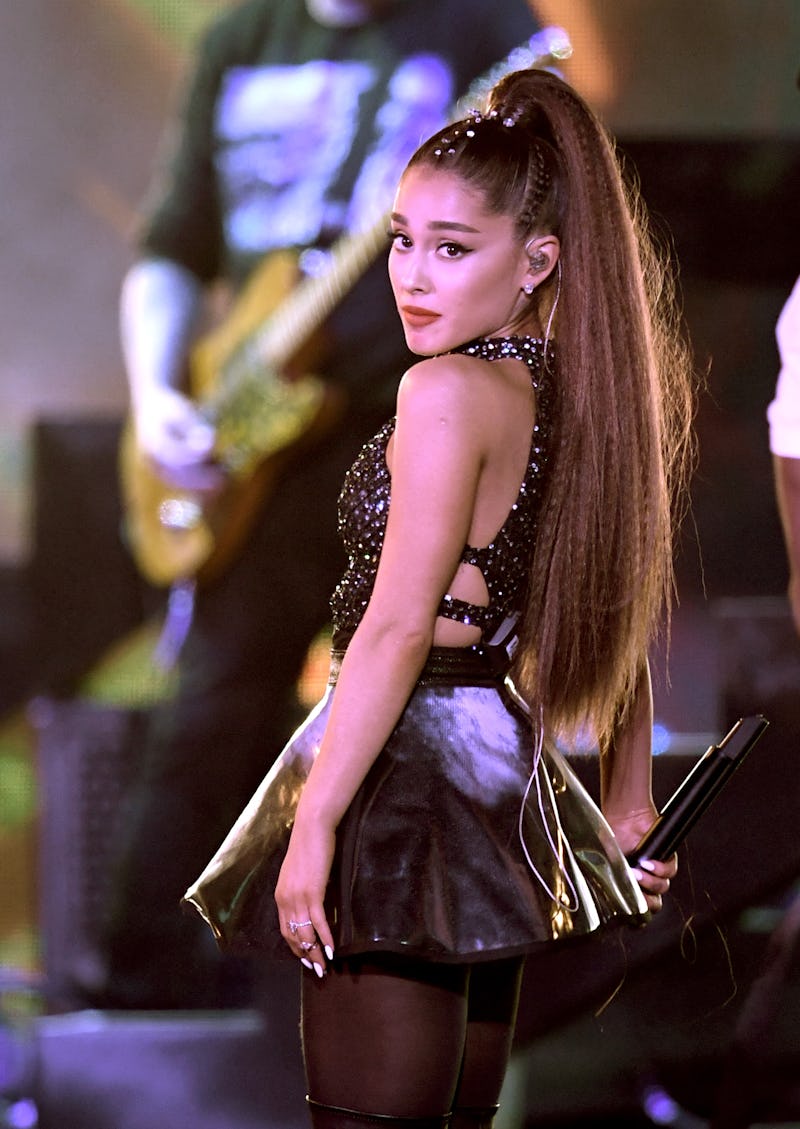 Kevin Winter/Getty Images Entertainment/Getty Images
The '90s have infiltrated the last couple of years in a major way, where we're all wearing everything from FILA fanny packs, to Jerry Seinfeld dad shoes, to thick scrunchies around high ponytails. But now another fashion accessory is having its blast from the past moment, and not many of us saw it coming. Ariana Grande is championing the snap clip, bringing a junior high touch to your streetstyle looks.
The artist teased its debut during the weekend, when she was snapped in the now-iconic photo of her licking a lollipop and looking up lovingly at fiancé Pete Davidson while they were out running errands. While fans loved how happy she looked, they also couldn't help but notice the '90s-esque outfit Grande was wearing. Sporting a baggy yellow hoodie with a mini Louis Vuitton bag carelessly slung cross-body, her chunky bangs were held back by a trio of metal clips in a way that Lizzie McGuire would be proud of. You can see the look here.
Coupled with the fact that Davidson wore a plaid shirt over a graphic tee, and put his hoodie over his ball cap all grunge-like, the pair made a person want to to double check the calendar to make sure we haven't been flung back 30 years.
This wasn't the first time Grande wore the snap hair clips, either. Just a few days later she accented her ponytail once again with the metal barrette, placing it behind her ear and to the side of her hair part.
While Grande's casual styling of the childhood hair clips makes us want to copy it ASAP, there has been something of a slow-brew over the last couple of months when it comes to the revival of '90s hair accessories. Alexander Wang brought the claw clip back during his runway show, which was a staple in most mother's drawers but now looks impossibly stylish when coupled with wetly gelled hair. Then models like Ashley Graham and Gigi Hadid channeled their inner Spice Girls when they wore zigzag headbands on the Prabal Gurung runway, adding an unexpected touch to the knit dresses and silk blouses.
Scrunchies have also had a major revival, letting us channel our inner Kelly Kapowski and Lisa Turtle, but in a modern way. Selena Gomez was spotted wearing a thick, black scrunchie on top of a high fishtail braid (so good,) and Hailey Baldwin wore hers with a split high ponytail in a very Cher Horowitz kind of way.
But while we thought that the scrunchie was going to be as wild as we got when it came to reviving the '90s in our haircare drawers, in came the snap clips. Grande wasn't the first to usher them in, either, though she did bring them back into the public eye.
Solange was one of the first to don the look in 2016, when she showed up to the CFDA Awards wearing a molten silver suit and a row of metallic barrettes on each side of her head to match.
But now people are starting to dabble with the look more seriously, incorporating it into off-duty looks like Grande did, and high fashion moments. For example, Kristen Noel Crawley, founder of the Insta-famous beauty brand KNC Beauty, wore two clips right by her center part for the Super Bowl, giving it an elevated athleisure vibe with her faux fur coat and track pants.
Negin Mirsalehi, the founder of Gisou Hair, the bee-based hair company, accented her Alberta Ferretti outfit for Paris Fashion Week with two metal clips, giving the pre-teen look some serious class.
Whether you sport it like Grande and match your clips with a high ponytail and hoodie, or decide to clip your center part down with barrettes that match your sequined dress, it all looks amazing. Just as long as you have fun with it!