This Is Not A Drill: Ariana Grande & Pete Davidson Are Reportedly Dating & Twitter Can't Deal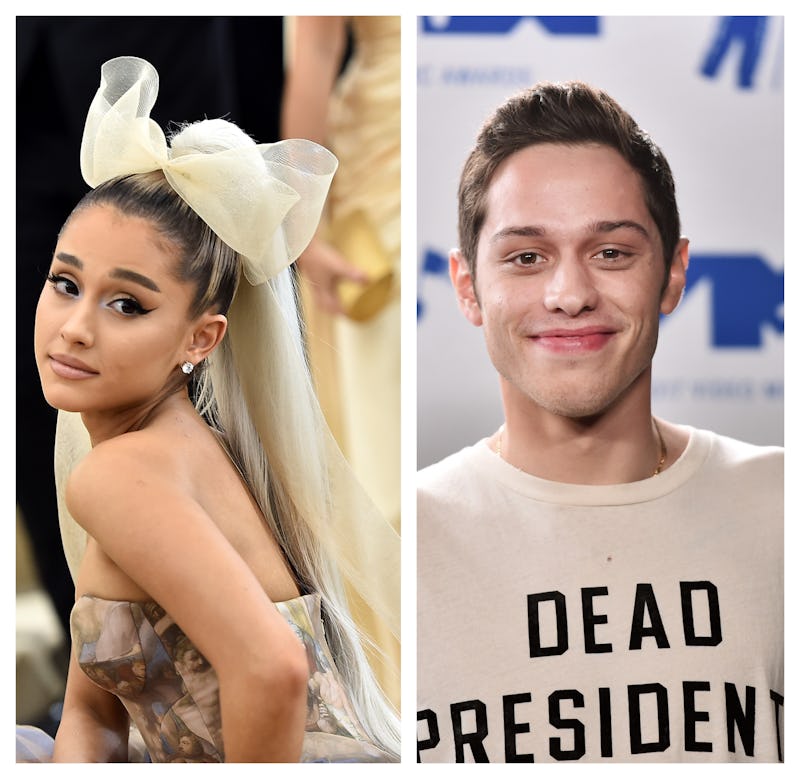 Jason Kempin/Getty Images Entertainment/Getty Images Alberto E. Rodriguez/Getty Images Entertainment/Getty Images
Just a few weeks after calling it quits with Mac Miller, Ariana Grande is reportedly dating SNL star Pete Davidson. Arianators may be protective of their beloved Ari, but from the looks of Twitter, they are totally here for this reported pair. Grande and Davidson have yet to confirm their reported romance themselves, but maybe, just maybe, they'll go public soon so devoted fans can actually get some sleep at night.
On Monday, People magazine reported that Davidson is Grande's new beau with information obtained by a close source. The source told the publication the romance "just started" and is "very casual." This follows the first report that the two were dating from Bossip on May 18 (with information also obtained from an unnamed source).
If the two are together, fans may be wondering when they had time to kindle a romance, given the peculiar timeline of events thus far. It's suspected that they first met when Grande hosted SNL in 2016. Until recently, they were both in their own respective relationships.
On May 9, it was reported that Grande and Mac Miller broke up after nearly two years together. Their last public appearance together was at a 2018 Oscars after-party. However, a source told People they "struggled for a long time with their relationship, and it was basically over last year." Grande opened up about the breakup on her Instagram story, writing,
"This is one of my best friends in the whole world and favorite people on the planet. I respect and adore him endlessly and am grateful to have him in my life in any form, at all times regardless of how our relationship changes or what the universe holds for each of us!"
About a week later (on the night prior to Bossip's initial report), Davidson announced his breakup from Larry David's daughter Cazzie on Complex's Open Late. "We're not together anymore. Very talented girl, she'll be great and she'll be fine." Meanwhile, David posted this photo of the two of them two weeks ago. Now, fans are wondering if Grande will stop by SNL since Nicki Minaj invited her to "come to the show" on Instagram (she'll be hosting this weekend).
In the meantime, fans are pretty shocked (maybe by the pair or maybe because of how quickly this happened after their respective breakups).
Others are completely here for it already.
Another fan spotted Davidson wearing (what looks like) a "No Tears Left To Cry" sweatshirt on SNL, saying it's official:
But there's also the valid question: Is it too soon?
On Sunday, Hollywood Life reported that Miller is "heartbroken" about the news (with information obtained from an unnamed source, of course), and is taking it hard. "Mac feels like he put everything into their relationship, and if Ariana was cheating on him then it's like a serious slap in the face," the source said. "Mac has really been struggling since their split, he loved Ariana with all his heart, and would have laid his life on the line for her. If it does turn out to be true, and she is with Pete, it's going to make Mac question everything he thought they had together, and if he ever really knew Ariana."
So much drama. Of course, until Grande or Davidson confirms whether or not they're dating, there's no way to know for sure whether or not this couple is actually happening. (And if they are, it definitely doesn't mean that Grande. Relationships start when you least expect them to sometimes.)
Still, this whole situation does seem like it could be a social media feud waiting to happen. Grab the popcorn just in case.