Ariana Grande & Pete Davidson Got Matching Tattoos Of A Phrase True Fans Will Recognize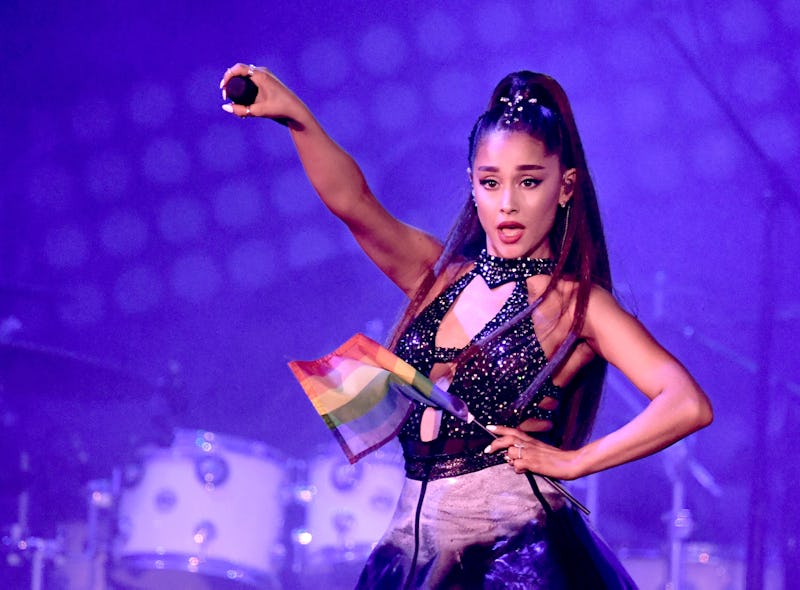 Kevin Winter/Getty Images Entertainment/Getty Images
As the latest pitstop on their whirlwind romantic journey, Ariana Grande and Pete Davidson just got matching tattoos on the same place on each of their hands. Grande revealed the tattoo in an Instagram story on June 18, captioning the video "4ever". The tattoo itself is an acronym for the phrase "honest to god knock me out" (H2GKMO), which Grande has tweeted several times recently, to different people
Getting a tattoo with your significant other is obviously a pretty big step, but Grande and Davidson have publicly been moving through so many similarly big relationship milestones in the last month that the tattoo seems to be a drop in the bucket. For example, according to Billboard, Grande also posted an Instagram story of her and Davidson shopping for carpets for the apartment that they're planning on moving into together. Of the video, Grande fittingly captioned it "adults".
And of course, Grande and Davidson are reportedly engaged. Though neither of them have verbally confirmed the engagement, they have repeatedly posted photos of what looks to be an obvious engagement ring.
This isn't the first tattoo that either Grande or Davidson has gotten. According to Billboard, Grande also has a bee tattoo to honor the victims of the Manchester Arena attack, while People reports a crescent moon on her neck, the cursive word "bellissima" (Italian for "beautiful") on her ribs, and MTV notes the phrase "mille tendresse" on the back of her neck (French for "a thousand tendernesses", reportedly from Breakfast at Tiffany's), as well as a heart on her foot.
Davidson has a similar penchant for tattoos. In fact, Us Weekly reports that Davidson's H2GKMO tattoo with Grande is actually the third tattoo he's gotten that's related to his relationship with her. The other two tattoos, which he reportedly got on June 2, are a black bunny ears mask behind his ear and her initials (AG) on his thumb.
The couple have been officially dating since May 30, when Davidson posted an Instagram photo of the two of them in Hogwarts apparel, writing, "The Chamber of Secrets has been opened..."
Grande followed up with her own confirmation the following day, with an even more serious Instagram post where she suggested that she might have dreamed Davidson into existence.
Most recently, Davidson posted an Instagram of his and Grande's hands in a black and white filtered photo, where her reported engagement ring is clearly visible. "u know what you'd dream it be like ? it's better than that," Davidson captioned the photo.
As for Grande, she recently took to Twitter to take on users who were judging her for moving so quickly with her relationship. After revealing that one of the songs on her new album would be tellingly titled "Pete," a Twitter user asked if she was dumb for naming a song after him, presumably because of how little time she's been with him for.
After initially replying with a simple, "Nah," Grande followed up again, explaining in greater detail why she feels comfortable labeling a song after her possible fiancé: "the truth is i been the fuck thru it and life's too short to be cryptic n shit about something as beautiful as this love I'm in. so ǝʇǝԀ it is." The pre-order date for Grande's latest album, Sweetener, is June 21.
Grande might not have confirmed her engagement to Davidson yet, but she's certainly gone out of her way to confirm the legitimacy of the relationship in more ways than one in the last month. And it's a safe bet to say that when they do finally decide to confirm it, they'll probably do it in the same way they've announced all other milestones in their relationship: through the lens of a social media post.