Ariana Grande Tweeted Just Three Letters To Describe How She Feels About Obama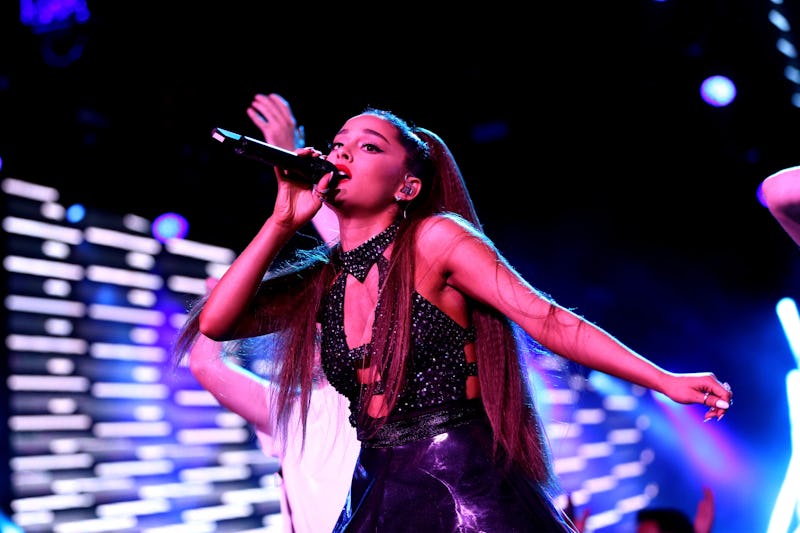 Rich Polk/Getty Images Entertainment/Getty Images
On Monday evening, a few days after her jaw-dropping music video release, Ariana Grande retweeted Obama's "Happy Hanukkah" post and instantly became the girl next door again. Obama's original message was all about what people could learn from the traditions of Hanukkah, regardless of their religion. Grande's response to his tweet was much simpler (literally: it was only three letters), but it spoke volumes.
Obama's message read, "Happy Hanukkah! Over these eight nights, we draw inspiration from light that can overpower any darkness, and recommit ourselves to building a brighter future for our families, our communities, and our world. Chag Sameach from the Obama family to yours." Grande's retweet included the simplest, but most relatable response to the former president: "imy," which is an abbreviation for "I miss you."
Though Grande and Obama are two incredibly famous household names, Grande has always handled her relationship to the president with familiarity and comfort. In 2014, when Grande appeared to perform at the White House, she opened by saying, "Mr. President, Mrs. Obama, what's up, how are you?"
Amid laughter, she continued, "It's good? It's all good? All right, good." Grande then went on to bring the house down with a rendition of Whitney Houston's "I Have Nothing."
But on Monday evening, Grande's ode to the former president seemed especially poignant. And, like seemingly everything Grande touches these days, it immediately went viral. Less than 12 hours after she wrote the tweet, it already has over 285,000 likes and just under 30,000 retweets.
Grande has also celebrated the holidays with Obama in the past — sort of. In 2017, she posted a selfie with a portrait of Obama, writing, "happy holidays from my family to urs."
Though Grande doesn't speak publicly about political events on a daily basis like some celebrities, she has defended her right to be loud about her liberal political beliefs in the past. To Elle in July, she said that she feels she has a responsibility to use her platform to speak for those who can't, and to encourage those with different opinions to consider alternative viewpoints.
She said, "There's a lot of noise when you say anything about anything. But if I'm not going to say it, what's the f*cking point of being here?"
She continued, "Not everyone is going to agree with you, but that doesn't mean I'm just going to shut up and sing my songs. I'm also going to be a human being who cares about other human beings; to be an ally and use my privilege to help educate people."
She even offered up a call to action for for anyone looking to make a difference, regardless of their follower count: "Everyone has to have uncomfortable conversations with their relatives. Instead of unfriending people on Facebook who share different political views, comment! Have a conversation! Try to spread the f*cking light."
Obama has not yet responded to Grande's tweet. But for those who can't get enough of the unlikely pair, this video of Obama performing a cover of Grande's "Problem" will provide you with your fix.