"Somewhere Over The Rainbow" Has Special Meaning For Ariana Grande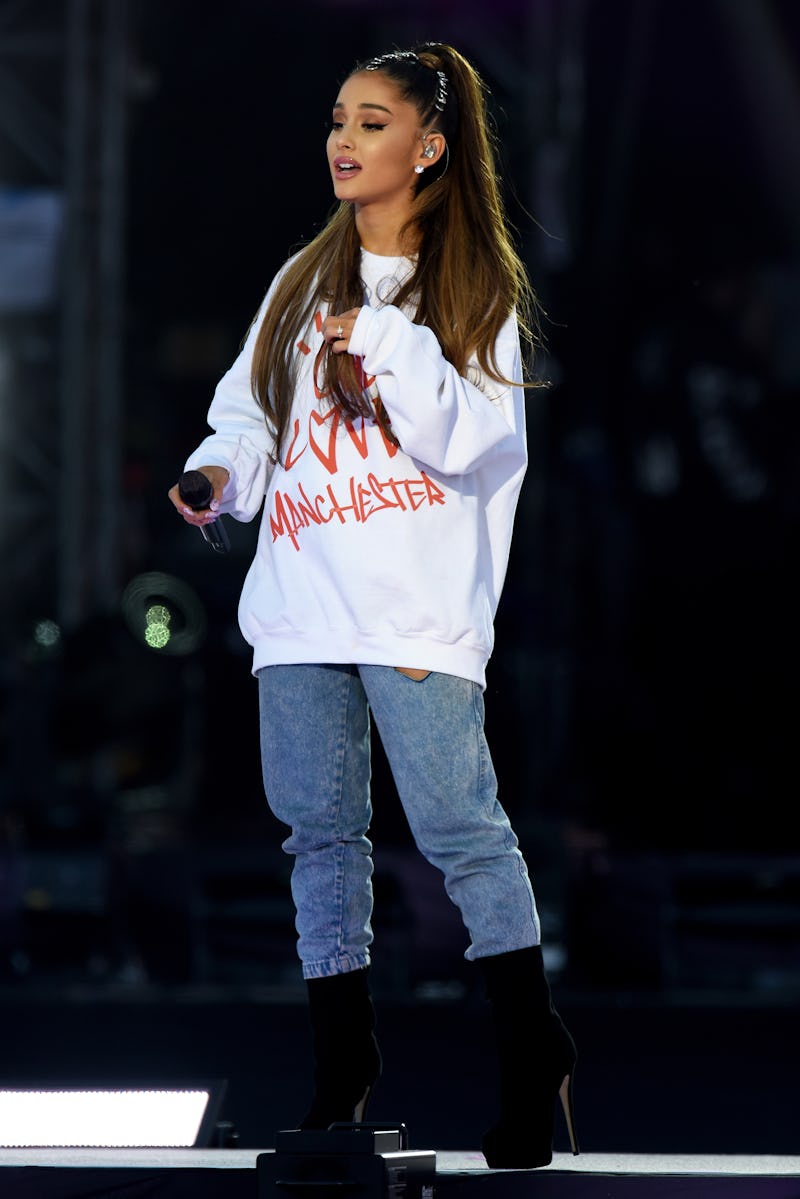 Getty Images/Getty Images Entertainment/Getty Images
The One Love Manchester benefit on Sunday was an emotional affair, bringing together artists from all over to pay tribute to the victims of the tragic terrorist attack during an Ariana Grande concert at the Manchester arena in May, and to help the city heal. Grande, who organized the event, gave several powerful performances and speeches throughout the evening, and the singer's final song choice has a special story behind it. In an especially moving performance, Grande closed the evening with "Somewhere Over the Rainbow", a Wizard of Oz song that holds a special place in her heart. The track was a favorite of her grandfather's and one she used to sing to him before he passed away.
The Judy Garland cover was a surprise for fans and family alike, acccording to Variety. Grande's mother, Joan Grande, had no idea her daughter was going to sing the song, but knew how much it would have meant to her late father.
"No matter how many hit songs she had, and no matter how incredible her concerts were — and he was always the first one there, applauding, kissing her, being in the front row — after every show," Joan told Variety. "He would say, 'Ariana you know what song you have to sing? "Somewhere Over the Rainbow."' And she would say, 'Grandpa, I don't know if that would work on a pop album.' And he said, 'I promise you, it's gonna be a big hit. It's the greatest song ever written.'"
According to Variety, Ariana was very close to her grandfather, Frank Grande, who passed away in July of 2014. Her original song "My Everything" is a tribute to him. The singer has debuted many covers throughout her career, but this is the first time she's performed "Somewhere Over the Rainbow" in her live show. The personal story behind the song no doubt contributed to the emotional moment on stage.
It was a heartfelt closing to an emotion-heavy evening, and many in the audience wept as Grande sang. The star herself was on the verge of tears throughout, but put her whole soul into singing the track. Backstage, her mother spoke to Variety about the event, and the singer's conviction to bettering the situation in Manchester following the attack.
"She wanted to do whatever she could to help heal a city where a horrific tragedy took place," Joan told the publication. "That's really all she could think about — getting back here and going to see and visit everyone in the hospital, to go and meet with the families. She had real conviction about this. Ariana didn't cry for days because of her fear for herself, she cried for the lives that were lost and her fans that were hurt. And that impacted her to a point where it was devastating pain. And she said, 'This isn't about me — this is what I have to do to make them feel safe and feel better.' She's quite a remarkable young lady."
The benefit concert was definitely full of touching, mournful moments, but it also went a long way toward uplifting the crowd and helping the city move forward without fear. "Somewhere Over The Rainbow" was the perfect song to capture this message; it was a memorial for those who are lost, but imagines an optimistic future.