Ariana Grande Suspends World Tour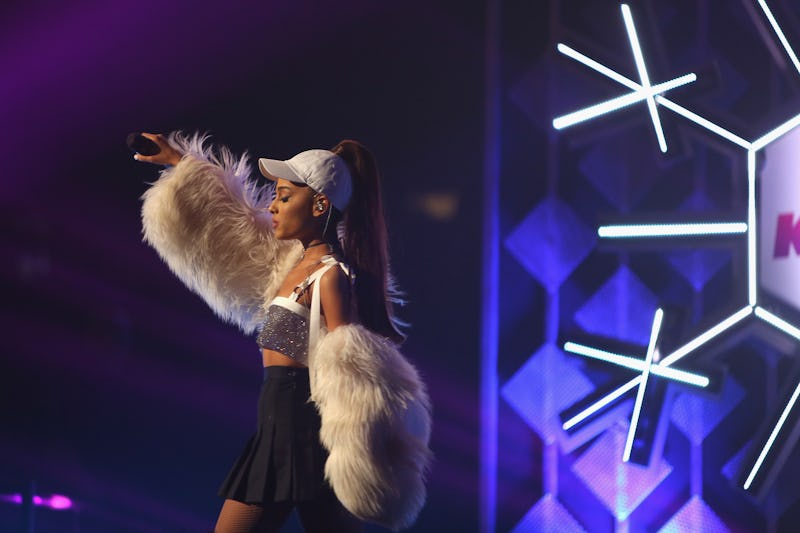 Tasos Katopodis/Getty Images Entertainment/Getty Images
Following the attack at her concert in Manchester, England, that left scores of attendees dead and injured Monday night, Ariana Grande suspended her world tour, according to TMZ. Although she was not hurt in the explosion, the singer was in "hysterics" after the attack, according to a report from TMZ. Grande was on her Dangerous Woman World Tour and set to perform in London on Thursday.
Update: According to a Variety report that quoted an anonymous source close to the situation, Grande has not postponed her tour. The singer's team "has not even gotten to that [decision] yet. ... This is about the victims, it feels silly even to be thinking about the tour at this point," the source told Variety. "They're still assessing the situation and how she's doing."
According to the latest from the Greater Manchester Police, 22 people were killed in the bombing attack, which occurred just as Grande had finished performing. It occurred at around 10:35 pm local time at the Manchester Arena. According to The Guardian's Jamie Grierson, 12 children under the age of 16 are currently being treated at a children's hospital.
Hours after the attack, Grande tweeted "broken. from the bottom of my heart, i am so so sorry. i don't have words." Grande's manager Scooter Braun tweeted a statement, "Tonight, our hearts are broken. Words cannot express our sorrow for the victims and the families harmed in this senseless attack." He added, "We mourn the lives of children and loved ones taken by this cowardly act."
Prime Minister Theresa May visited victims in Manchester on Tuesday and released a statement, "This was a horrendous attack, absolutely horrific, barbaric in its nature, but what I'm also clear about is that we will not let the terrorists win. Our values will prevail."
Prince Charles also released a statement following the attack, shared by Clarence House:
Words cannot adequately express what so many families must be feeling at this incredibly difficult time and our most heartfelt sympathy is with all those who have so tragically lost loved ones or who have been affected in some way.
Following the attack Monday night, concertgoers struggled to leave Manchester as trains from the city's Victoria Station were suspended. Manchester is roughly 200 miles from London.
There's has been an outpouring of mourning, as well as support, after the attack. Impromptu memorials already appeared in the streets of Manchester the morning after the attack.
Flowers and notes lined streets as "I Heart MCR" signs appeared in shop windows around the city.
The Royal Manchester Children's Hospital has been sharing photos of the donations they have received following the attack.
If you are looking for ways to help the victims of the attack and the volunteers in Manchester, consider the below tips:
It is unclear when or if Grande will continue her concert tour of Europe.