For Her First Met Gala, Ariana Grande Was Incredibly On Theme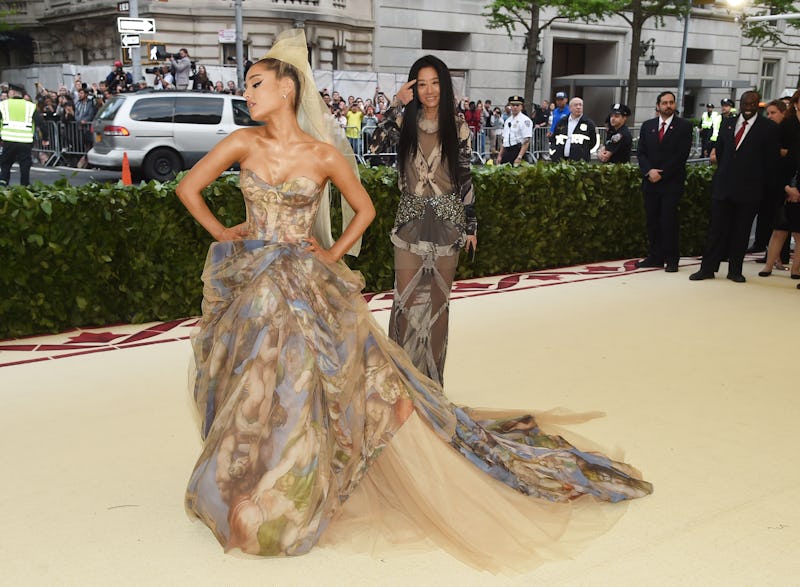 Jamie McCarthy/Getty Images Entertainment/Getty Images
It's Ariana Grande's very first Met Gala, and she did not hold back. Ariana Grande wore a literal work of art to the Met Gala, looking like she stepped straight out of a painting. The heavenly look was inspired by a popular piece of artwork, according to her Instagram. There's no questioning whether or not she nailed the theme.
Social media might not be allowed at the Met Gala, but Grande gave a hint about outfit inspiration on her Instagram before the event. The singer posted an image of Michelangelo's The Last Judgement on Instagram in the hours before the big night. Whether or not she drew exact inspiration from the artwork from the look is not even up for debate, because she's in the Met Gala spirit.
She gave little hints about her outfit leading up to the moment she arrived, too. Grande stepped out onto the 150 foot red carpet-slash-stairs wearing a gown that is an exact replica of the artwork that she snapped earlier in the night. She wore a Vera Wang gown that had the Sistine Chapel on it.
This is the singer's first-ever Met Gala, and she did not disappoint. If her social media posting is any indication, she was really excited for the big night. Along with the image posted on her Instagram, her mom also sent her a bouquet of flowers with a message telling her that she is a literal work of art. It honestly doesn't get much cuter than that.
There were a lot of references to religion throughout the night, because, well, the theme was Heavenly Bodies. But no one took the theme quite as literal on the art side as Grande did. You know, by actually wearing a work of art.
She didn't just stick to print though. Grande brought it with the accessories on all fronts. Particularly with her hair. She gave her classic high pony a twist with a tight, high bun and a giant mesh bow on top. It was nothing if not epic.
Not only did she stick to the theme, but she had fun with it. She was nothing but smiles all night as she carried her dress up the stairs.
Grande kept it simple and classic with the makeup, since her dress was such a work of art. The singer stuck to a classic cat-eye that was, as all Grande-liner looks are, flawless. She finished off the rest of the face with a little bit of blush, a neutral lip, and a little bit of bronzer. Honestly, Grande looked like she could have walked right off of the painting herself.
The up-close shot of the dress from her Instagram story shows just how much detail went into the look. From the pretty purple hem to the lots of layered tulle, there's a whole lot to look at. But, let's be honest, that is what the Met Gala is all about — looking so good that you can't stop staring.
Viewers might not be able to see the artwork inside the Met, but they do get to see a whole lot outside. Sometimes that all comes from one look. You'd never know that this was her first time dressing for the Met Gala.