Ariana Grande Didn't Wear A Ponytail On The VMAs Red Carpet For The First Time EVER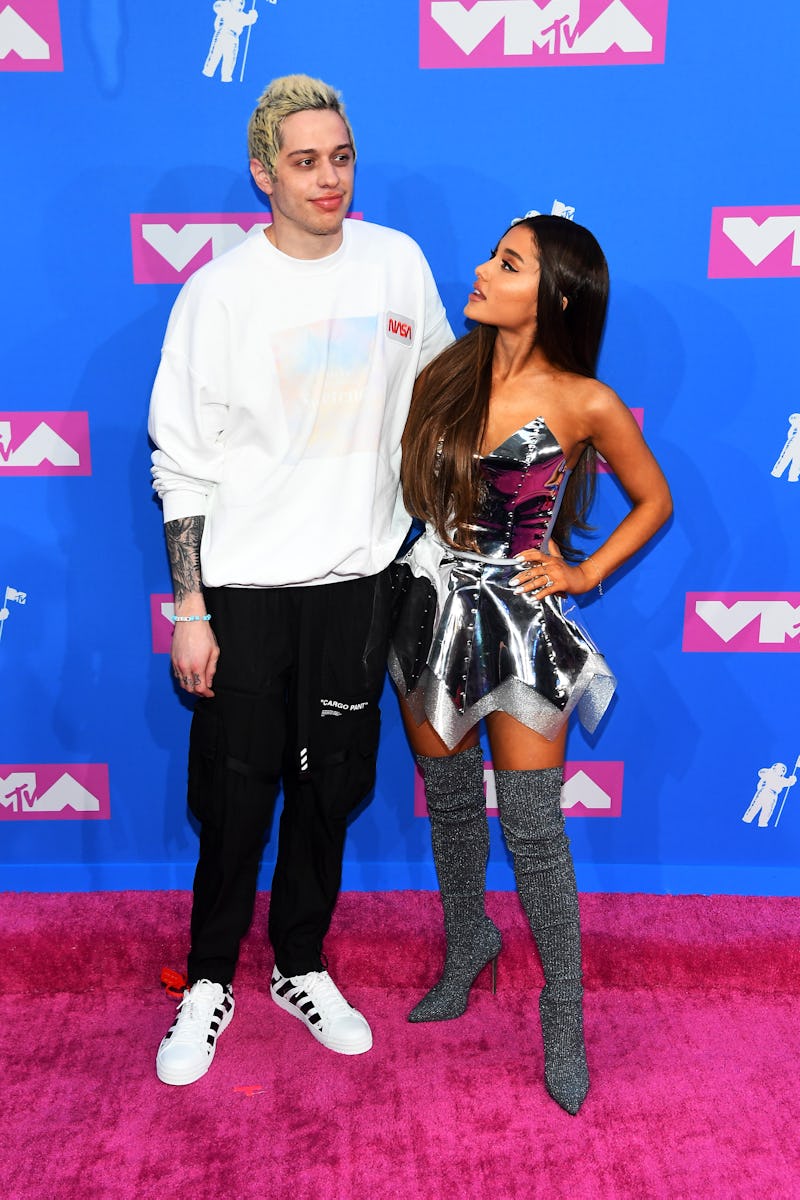 Nicholas Hunt/Getty Images Entertainment/Getty Images
With her new album Sweetener out now, Ariana Grande is teed up and ready to go. It was only natural that the pint-sized vocal powerhouse would appear and perform at the MTV VMAs to promote the release. Grande wore an intergalactic, geometric mini dress to the 2018 VMAs and it was a glorious fashion moment for the singer.
While strutting her stuff on the awards show red carpet, Grande wore a futuristic and strapless silver frock that looked Wonder Woman-inspired. She also rocked over-the-knee, stretchy 'n' sparkly gray boots. We were half-expecting her to show up in all-black, as that has been her M.O. at previous VMAs. But she didn't go that route.
Speaking of halves, Grande ditched her signature half-up, half-down ponytail in favor of wearing her long, dark locks loose and free-flowing. It was a totally new look for Grande.
That said, her 2018 ensemble also reminded us how Grande's style has evolved over the years — shifting from poufy and floral frocks in favor of sexier and more daring outfits. And, of course, a down 'do.
Since the VMAs is more of a party than more formal ceremonies like the Grammys, artists and celebs are able to take more chances with their clothing choices. That's just what Grande did with her 2018 red carpet look.
Buh-bye, DNA distinct ponytail. Hello, mermaid-like locks.
Grande, who usually favors dramatic lashes, winged eyeliner, and nude, matte lips for the most part, opted to go with all of the above, along with deeply bronzed skin when it came to her VMAs makeup. She was a super sun-kissed queen.
Overall, Ariana Grande at the 2018 VMAs was unexpected in comparison to her previous appearances at the annual fete. That's largely due to the fact that she ditched the oft-discussed pony.
Grande was in fine fashion form at the VMAs.
That said, it's always fun to see Grande get playful with her VMAs ensembles.
Grande was going for the gold in her performance outfit. It also had a gladiator x Wonder Woman vibe, complete with her beloved, stretchy and OTK boots. Her red carpet and performance outfits had similar aesthetics.
Grande's ponytail remained MIA during her performance, as well.
The singer opted for a wide-legged pantsuit with an off-the-shoulder crop top at the 2016 VMAs. She played with volume and it was anything but basic black. She added a '90s touch with that choker but her crimped coif was a total nod to the '80s. It was an effective and sexy collision of different decades.
Grande worked the leather look in 2014 with her black Moschino mini. It was decked out with lots of gold hardware and zippers. But it was those over-the-knee, stretchy boots that were oh-so-show-stopping.
What a difference a few years makes. At the 2013 ceremony, Grande was super sweet in this floral micro mini with white heels. Clearly, the half-up, half-down do was the connective tissue and unifying thread of her looks — until 2018. It's the dawn of a new Ariana Grande era.