James Corden Carried Ariana Grande Into A Starbucks On "Carpool Karaoke" & OMG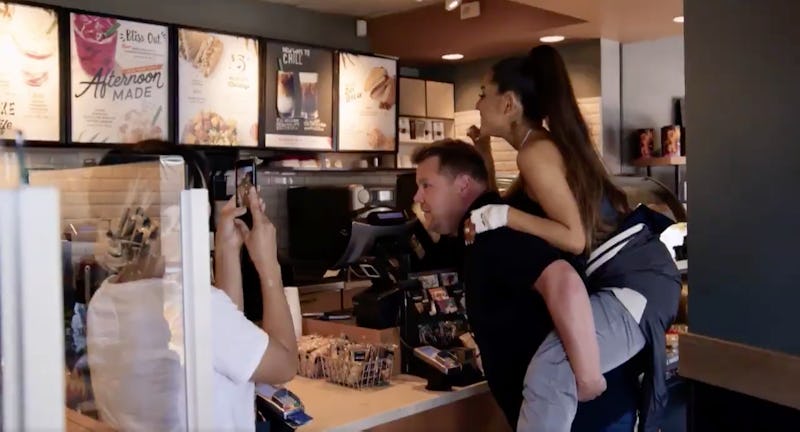 The Late Late Show With James Corden
On the Late Late Show with James Corden on Wednesday night, Ariana Grande's "Carpool Karaoke" segment included a Starbucks pitstop where she and Corden convinced everyone in the store that she only traveled places by being carried. Naturally, people recorded the whole thing, and when the segment went live, tons of users on Twitter basically lost it. At one point, Grande literally said to the barista, "Hello, I'm Ariana Grande. I must be carried."
The Starbucks pitstop occurred just over halfway through the "Carpool Karaoke" segment, when Grande told Corden that she was hungry. They had just been talking about a rumor where Grande had to be carried on and off a set by her manager, so naturally Corden insisted upon carrying Grande into the Starbucks.
Once they were inside of the Starbucks, Grande became downright cinematic with it. When the barista asked Grande what size she wanted for her soy latte, she said, "Grande ... gets them every time."
Then, to the customers, she said (all while on Corden's back), "Did you know I demand to be carried everywhere? That is the kind of pop star I am."
Right before they left, Grande said over her shoulder, "I just want y'all to know, if you see me anywhere, it's because I didn't walk there myself, I promise."
The rest of the segment was spent covering some of Grande's more famous songs ("God Is A Woman," "Dangerous Woman," "Side to Side,") as well as a fantastic impersonation by Grande of Celine Dion.
Grande also revealed the weirdest rumor that she's heard about herself: that she's currently pregnant. Of course, she's not pregnant, though she is engaged to SNL actor Pete Davidson, which a majority of the free world probably knows by now, given how often they post about each other on social media. She and Davidson have been extremely public with their fast-moving love affair, and Grande has even named one of her tracks on her new album, Sweetener, after Davidson.
However, Grande didn't bring him up during "Carpool Karaoke," and Corden didn't ask. She did share that her second birthday had a Jaws theme, and that it wasn't exactly the most popular idea for a toddler's birthday party. Grande revealed that kids left after an hour of the shark-themed party. When Corden started to laugh at her story, Grande pointed to her head and said, "It's a weird place up here."
Grande's "Carpool Karaoke" segment comes two days after she and Corden did a duet mashup of songs that covered the entire plot line of Titanic.
Of her time on "Carpool Karaoke," Grande later tweeted, "the most fun ever. thank u so much @jkcorden for having me @latelateshow. james, i'll be waiting for my piggyback ride tomorrow at noon pls."
In the comment thread for her tweet, one user tweeted a picture of her being carried by a child, writing, "a little kid even carried you smh," to which the Late Late Show's official Twitter account replied, "at least she's consistent."
Grande's fourth album, Sweetener, comes out on August 17.