So, Ariana Grande Totally Doesn't Look Like Ariana Grande On This Magazine Cover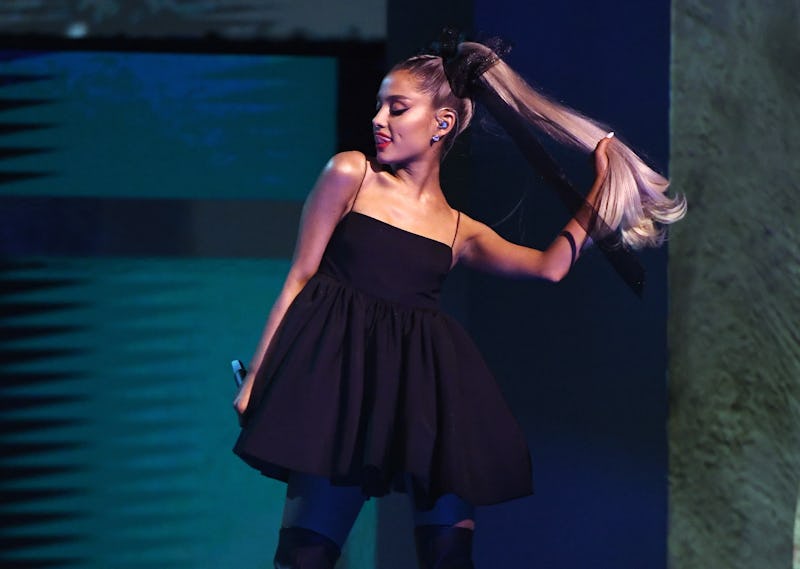 Ethan Miller/Getty Images Entertainment/Getty Images
Covers of maagzines are meant to attract your attention. This one will have you staring to figure out what you're looking at. Ariana Grande is on the cover of British Vogue, and she looks nothing like Ariana Grande. Between her new hair color and style and her new freckles, you'll need a solid minute before you realize that this is the high-ponytailed singer that you're used to.
Grande has had her signature high-ponytail style for so long that her fans don't even know what to do when she wears it down. Heck, they even freak out when she wears a low ponytail. Now just imaging her with her hair down and a new color. Well, you don't have to thanks to her British Vogue cover.
The publications July cover feature Grande with blond hair, freckles, and no liquid liner. She also got some distinct freckles to really throw fans off of their game.
The blonde hair is nothing new. The singer debuted her new locks — and her new man — on Instagram before the cover was announced, but people haven't seen it down before. It's Grande like people have not seen in a while. Some people on Twitter are even saying that they didn't realize it was her at first. There's a good chance you won't either.
If her caption on Instagram is any indication, Grande is a fan of this new look. According to the credits, he longtime hair stylist Chris Appleton is the master behind the new blonde locks. Makeup artist Mark Carrasquillo was responsible for the faux freckles and barely there makeup look.
"Thank you @britishvogue ♡ I don't even know where to begin to express my love and gratitude," the caption reads before going on to thank photographers and makeup artists that were involved.
While some fans are obsessed with her new look, others are pretty darn confused. Heck, some people still aren't even fully convinced that this is Grande at all. Of course, that's the beauty of hair and makeup. You can change up your style as little or as often as you'd like. Here's what people are saying about the new look, so you can decide for yourself.
This is not just your typical meta question. Many people are asking themselves the same thing.
Be honest. How many names popped into your head when you saw this besides Ariana Grande's? It was at least three for me.
People are not fully convinced that it's her still. I mean, just look at the GIF that goes with it. The cover looks like her alter ego.
It really is as simple as that.
Could this be the end to her iconic ponytail? Some fans are hoping so, because they're in love with this new look.
The hashtag doesn't exactly roll off the tongue, but people are excited to see her trying something new.
Ariana out here saving lives with her new hairstyle.
There's a good chance that these are faux freckles, just for the record. She hasn't commented on it though, so who knows.
Hey, don't downplay your strengths. That chicken finger platter is just as impressive as Grande with blonde hair.
Although Grande has been rocking her signature ponytail for some time now, there had to be a day when she would let her hair down — literally. After all, can you imagine how many hair ties and probably bottle of Advil she goes through from wearing a high pony every day of her life.
All jokes aside, it's up to Grande to rock whatever look she's feel for the day.