Ariana Grande Has SUPER Long Blonde Hair On The Cover Of 'Elle' — And No Ponytail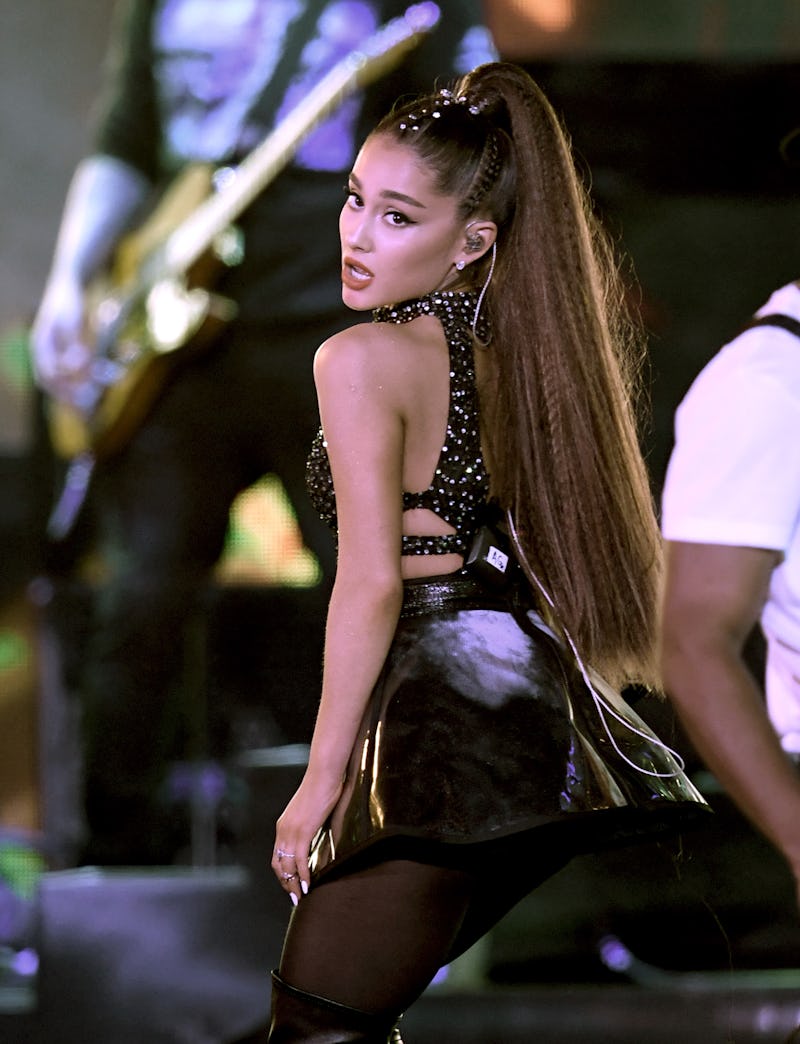 Kevin Winter/Getty Images Entertainment/Getty Images
Ariana Grande is known as much for her ponytail as she is for her music, where a waist-length pony has become synonymous with the "No Tears Left To Cry" artist. But Ariana Grande wore her hair down for an Elle cover, and she is almost unrecognizable in the new look.
Usually wearing her long locks up with everything from baggy hoodies to red carpet dresses, it's rare to see Grande sporting a loose hairstyle. But with her new album, Sweetener, she has had something of a transformation. Not only are her songs different from the ones she usually performs — where tracks like "the light is coming" has a hypnotic and thumping beat, giving it a definite Pharrell Williams-like edge, who produced the track — but they even took on a political spin. The repetitive vocal sample that plays throughout the song, "You wouldn't let anybody speak and instead," came from an old CNN video that has a man yelling at Sen. Arlen Specter during a town hall in Pennsylvania in 2009.
With a new album, a new love, and a new outlook on life comes a new style change, and the new Elle August issue captures that perfectly.
In it, Grande faces the camera with her long blonde hair split in the middle and flat ironed straight, the length flowing down to her waist. Her roots are colored a soft brown to give her platinum locks a more "lived in" effect, and the soft layers are caught in the breeze as she poses.
Her white-blonde hair transformation happened recently, too, where Grande first colored her brown hair an icy white hue back in October of 2017. The look was courtesy of celebrity hairstylist Chris Appleton, who is best known as Kim Kardashian's long-time stylist, and who famously gave her her silvery-grey lob. Grande then went to lavender and even grey, only to switch back to her natural brown hair just two months prior.
Not one to sit around with the same hairstyle for long, Grande threw another beauty curve-ball at fans by taking her brown hair into a sunny gold hue in June, revealing the surprising transformation on the cover of British Vogue's July issue. In it, she had her new, blonde hair set in natural, beachy waves and wore no-makeup makeup, giving off a natural and easygoing aesthetic. But seeing how she was back to brown hair at the Wango Tango music festival on June 2, this could have just been a wig.
But now she has upped the ante, as the Elle cover shows, and has went back to a more dramatic, platinum shade. While it's hard to keep up with all of Grande's hair transformations, one thing is for sure: The high ponytail might still be her signature look, but it's not the only one she exclusively rocks anymore.
The August Elle issue isn't just about Grande's beauty transformations, though. In the cover article, the artist opens up about her new music and her new outlook on life. Deeply shaped by the attack at her concert in Manchester, she not only speaks about the devastating event, but also how it felt performing after the event, and how she now uses her platform and privilege to advocate and become an ally. This has sometimes gotten her backlash, especially considering her vocal support of Black Lives Matter and her anti-Trump stances. But Grande isn't afraid of the potential loss of fan-base or revenue when it comes to standing up.
"There's a lot of noise when you say anything about anything. But if I'm not going to say it, what's the f*cking point of being here?" Grande tells Elle. "Not everyone is going to agree with you, but that doesn't mean I'm just going to shut up and sing my songs. I'm also going to be a human being who cares about other human beings; to be an ally and use my privilege to help educate people."
Whether it's her new vocal outlook or her willingness to experiment with her hair, Grande is a changed woman, and the world has become a better place because of it.