Ariana Grande's Friends Surprising Her With A Mariachi Band Is Such A Mood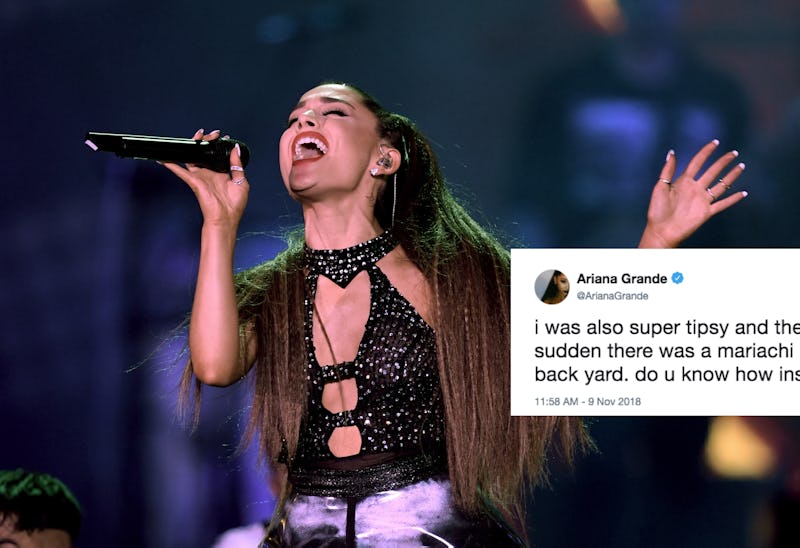 Kevin Winter/Getty Images Entertainment/Getty Images; Ariana Grande/Twitter
Ariana Grande has more than just her exes to be grateful for. The "Thank U, Next" singer shared on Instagram and Twitter that her friends planned a surprise that she's calling "the nicest thing anyone's ever done" for her. On Thursday night, Grande's friends surprised her with a mariachi band, and she shared videos of the impromptu celebration on her Instagram Story.
Grande posted footage of friends dancing along to the band's music. "My friends surprised me," she wrote in her Instagram Story, along with a crying-face emoji. She also tagged her pal Victoria Monét, writing that the mariachi band was all her idea.
Monét is one of the two ladies who performed "Thank U, Next" with Grande on The Ellen DeGeneres Show this week. She and Tayla Parx, who sang and danced alongside Grande during the performance, both have writing credits on the song, Page Six noted. In an Instagram post, Monét wrote that performing with Grande on Ellen was "the most fun we've EVER had."
She and Parx both shared videos of the mariachi band's performance on their own Instagram accounts, too. Swedish singer-songwriter Zara Larsson even showed up in one of Parx's clips — it looks like the impromptu party was a star-studded affair.
"Yoooooooooo i can't believe my friends got me a mariachi band last night. that sh*t was wild. i think that's the nicest thing anyone's ever done for me," Grande tweeted on Friday morning.
She continued,
"I was also super tipsy and then all of a sudden there was a mariachi band in my back yard. do u know how insane that is ?"
Before "Thank U, Next" was released, Grande tweeted that her friends are responsible for the title, too. "This what happens when u write an album w your best friends lol @VictoriaMonet they dig up all your old sayings and it ends up becoming the album title lmao," she wrote in her tweet. And it really is a phrase Grande's been using for years, as fans discovered, although she might not have been using it to refer to her past relationships before.
And while most of the Instagram footage of the mariachi band focused on classic songs, Monét and Grande also shared that the band also played a special request. Of course, the mariachi band played "Thank U, Next," and you can see a snippet of that in the video below.
The singer ended her series of tweets with a reference to her emotional support pig, Piggy Smallz.
"Then i woke up w a pig on my chest. i dunno man. life may not be what u expect but it ain't that bad," Grande wrote. When it comes to her post-breakup attitude, Grande really does seem to have a great outlook on life.
Grande may be newly single, but it looks like she has a great support network in her family and friends. She's also been active on social media this week, thanking fans and fellow celebrities for their praise of her new song.
And based on the clips from the mariachi festivities, it looks like Grande's friends love "Thank U, Next" just as much as her fans do. She's one of the most famous people in the world, but it looks like she'll always have a special place in her heart for close friends. And they're there to return the love too, mariachi band and all.