Ariana Grande's "God Is A Woman" Has Twitter Totally Convinced She's Speaking The Truth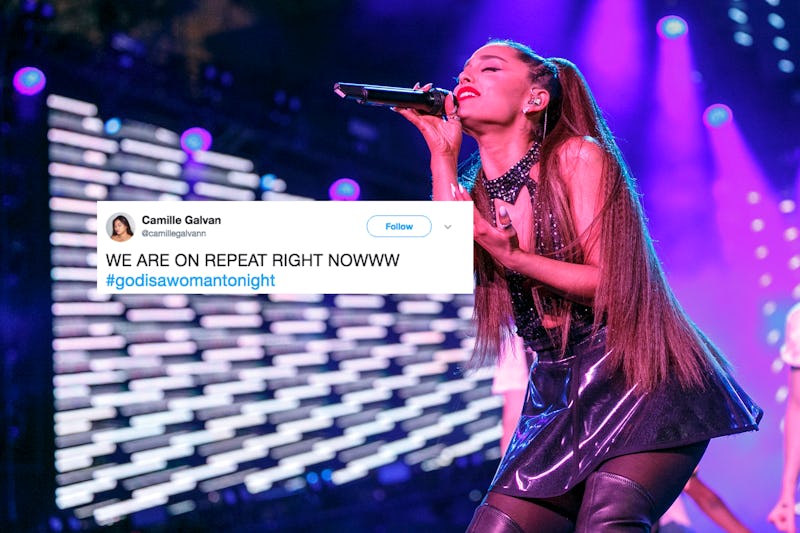 Rich Polk/Getty Images Entertainment/Getty Images
After dominating the news for the month of June due to her surprise engagement with Pete Davidson, Ariana Grande's "God Is a Woman" has Twitter freaking out all over again. Grande teased the single at length in the days leading up to the release, publishing several Instagram posts and tweeting about it repeatedly. Even though the lyrics were available prior to the single release, there was little else known about the song itself, besides the fact that Grande revealed Pharrell Williams helped produce it with her.
The chorus of Grande's new single reads, "When all is said and done/You'll believe God is a woman."
When a Twitter user asked if Grande was nervous about how people would react to the religious implications of the title, Grande tweeted back, "i was expecting it and of course understand it ... but it's art. it's okay if not everybody understands everything i do. i'm grateful for the opportunity to be myself and inspire others to do that as well. I would rather do that than play it safe."
In fact, in one tweet, Grande wrote that she was "passing the phone," presumably to Davidson. The rest of the tweet reads, "giaw is my favorite. it makes me cry every time i hear it you guys r gonna shit. the whole album is fire. and obv i love the song called pete :) you guys are gonna freakout."
People were definitely all about the new single. In less than an hour thousands of people were tweeting about it, and pretty much all of them were ecstatic. Here's what some of them had to say: