Ariana Grande Is Keeping Her Last Name For The Sweetest Possible Reason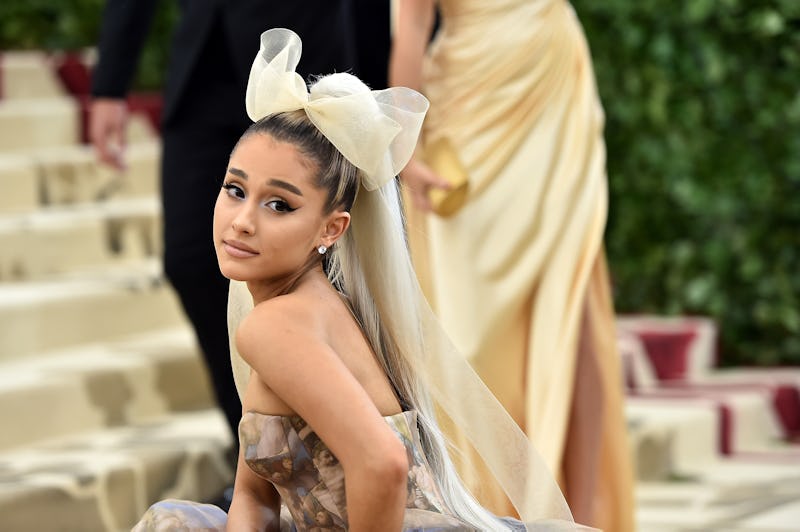 Jason Kempin/Getty Images Entertainment/Getty Images
Once a Grande, always a Grande. And that's definitely the case for one superstar. As she revealed during an interview with Apple's Beats 1, Ariana Grande's last name probably won't change after she gets married. According to the singer, there's a very particular, and special, reason why.
The host of Beats 1, Ebro Darden, of course, asked Grande all about her latest album, Sweetener. But, he also got the deets on her future married life with fiancé Pete Davidson. He asked the "God is a woman" singer if she would change up her name once she says "I do" and whether she would hyphenate it or not. She related that she'd be down to hyphenate her name (Ariana Grande-Davidson does have a fun ring to it), but don't expect her to eliminate the "Grande" entirely.
While the singer mused that it would be kind of cool to pull a Beyoncé and simply go by "Ariana" professionally, she quickly pushed the thought aside. "I have to keep 'Grande' because of my grandpa. I think of him with everything I do. And he was so proud of our name that I should keep it. Imma keep it," she said. So, you can always count on the "no tears left to cry" songstress to stick with "Grande" so that she can give her own, sweet nod to her Grandpa Grande.
As you might have already seen, Grande gave a little bit of insight into the Americanized pronunciation of her family name during the interview, as well. Apparently, her last name should be pronounced like "Gran-dee" instead of "Grahn-day." Don't worry, though, you can still expect the famous singer to go by her already well-known stage name.
Considering the fact that there was talk about her name change after getting married, there was also some discussion about when that wedding in question may occur. While the couple moved pretty fast into the engagement portion of their relationship, it appears that they're going to take things more slowly when it comes to their nuptials. She told Darden that while the wedding wouldn't occur in the next five months, it will happen within the next five years. So, fans may be in for a bit of a wait for the event to arrive.
But, this shouldn't come as too much of a surprise. When the news about their engagement first broke in early June, only weeks after it was first revealed that they were dating, it was reported that the pair wasn't in a rush to get married right away. According to a source at Us Weekly, "They are a perfect fit. They are not rushing to get married." Another source told the publication, "They are looking forward to a very long engagement together."
It could be some time until Grande and Davidson exchange vows. But, in the meantime, there's one thing that fans can already count on for whenever they do head down the aisle: The "breathin" singer is still going to keep her "Grande" name after she gets married so that she can honor her grandfather.