So, Pete Davidson Reportedly Dropped $100,000 On An Engagement Ring For Ariana Grande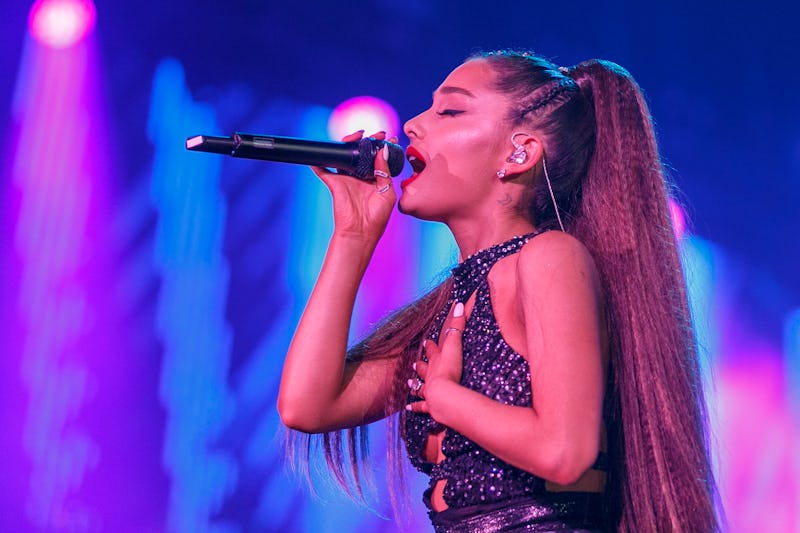 Rich Polk/Getty Images Entertainment/Getty Images
True love is not limited by time, and apparently there's no price cap, either. According to TMZ, Ariana Grande's reported engagement ring is worth almost $100,000. After just a month of dating, Pete Davidson reportedly wasted no time splurging on his bride-to-be.
The two have already solidified their relationship with tattoos and now they're allegedly engaged as well. While neither of them have taken to Instagram to post your typical "we're engaged" photo, Ariana has been showing off a rock on that special finger.
The ring is a gorgeous tear-drop diamond with tiny diamonds all around the rock and along the band. According to TMZ, Davidson chose a $93,000 VVS1 clarity diamond set. The publication that the ring was created by NYC jeweler Greg Yuna, who goes by Mr. Flawless. They might not have made the official announcement, but this sure does look like the real deal.
Honestly, this ring is huge and I don't know how people didn't see it sooner. Because when your name is Grande, your ring has to match.
According to TMZ, the ring set was made especially for Grande and took two weeks to make. If the math is correct, that means that Davidson spent half of his relationship choosing the best ring for Grande, which is dedication. When you know, you know.
While fans are just now starting to talk about the ring, Grande has been wearing it for weeks now. It turns out that the singer was wearing the ring on June 2 at the iHeartRadio Concert.
It might haven taken people a while to notice the 24-year-old's new jewelry, but you won't be able to miss it now. The ring blends in with Grande's other accessories perfectly. So perfect that people didn't even notice when she wore it on stage.
The internet freaked out just a week ago when the couple reportedly got tattoos for each other. According to previous Bustle coverage, Davidson got Grande's signature bunny mask tattooed on his neck right below a music note. The 24-year-old also got Grande's initials on his thumb. Twitter also noted that he got a tattoo for his previous girlfriend as well.
Little did people know that the couple was reportedly already engaged. The fresh ink wasn't so sporadic after all. Like mentioned before, the couple has yet to share an announcement on social media. Instead, they're letting fans figure out all the piece for themselves.
The couple did take to Instagram to show off their recent trip to Disney though. The two posted videos on rides and have been posting other images for weeks now.
The only announcement that Grande made of recently was about her new perfume, which is coming soon, according to the post. There is a whole lot in Grande's world to be excited for. The reported engagement is just one of those things, but the ring is by far the biggest — literally.
It was only a matter of time that she could keep a ring of this size a secret. Whether Grande decides to show off the ring for all of Instagram or keep it to herself is completely up too her. Of course, there are tons of fans dying to get and up-close look at it though.