Ariana Grande Answered The One Pete Davidson Question You Never Asked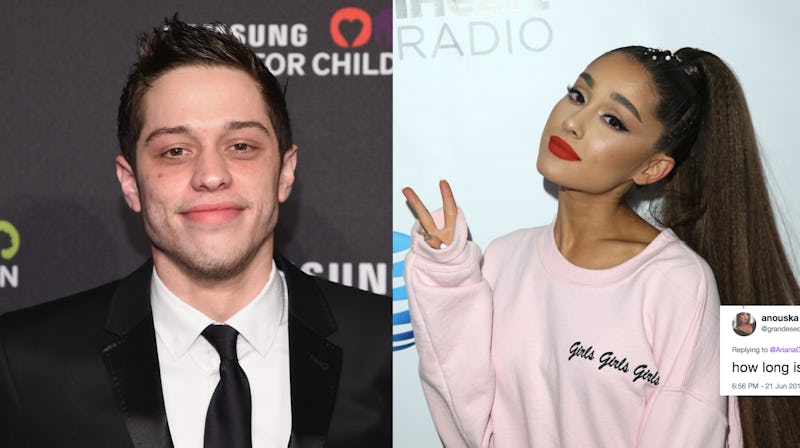 Bryan Bedder/Getty Images Entertainment/Getty Images; Jesse Grant/Getty Images Entertainment/Getty Images; @grandeseclipse/Twitter; Bustle/Screenshot
If fans thought Ariana Grande outdid herself with hilarious tweets shutting down pregnancy rumors on Thursday, June 21, they didn't know what else was coming. She's totally on a roll with those Twitter fingers of hers, which is why Grande's tweet about Pete Davidson's penis size had many fans raising their eyebrows on Friday, June 22. No, really. Even though she deleted the tweet, Grande is clearly having the best time playing with fans regarding her engagement news on social media. Honestly, no one is complaining because it's all entertaining as hell.
A fan asked Grande, "How long is Pete?" on Twitter, adding, "Oh as in the interlude…" Grande took it and ran with it in a since-deleted tweet on Friday afternoon, writing, "Like 10 inches? …oh f*ck…i mean…like a lil over a minute." (The screenshot was captured by Bossip.) Needless to say, the internet was slain and there may be no recovering from this. It may not have been the information fans asked for, but they sure are glad they now have it.
Earlier in the week, Grande revealed an interlude off her new album Sweetener is named after her man, titled, "Pete." On Sunday, Grande clarified why she named the track after Davidson for those who were doubting the decision to do so. "forreal. the truth is ☕ i been the f*ck thru it and life's too short to be cryptic n sh*t about something as beautiful as this love I'm in. so ǝʇǝԀ it is," she wrote.
Although their romance has been a fast one, Grande has nothing to hide. Clearly. Twitter is taking the opportunity to yet again show how hilarious it can be while reacting to the whole, um, size comment that cannot be unseen.
It may be a little TMI...
But it's not too TMI that it prevents fans from enjoying it.
And some fans have been asking for, uh, evidence...
The only thing that would've made this situation more incredible is if Grande kept the tweet up and owned it. If fans weren't happy for her before, it seems like they definitely are now. Left and right, people are coming out of the woodwork to congratulate Ari for "living her best life" with Davidson and his, well, yeah.
This little (or big) reveal may or may not explain why Grande and Davidson have been so inseparable in the last few weeks. It all reportedly started, at least publicly, when Davidson supported Grande at the Billboard Music Awards in May, caught on video by a fan with Grande and her team. After that, it seemed like they spent time at The Wizarding World of Harry Potter, donning matching Hogwarts outfits on social media. (Grande also posted a video of the two on a ride together.)
Just before the 10-inch tweet broke the internet, TMZ reported that the newly-engaged couple moved into an NYC apartment that costed $16 million. Around the same time, Davidson went on The Tonight Show With Jimmy Fallon and gushed about his new relationship, further confirming the whirlwind engagement. "I feel like I won a contest. It's f*cking lit, Jimmy," the SNL star said. Meanwhile, the two can't stop laughing and joking around together.
Although Grande has made it clear there will be no pregnancy in the picture (at least not yet), the relationship is still moving at light's speed. Still, it seems like the two are totally self-aware and are making most of their extremely public (and unique) romance by having their own fun with it. The last few days serve as proof that fans should keep an eye on Grande and Davidson's social media accounts... just for good measure.