Fans Think Ariana Grande Just Threw Some Subtle Shade At Pete Davidson's 'SNL' Promo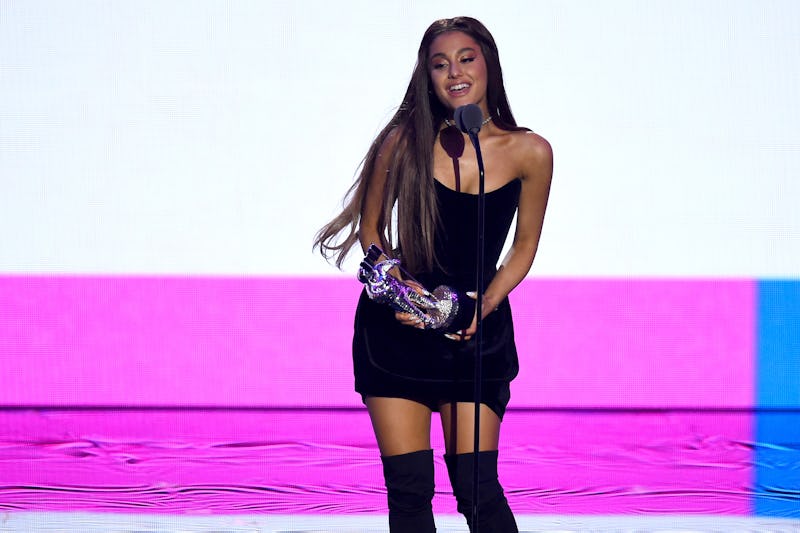 Theo Wargo/Getty Images Entertainment/Getty Images
After their engagement abruptly ended, there's been intense speculation over the opinions of both parties — but Ariana Grande's response to Pete Davidson's SNL promo on Thursday night seemed to make a big statement on how she felt. The response, which occurred in a series of tweets and likes, seemed to be a subtle acknowledgement of an SNL spot in which Davidson proposes to musical artist Maggie Rogers and she says no.
It all started with the SNL promo (as seen below), featuring Davidson, Rogers, and Jonah Hill. Davidson said to Rogers at one point, "Hey Maggie, I'm Pete. Want to get married?"
Rogers simply replied, "No."
Then the apparent Twitter shade started to go down. First, Grande liked a tweet by a fan that said, "tag yourself i'm maggie," and that tweet was a response to the SNL promo. Then, in a series of now-deleted tweets, Grande seemed to call out Davidson for indirectly talking about his broken engagement on SNL. First, she tweeted, "for somebody who claims to hate relevancy u sure love clinging to it huh"
Then she tweeted, "thank u, next"
Finally, she tweeted, "love u finishing my album"
All three of those tweets were soon deleted.
Of course, Grande did not confirm that any of these tweets are about Davidson, nor did Davidson confirm that his joke was about Grande. But it would be an awfully large coincidence, in either case, for those events to have to do with anything other than the end of their engagement.
This isn't the first time that Grande has seemingly spoken out on social media about the abrupt end of her whirlwind romance with the SNL actor, who was reportedly living with her in a New York apartment and co-parenting a new pet pig at the time of their breakup. Days after their breakup in October, Grande seemingly acknowledged the split in an Instagram story post (that she deleted a few hours after). She wrote, "time to say bye bye to the internet for jus a lil bit. it's hard not to bump news n stuff that i'm not tryna see rn. it's very sad and we're all tryin very hard to keep goin. love u. and thank u for bein here always."
Her social media break seemed to last five days before she sent out a series of tweets on Oct. 22, including "hi wow i missed u sm" and "i hope ur well and taking care of yourselves ilysm."
Grande's brother, Freddie Grande, weighed in on the breakup on Monday, confirming to Entertainment Tonight that Grande is doing well. He said, "She's working really hard, getting prepped for tour … and another album. Like, it's too much! Lots of stuff is going on."
Davidson hasn't made any direct or indirect comments about the breakup on social media, but he did reportedly change his number to "distance himself" from Grande in the wake of their split. He also got the matching tattoo he shared with Grande changed.
A source told Us Weekly on Oct. 26, "This has been a difficult experience for Pete. He's always been an extremely private person and the Ariana Grande spotlight and social media were a lot of new pressure for him."