Ariana Grande's Stylist Has A Revelation About Her Ponytail That Will Legit Make You Gasp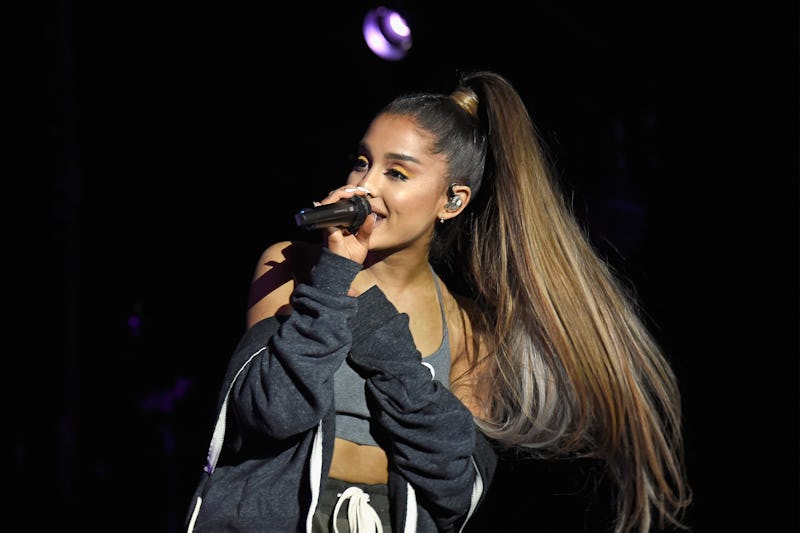 Kevin Mazur/Getty Images Entertainment/Getty Images
"Did you know," Ariana Grande's stylist Law Roach says to me over breakfast, "She wasn't sure if she was going to wear the ponytail for the tour?"
As a fan and follower of Grande's signature style from the beginning, I gasped.
"I told her, you have to. Let me tell you something, if you put a screen up, and you backlight her, as soon as you see that silhouette, you're like, 'that's Ariana Grande.' That ponytail should go to the Smithsonian. It is a part of pop culture! People say what they want to say about that ponytail but it is iconic."
And if anyone knows what it takes to be iconic, it's Roach. When it comes to fashion, he has made many of his clients ones to watch, whether they're new to the scene or were just looking for a new style direction — and his influence goes far beyond Ariana Grande's ponytail. Roach works with celebrities like Demi Lovato, Kylie Jenner, and Ciara.
"You have to be sort of fearless to work with me," Roach says. "When I dress someone, I have the chance to tell a story, and I use fashion to do that. Some of my references are very literal, sometimes it can be a bit costumey, but that's why I work with strong women. At the end of the day, they don't care."
There is perhaps no better example of the breadth of his references and capability than Zendaya, who Roach says is his muse. Having styled her since the beginning of her career, they have a symbiotic, familial relationship that allows them to work together and achieve many memorable fashion moments, including her 2017 Met Gala look.
Roach is also responsible for Celine Dion's style resurgence. He says that Dion gave him the chance to push her boundaries as well as his own.
"My plan for Celine was not to have a plan. I wanted to wake up every morning and gauge how she was feeling. Some mornings it was very 'Madame Celine,' sometimes it was very street style. One day she had on a full couture look from Ralph & Russo, and one days she had on jeans and an Off-White bag, shit that just didn't make sense."
Most recently in his prolific career, Roach masterminded Grande's recently concluded Dangerous Woman tour. The costumes speak to both Roach and Grande's unique style, including what Roach calls the "hero outfit" — a hybrid of a trench coat and ball gown that Ariana wore for the final number. But when it comes to celebrity styling (Grande or otherwise), Roach doesn't let his point of view overshadow that of his clients.
"It's very important for me as a stylist to maintain their DNA and their personal style and help them elevate, meaning help them find a brand they've never worn before or help them find a bold silhouette that they may not have tried. My job is not to change, my job is to help them elevate themselves."
Roach is also aware of the fact that not everyone has access to a stylist or an endless supply of clothing — but says that when it comes down to personal style, it's all about attitude.
"My advice is don't listen to people like me who tell them what they should wear," Roach says. "Try it on, if you love it, if you feel beautiful, wear it, and 'fuck you' to anyone who has a different opinion about. Because when a woman loves something and she puts it on and she loves the way she feels, and the way that she looks, everybody else is going to gravitate toward her because it makes her confident, and we all know that confidence is the most attractive, period."