Ariana Grande's "Thank U, Next" Includes A Mac Miller Tribute That Will Move You To Tears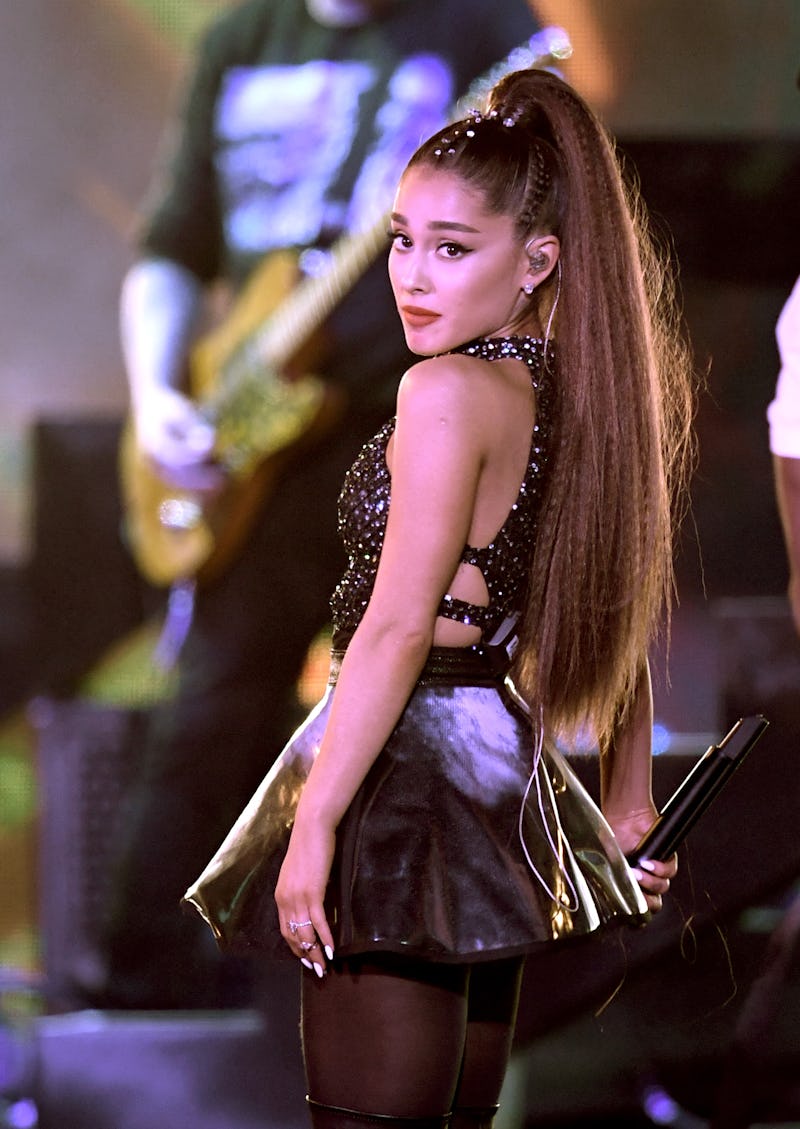 Kevin Winter/Getty Images Entertainment/Getty Images
It's not easy to make a breakup anthem both positive and empowering, but "Thank U, Next" does just that. Ariana Grande's new song includes a tribute to Mac Miller, and the lyrics are already making fans emotional. On Saturday, Grande dropped the new single before this week's episode of Saturday Night Live aired, putting to rest discussion about her public breakup with comedian and SNL performer Pete Davidson. The track names each of her past exes, but instead of throwing shade, she thanks each person for helping her grow. The line dedicated to Mac Miller is particularly poignant. She sings:
"Wish I could say, 'Thank you' to Malcolm, because he was an angel.
Mac Miller, whose full name was Malcolm McCormick, died from an apparent overdose in September. He was 26. "Thank U, Next" is not the first time the singer has shared memories of Miller. In September, she posted an emotional black and white photograph of the him on Instagram. She also shared a video of the rapper on the social media platform, in which he can be seen telling a funny story and wearing a sweatshirt that reads "everything will be ok." She included a message in the caption, writing:
"i adored you from the day i met you when i was nineteen and i always will. i can't believe you aren't here anymore. i really can't wrap my head around it. we talked about this. so many times. i'm so mad, i'm so sad i don't know what to do. you were my dearest friend. for so long. above anything else. i'm so sorry i couldn't fix or take your pain away. i really wanted to. the kindest, sweetest soul with demons he never deserved. i hope you're okay now. rest."
Grande and Miller first connected in 2012, and were friends and musical collaborators long before they began dating in public in 2016. The two dated for two years before parting ways in 2018, and Grande revealed the breakup with a message on her Instagram story, according to Billboard. She wrote:
"This is one of my best friends in the whole world and favorite people on the planet. I respect and adore him endlessly and am grateful to have him in my life in any form, at all times regardless of how our relationship changes or what the universe holds for each of us."
The loss came at the end of a tumultuous couple of years for Grande. "Thank U, Next" continues to spread the same sense of positive spirit that can be found in the songs on the singer's latest album, Sweetener. The new single celebrates each of her past relationships, naming Big Sean, Ricky Alvarez, and Davidson. In a tweet on Saturday, she assured fans that Sean and Alvarez heard the track before its release.
However, the dedication to Miller hit fans particularly hard, and many reached out on Twitter to share their feelings and support for the star. Several fans wrote that the track brought them to tears. Twitter user @bellaangeletti shared: "Ariana Grande calling Mac Miller an angel in her new song has me crying," while @POPPYDRAYTON wrote, "sis you got me sobbing with these lyrics." Others tweeted to the singer to say that the late rapper would appreciate the song.
Over the past couple weeks, Grande has continued to share moments from her time with Miller with fans. In October, she shared a video of Miller getting ready for Madonna's Oscar party, her grandmother helping him with the tuxedo sleeves. This week, she shared a photo wearing Miller's hoodie while cuddling with his dog Myron. There is speculation that Grande adopted the dog, since she posted another selfie with Myron on her Instagram Story amidst the new song announcement.
It takes a lot of strength to be as resilient as Grande in the face of so much tragedy. The star was able to take these difficult experiences, and turn them into uplifting music. It's no wonder the song is making listeners emotional with its poignant reminder of how important Miller is to Grande's journey.