Ariana Grande's Tweets About Missing Mac Miller Will Break Your Heart All Over Again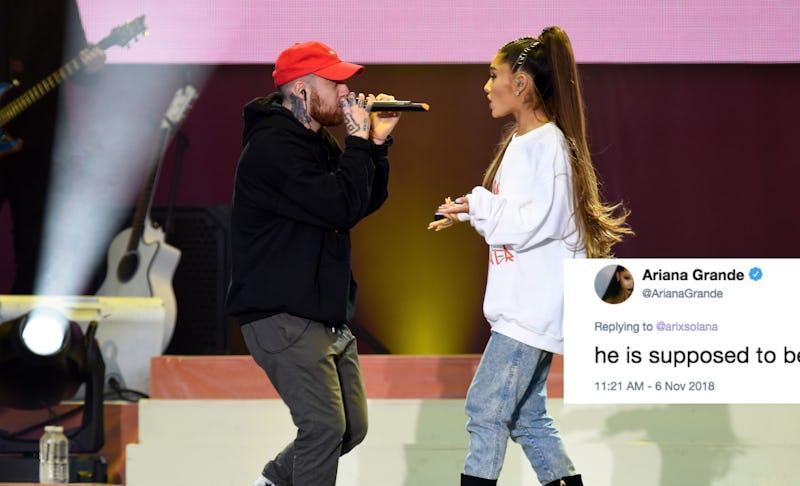 Getty Images/Getty Images Entertainment/Getty Images; Ariana Grande/Twitter
It's clear that Mac Miller is still so close to Ariana Grande's heart. As E! News noted, Ariana Grande recently tweeted about Mac Miller, sharing sweet, yet heartbreaking, messages about the late rapper. Considering that the "God Is A Woman" singer consistently has the kindest words to say about her ex-boyfriend, this news shouldn't necessarily come as too much of a shock.
On Nov. 6, one of Grande's fans sent her an Instagram Live video of Mac Miller from August, in which he can be seen and heard listening to her "R.E.M." track. The fan (@arixsolana) wrote to the singer,
"Hey @ArianaGrande here's a video of @MacMiller listening to R.E.M during his Instagram live from August 9th before it was released. We had to stan the best song from Sweetener!"
Grande responded with a slew of tweets that are sure to make everyone a little emotional. She said, "he is supposed to be here." The Sweetener songstress followed that up with a kind message for the Arianator who sent her the clip, and said, "thank u for finding this." Grande also reminisced about "his voice and laugh."
This isn't the first time that she has opened up on social media about how she feels in light of her ex's untimely passing. So, it's obvious and incredibly understandable that she still has Miller on her mind and close to her heart.
On Sept. 7, it was reported that Miller died at age 26, per TMZ. Even though he and Grande had split prior to his passing, it appeared as though they were still on positive terms with each other (especially as his Instagram Live video would indicate).
On Sept. 8, the "No Tears Left To Cry" singer posted an Instagram tribute in honor of Miller. The post featured the rapper looking up at the camera and included no caption (since the photo really said it all).
Then Grande posted another tribute to Miller on Sept. 14 and it featured an adorable moment between the two. She posted a short video she took of the rapper, who didn't realize that she was filming him at the time. She captioned the post:
"i adored you from the day i met you when i was nineteen and i always will. i can't believe you aren't here anymore. i really can't wrap my head around it. we talked about this. so many times. i'm so mad, i'm so sad i don't know what to do. you were my dearest friend. for so long. above anything else. i'm so sorry i couldn't fix or take your pain away. i really wanted to. the kindest, sweetest soul with demons he never deserved. i hope you're okay now. rest."
Recently, Grande attended a celebration of life concert for her late ex on Oct. 31, according to Page Six. At the concert, singers such as Travis Scott and Chance the Rapper performed in honor of Miller, per E! News. Given her attendance at that event, and the many kind words she's shared online about him, it's easy to see that the rapper may be gone, but he'll never be forgotten by Grande.