Ariana Grande's Tweets About Nonna Prove Just How Iconic Her Grandma Truly Is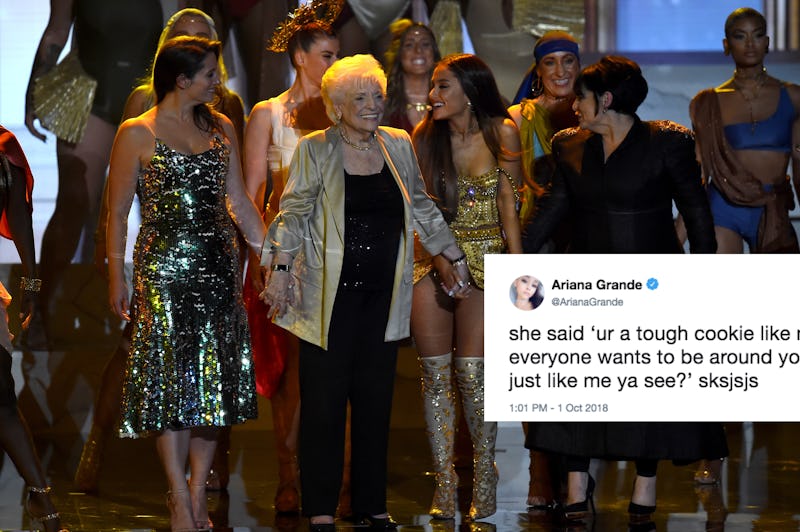 Theo Wargo/Getty Images Entertainment/Getty Images; Ariana Grande/Twitter
Straight up, Ariana Grande is an actual queen. That's just a fact. And according to some of the singer's latest tweets, Ariana Grande and her Nonna, aka her grandmother Marjorie Grande, are apparently a lot alike. So basically, the entire Grande family is made up of totally iconic women.
On Oct. 1, the "God Is A Woman" singer explained that she received some words of wisdom from her grandma recently. "she said 'ur a tough cookie like me! and everyone wants to be around you cause ya just like me ya see?' sksjsjs," she tweeted. You really can't argue with Nonna there. One of Grande's fans tweeted that the sentiment was out of control with "self-love," which it "should be."
It may be a positive message for self-love, but according to the singer, "that isn't even the half of it." Grande continued to say that she might just have to note everything that Nonna says from now on because everything she says is seriously a gem. "she's so funny and dope and inspiring. not a f*ck given," she wrote. Nonna is all about confidence and serving looks. So, it's easy to see where Grande got her vibe from. In a follow-up tweet, Grande posted,
"she also told me this morning that she thinks I have outstanding knees.... ? and that I got them from her..... ?"
The "No Tears Left To Cry" songstress couldn't help but gush about her grandmother on Twitter (and specifically, about all of the fun things that Nonna says), proving that their bond really is nothing short of adorable.
Her tweets prompted many of her Arianators to share about how much they love Nonna, too. In reply to one of her fans saying that her grandma's "truly the baddest," the 25-year-old wrote an anecdote about her relative to really prove that.
Apparently, someone had the audacity to tell Nonna that she couldn't pull off a certain look that she was sporting. But that didn't get the grandma down. Instead, she hit back with, "o yea? i bet if you could pull this off you could wear it too!" She's simply an icon.
Of course, this isn't the first time that Grande's posted about her Nonna and showed off the pair's lovely relationship in the process. In addition to posting about her grandma's funny quips and her amazing looks, she's also posted videos featuring her, as well.
On Aug. 17, the day that her album, sweetener, was released, she gave fans an inside look into her latest jam session with her loved one. Grande posted a video of herself dancing alongside her grandmother to one of her most moving tracks, "get well soon." And, yes, the clip of their dance sesh is as adorable as you think it is.
In case you still weren't convinced that Grande has the best relationship with her hilarious Nonna, she also tweeted that she "can't wait to literally be nonna" because she loves her grandmother so much. If that doesn't sum up just how sweet their relationship is, I really don't know what would.