Olympic Swimmer Ariana Kukors Says Her Coach Gave Her Sex As An 18th Birthday "Gift"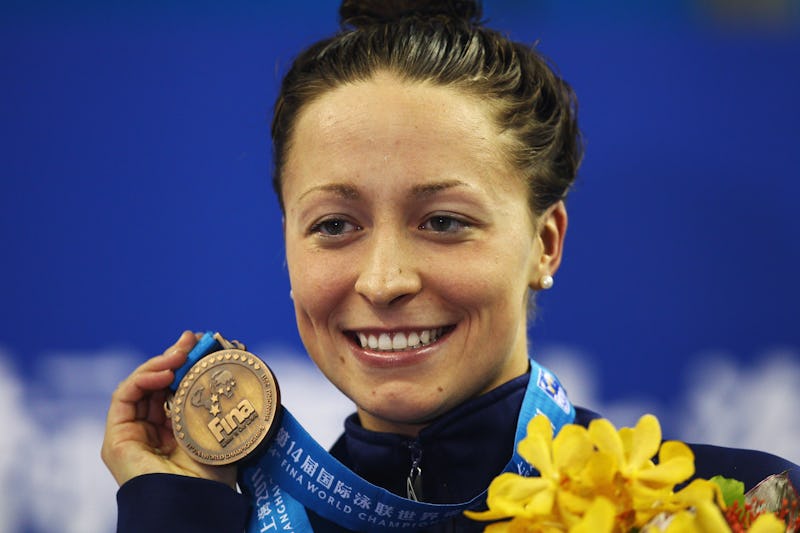 Quinn Rooney/Getty Images Sport/Getty Images
Allegations of sexual abuse have placed another national sports governing body under scrutiny. Former Olympic swimmer Ariana Kukors accused a coach of sexual abuse Friday, alleging ex-coach Sean Hutchison pulled her into what she calls an "extensive, abusive, and incredibly manipulative relationship" that began when she was a minor. According to the Seattle Post-Intelligencer, Homeland Security investigators have since searched Hutchison's home following allegations he'd taken sexually explicit photographs of Kukors when she was a minor.
In an essay published on her personal website Friday, Kukors, now 28, detailed how Hutchison began to "groom" her for a relationship at the age of 13. "I think back on those times now, tearfully asking why no one helped me... why no one stepped in to save me from this monster," Kukors wrote. "It's still hard to comprehend, but Sean had perfected the art of grooming; I wasn't even aware I needed saving."
Hutchison has denied Kukors' allegations and has not been charged with a crime by authorities although investigators did obtain a search warrant for his home. "At no time did I ever abuse Ariana Kukors or do anything with her that was not consensual," NBC News reported Hutchison said in a statement.
Kukors alleged Hutchison first nudged their relationship into the realm of inappropriateness when she was 15. "Sean made his move in the Mt. Rainier Pool parking lot," she wrote. "He asked me if I was wearing underwear. I said no."
The swimmer claimed that question was the beginning of nearly a decade of sexual abuse. The following year, when Kukors was 16 — and Hutchison was 34 — things turned sexual. "I'd never been physical with anyone before but I now found myself alone with him, engaging in sexual acts and trying to hide my embarrassment when he sat in the women's locker room and watched me shower," the former Olympian wrote.
The swimmer alleged she and Hutchison engaged in "everything but" sex until shortly after her 18th birthday, when Hutchison had sex with her as his "gift" to her. "the memory of that night will always haunt me," she wrote.
In 2010, rumors Hutchison was engaged in a romantic relationship with one of his swimmers spurred USA Swimming to investigate the matter. " I was scared. I lied," Kukors wrote of being questioned by a private investigator. She said she was pushed further into silence when USA Swimming reported finding no evidence of wrongdoing and called the rumors against Hutchison "malicious lies."
"But I think they knew. I think everyone knew," Kukors wrote in reference to the national sport governing body. "No one flew out to meet me. No one seemed to care what happened to me in all this."
When Kukors made the U.S. Olympic team in 2012 — two years after the investigation had forced Hutchison to resign as an Olympic coach — she claimed her former coach became jealous and controlling, requiring she send him naked pictures every day that she was in London for the Games. After the 2012 Olympics Kukors alleged Hutchison "locked her away" in his apartment. "It wasn't an option of whether or not I would continue swimming; my career was over," she wrote.
In a statement to CNN Hutchison called Kukors' claims "wild allegations" made "all these years later." He denied having done anything to "groom" Kukors and said the two had a "committed relationship" following the 2012 Olympics.
The Department of Homeland Security is now investigating Kukors' allegations. In court documents filed earlier this week as part of the agency's affidavit for a search warrant, Kukors alleged Hutchison took photos of her while she was showering when she was still a minor. According to CNN, the US Olympic Committee's Center for Safe Sport has also opened an investigation into Hutchison, which USA Swimming is cooperating on.
"Over the last several years, Ariana has worked with USA Swimming as on-camera talent in its digital productions and has truly become a member of the family," CNN reported USA Swimming said. "We stand by her, and all other victims, in their quest to break their silence and confront their horrific experiences."
Kukors eventually left Hutchison and has since married. She said she's telling her story now in the hope of helping other victims. "I've realized that stories like my own are too important to go unwritten," the swimmer wrote. "Not for the sake of you knowing my story, but for the sake of the little girls and boys whose lives and futures hang in the grasp of a horribly powerful and manipulative person."