How This Former Olympic Swimmer Describes Her Coach's Alleged Abuse Will Chill You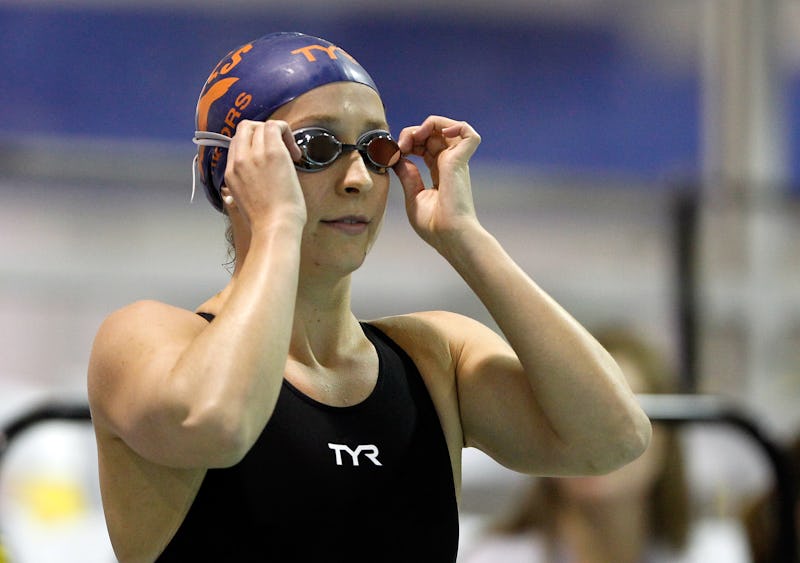 Streeter Lecka/Getty Images Sport/Getty Images
As elite Olympic gymnasts continue to speak out about being sexually abused by a former Team USA Gymnastics doctor, a former Olympic swimmer is joining the "me too" chorus. In an emotional interview with the Washington Post, Ariana Kukors describes her former coach's alleged abuse in a chilling way. According to the world champion swimmer, former U.S. Olympic coach Sean Hutchison began to "groom" her for a sexual relationship, which she described as manipulative and controlling, at a young age.
"My insides are shattered," Kukors told the Washington Post. "As an innocent, young individual who saw this man as a mentor, as a father figure, it was very confusing... It's been a complicated journey to really understand what happened, and how somebody that you trust, that's gained your family's entire trust can do something so horrific."
According to Kukors, Hutchison's alleged abuse has left a lasting mark on her life. Since breaking away from her former coach, she's battled depression and anxiety and has been working to repair her relationships with those she lied to or pushed away while under Hutchison's influence. Hutchison has denied Kukors' allegations, claiming the two had a consensual relationship when she was 23.
"At no time did I ever abuse Ariana Kukors or do anything with her that was not consensual," he said in a statement released last week. Hutchison characterized Kukors' claims as "wild allegations" made "all these years later." Allegations Hutchison collected sexually explicit photographs of Kukors when she was a minor spurred officers with the Department of Homeland Security to search his home last week. The former U.S. Olympic coach has not been charged with a crime, however.
Kukors has alleged her relationship with Hutchison turned inappropriate long before she was 23. In fact, she has claimed Hutchison first made things sexual when he, then 33, asked her, then 15, if she was wearing underwear after practice one day. When she was 16, Hutchison allegedly asked Kukors for nude photographs. According to the swimmer, things between her and Hutchison progressed quickly and within the year the two had engaged in "everything but" sexual intercourse.
At the time, Kukors claimed Hutchison had told her he loved her and had gone so far as to slip a paper ring on her finger and tell her he wanted to spend his life with her. "I thought he loved me, and that I'd broken his heart when I left... It took me a while to get to the point where I could acknowledge that I was a victim, and that wasn't love, there was no consent," Kukors said. "It was abuse."
But Kukors and Hutchison's relationship wasn't exactly a complete secret. In 2010, two years before Kukors would make the 2012 Olympic team, rumors Hutchison was engaged in a romantic relationship with one of his swimmers spurred USA Swimming to investigate. Kukors admitted last week that she had lied to investigators who'd questioned her about the matter. According to the Washington Post, Kukors' attorney believes the national sport governing body wanted to avoid a scandal and thus purposefully refrained from aggressively investigating the rumors.
"I think their investigation was tailor-made to obtain a certain result, and once they obtained it, they sent out an email [to USA Swimming members] labeling the rumors 'malicious lies,'" Kukors' attorney, Bob Allard, said. In a personal essay published last week, Kukors said she'd felt pushed into silence when USA Swimming reported finding no evidence of wrongdoing and called the rumors against Hutchison "malicious lies."
But while Kukors' attorney blames both USA Swimming and the U.S. Olympic Committee for his client's experience, the swimmer said she's not looking to pursue a lawsuit or get money. "If this was about money or a lawsuit, I wouldn't be here," Kukors told the Washington Post. "This is for the spreading the message of grooming and the process that predators go through to gain victims' trust... that is my focus right now."