Lala Is Late For Her Flight On 'Pump Rules'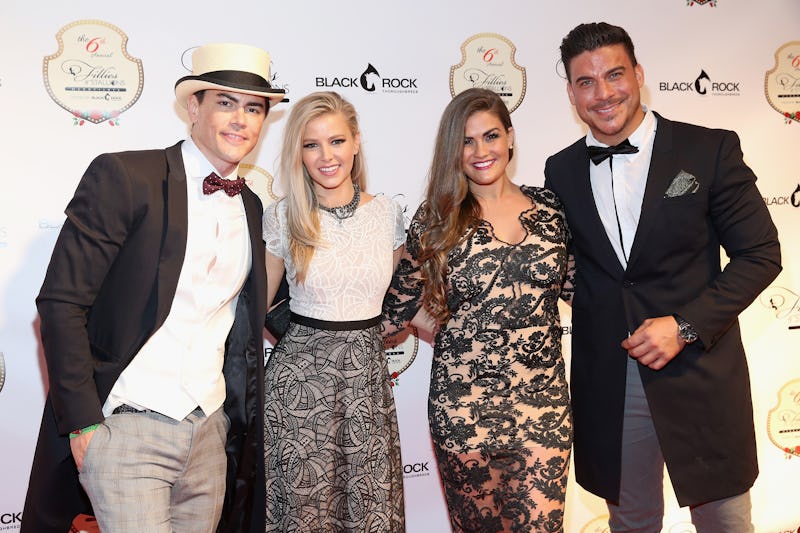 Robin Marchant/Getty Images Entertainment/Getty Images
I don't know how you can do better than tampon flasks, stolen sunglasses, fights about whether or not it is OK to swim topless in front of your coworkers' significant others, and a screaming match at an establishment called Cuckoo Coconuts, but if there is anyone who can compete with Season 4's big Hawaii trip, I believe it is the Sexy Unique Pumpers. On Monday night's episode of Vanderpump Rules, Katie and Kristen (and maybe Scheana) (OK, spoiler: Scheana totally ended up going after all) geared up for Stassi's birthday in Montauk, and the rest of the cast geared up for Ariana's birthday in Sonoma County, and I must say, things are already off to a phenomenal start; when the dueling trips begin with a suspenseful scene where Lala misses her flight to San Francisco, you know you're in for good television.
Near the end of the episode, Ariana, Sandoval, Jax, Brittany, Schwartz, and Ariana's brother began their trek to Northern California. It began at the Burbank airport, where they checked in, went through security, sat down at the gate, and waited to board — wait, where was Lala? The group was short one member. As Sandoval, Ariana, Schwartz, Jax, Brittany, and Ariana's brother sat at the gate, bleary-eyed and uncertain about Lala's whereabouts, they began to wonder if all of the Lala vs. Jax drama/the Lala vs. Tom Schwartz via Katie drama made her rethink the trip entirely. They worried she bailed on them without warning.
Sandoval gave her a call, ready to hear her say she was stuck in traffic, had the travel dates mixed up, was sprinting through the Burbank airport at that very moment, was stopping for a bag of Combos at Hudson News— something. Instead, all he got was an answering machine.
As the din of the airport grew louder, the reality of the situation grew brighter: Lala was not coming. The Pumpers walked out onto the tarmac and boarded their flight. As the Verdugo Mountains watched the SURvers climb the airstairs, they did a quick headcount and noticed someone was not there. "Wait, where's the one with the infamous Range Rover?" the Verdugo Mountains mumbled. "They can't leave without Range Rover."
The mountains picked up their cell and tried to get ahold of Lala one more time. But Lala didn't answer the phone call. The Verdugo Mountains let out a sigh of disappointment. It appeared as though Lala had truly missed the flight.
Will Lala scurry on the plane at the last minute? Will she charter a private jet to NorCal? Was she waiting for them on the plane the whole time? Is she actually piloting the plane? What a cliffhangar. (Ugh, I'm sorry.)