Arie's Parents Had A Lot To Say About Becca On 'The Bachelor,' But He Didn't Seem To Agree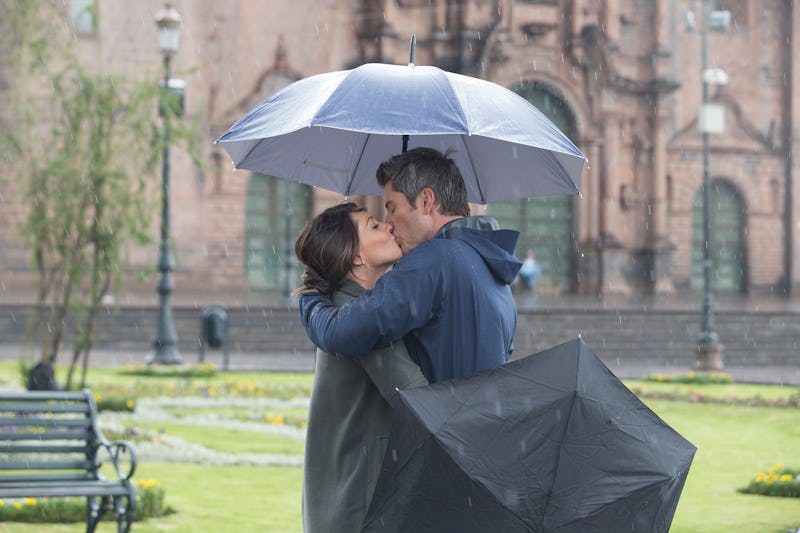 Paul Hebert/ABC
Now that Arie Luyendyk Jr. is down to two women on The Bachelor finale, it's time for a really important part of the process: meeting the parents. On Monday night, both Becca and Lauren met Arie's family, and things went really well on both of their dates. But it was clear that Arie's parents like Becca better, so it'll be interesting to see how that ends up influencing his final choice.
Both Lauren and Becca were nervous before they met up with Arie, but as it turned out, neither of them should have been. They both had what seemed like really chill conversations with Arie's parents, brother, and sister-in-law, and at one point, his dad even told Becca that he'd be happy with whoever Arie chose, which kind of threw her for a loop. Like most parents, they were just glad that their son had found two women who truly loved him, and they seemed super supportive of both relationships.
But after his family had the chance to meet both women, Arie was still unsure who he should propose to at the end of all of this, so he asked his parents who they thought was better suited for him. The unanimous answer? Becca.
Although Arie's mom admitted that she did love both of them, she also said that Becca seemed better for Arie — not just now, but in the future, too, because she seemed more secure in what she and Arie have.
"As a mom, seeing your future, and I just love Lauren," she said. "But I think Becca might be better for your future. Why? Because I think you have to reassure Lauren all the time about your love, and Becca stands on her own."
Makes sense; independence is a pretty attractive quality to most people, and Arie even said himself that Becca did require less reassuring than Lauren typically did. And Lauren's father said the same thing, sort of echoing his wife. To him, Becca seemed to be exactly what Arie needed in his life.
"I just think she's a little bit more get up and go, a little more firm, and I think that will work better for you because you sometimes need a kick in the ass," he said.
Well put, Dad. And unsurprisingly, Arie's brother and sister-in-law also agreed that out of the two women, Becca was better suited to him. It didn't seem like they had anything against Lauren — his sister-in-law even went out of her way to say that Lauren is a "cool girl" after talking with her in a way that made it seem like it was genuine — but Becca just left a different impression.
However, even after those dates and talking to his parents about the huge decision he had ahead of him, Arie still seemed like he was drawing a blank when it came to who his final rose winner would be. Despite the advice he got from his family, he was still pretty lost, so it's a good thing that he still had a one-on-one date left with each woman to help him make up his mind. At first, he was turned off by Lauren's lack of vulnerability, but now that she's opened up to him, it's made him second guess his feelings.
Arie's definitely not the first Bachelor who's been put in this situation, so hopefully, he'll be able to find his way out of it like the many, many leading men and ladies before him have. Both Lauren and Becca seem amazing, and it's obvious that he has deep feelings for them both. All he has left to do is make that decision.