An Arizona Detention Center Worker Was Charged With Sexually Abusing 8 Immigrant Boys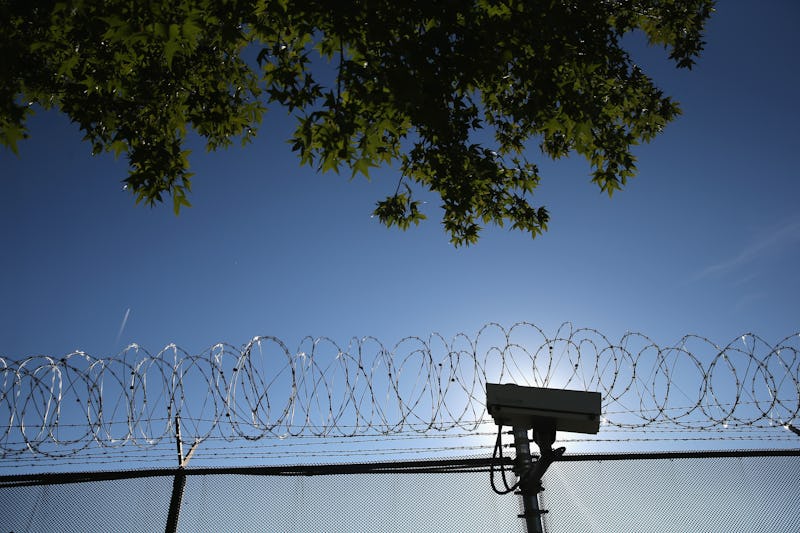 John Moore/Getty Images News/Getty Images
Trump administration officials previously claimed that child immigrant detention centers are essentially "summer camps," yet investigations into the nonprofit known to be the largest operator of such facilities have uncovered serious allegations of sexual abuse and molestation. News that police had recently arrested a Southwest Key employee suspected of sexually abusing a immigrant girl at the nonprofit's Phoenix, Arizona shelter was followed by a ProPublica report regarding another Southwest Key employee charged with abusing multiple immigrant children at the group's Mesa, Arizona shelter.
According to the ProPublica report put out Thursday, Levian D. Pacheco, a worker at Southwest Key's Casa Kokopelli shelter in Mesa, was indicted on 11 sex offenses in August 2017 following allegations he had molested at least eight unaccompanied teenage immigrant boys over the span of 11 months in 2016 and 2017. According to ProPublica, the Arizona Department of Health Services has alleged Southwest Key allowed Pacheco to work at their Mesa facility for nearly four months before a complete background check was done. A case against Pacheco is currently underway in U.S. District Court in Phoenix, with a trial expected to begin later this month, ProPublica reported.
"Any employee accused of abuse is immediately suspended and law enforcement called. This is what we did in this case," Southwest Key said in a statement regarding Pacheco that was released Thursday.
A spokesperson for the Department of Health and Human Services (HHS) told ProPublica that HHS had removed all unaccompanied migrant minors from Southwest Key's Mesa facility and issued an order to stop placement to that shelter. "These are vulnerable children in difficult circumstances, and the Office of Refugee Resettlement at HHS' Administration for Children and Families treats our responsibility for each child with the utmost care," the spokesperson said, according to ProPublica. "Any allegation of abuse or neglect is taken seriously."
But ProPublica also found allegations of molestation and inappropriate relationships between staff and kids at Southwest Key facilities detailed in police reports and call logs spanning the last five years. In one instance, a Southwest Key worker employed at the nonprofit's Tucson shelter was convicted on charges of groping a 15-year-old migrant boy.
And earlier this week AZ Central reported that Phoenix police had arrested Southwest Key employee Fernando Magaz Negrete on charges of child molestation, sexual abuse, and aggravated assault. Police said Negrete had admitted to repeatedly kissing and fondling a 14-year-old immigrant girl being held at the Southwest Key facility where he worked after he was reported to authorities by one of the girl's roommates.
"Our number one priority at Southwest Key Programs is to keep the children in our care safe," the nonprofit said in a separate statement released Wednesday. "Southwest Key Programs does extensive work to prevent all forms of abuse. When these rare situations occur, all staff involved adhere to our strict protocols... Our twenty-year history of taking care of children shows that when we see a problem, we report it, we fix it and we do it immediately."
Southwest Key did not immediately return Bustle's request for comment.