Updates On The Arizona Senate Race Show Democrat Kyrsten Sinema Pulling Ahead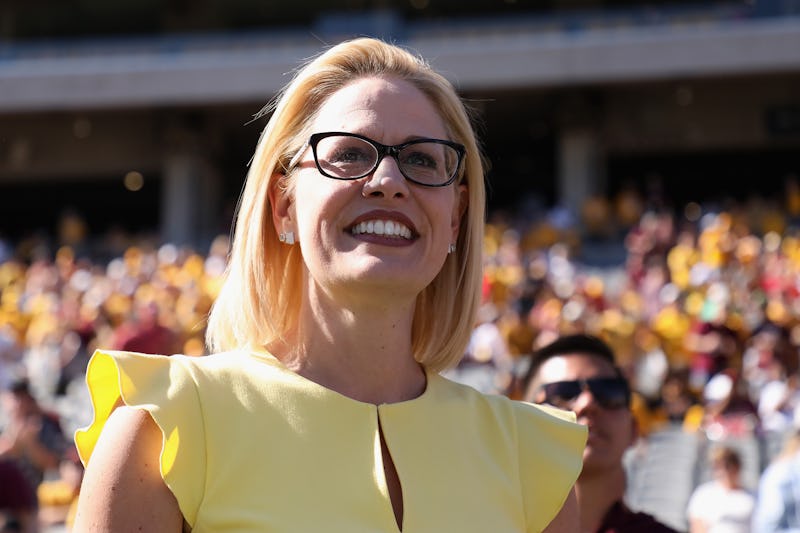 Christian Petersen/Getty Images News/Getty Images
Days after Tuesday's midterm elections, the outcomes of a few hotly contested races in Arizona, Georgia, and Florida remain uncertain. Arizona Senate race updates show a Democrat leading by a thin margin, however, after her Republican opponent initially seemed close to victory.
Rep. Kyrsten Sinema, the Democrat competing for the Arizona Senate seat, is up against Republican Rep. Martha McSally. Earlier this week, per The New York Times, McSally was in the lead. On Friday, however, Sinema plowed ahead and expanded her lead over McSally, as Arizona election officials continue to count ballots. As of Saturday, the Times reported that Sinema was roughly 20,000 votes ahead of McSally.
Another factor in the Arizona Senate race was the performance of Green Party candidate Angela Green, who earned roughly 47,000 votes despite dropping out before the election and endorsing Sinema. Republicans capitalized on the presence of a Green Party candidate on the ballot ahead of Tuesday's midterms, however, and even sent out mailers to some Arizona Democrats that highlighted Green's progressive policy stances.
Democrats have accused the Green Party of being a potential spoiler in the Arizona Senate race — even though Green endorsed the Democratic candidate — but Sinema actually began her political career as an activist and spokeswoman for the Green Party, per the Times.
According to Politico, both Republicans and Democrats expected Sinema to take the lead after early voting mail-in ballots were counted, as those often favor Democrats. However, Republicans expect McSally to narrow the gap between her and Sinema after ballots that were dropped off at polling places on Election Day are counted.
As Democrats refuse to concede key races until every ballot is counted, President Donald Trump and other Republicans have argued that there is voter fraud taking place in states like Arizona and Florida. Trump has alleged — without offering any proof — that Arizona's electoral process is corrupt, and that certain voters' signatures don't match the ones on record.
Arizona Republicans even filed a lawsuit this week, alleging that the state's two biggest counties were illegally counting some ballots. On Friday, these Republicans agreed to a settlement, provided that rural voters are also allowed to fix any ballot problems. McSally, however, has not participated in these claims of voter fraud, and is instead advocating for every vote to be counted.
"Equal protection under the law is a fundamental constitutional right for American voters," McSally said in a statement, per Politico. "As a combat veteran, I fought to protect it. And today, we won an important battle to preserve that right for rural voters in Arizona. I will continue fighting until every ballot is counted."
Arizona is not the only state that has experienced shifts in key races in the days following the midterms. In Florida, Democrat Andrew Gillum initially conceded the governor's race to Republican opponent Ron DeSantis. But on Saturday, Florida's secretary of state ordered recounts in the gubernatorial election and two other races, and Gillum is trailing DeSantis by less than one percent, CNN reported. In Georgia, meanwhile, Democrat Stacey Abrams has refused to concede the governor's race to Republican opponent Brian Kemp, and Democrats have escalated efforts to make sure that every vote is counted.