An Arkansas Sheriff Sparked Criticism After Taking Mugshots Of Inmates In Nike Shirts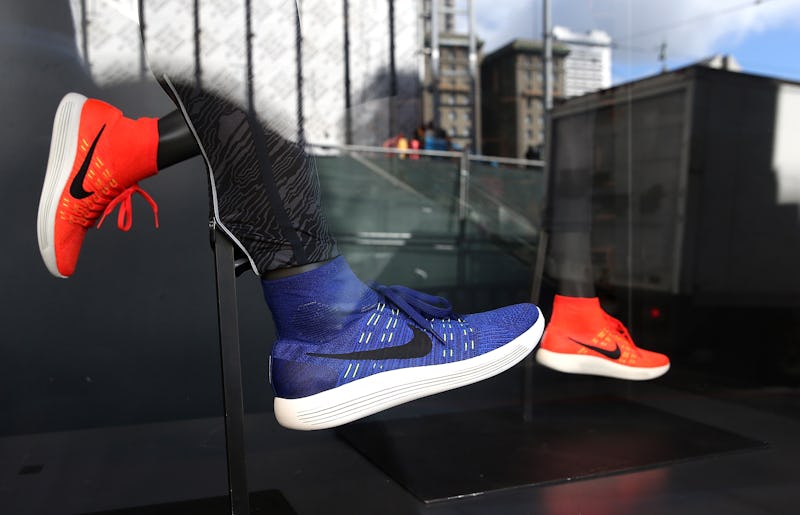 Justin Sullivan/Getty Images News/Getty Images
Activist and journalist Shaun King claimed in a tweet on Wednesday that in Arkansas, a sheriff put inmates in Nike shirts for their mugshots and published them online. The Union County Sheriff's Office has since taken the mugshots offline, but it denies King's claim that the use of Nike gear was intended as a political statement. Bustle has reached out to the sheriff's office for comment.
When King posted a screenshot of the mugshots Wednesday, they were accessible publicly on the Union County Sheriff's website. However, the images were removed within hours of King's tweet going viral, the Huffington Post reports, and as of this writing, there were no pictures of any inmates on the website.
In his original tweet, King said that a source told him that the use of Nike gear was meant to mock former NFL quarterback Colin Kaepernick, who made headlines in 2016 for kneeling during the national anthem at preseason game to protest police violence against black Americans.
Kaepernick landed an endorsement deal with Nike in September. Conservatives who opposed his protest launched a boycott of the company in response, and some posting videos of themselves burning their own Nike gear. The boycott wasn't successful, however; Nike's sales grew by 30 percent and its stock hit an all-time high after it began featuring Kaepernick in its advertisements.
In a statement Thursday, Roberts acknowledged that his office had given Nike shirts to some arrestees before taking their mugshots. However, he said that his officers only did this when the inmate in question lacked "proper attire," and added that his department has been using Nike shirts for this purpose months before the company inked its deal with Kaepernick. Roberts denied that there was any political intent behind the use of Nike shirts in particular.
"I require that this office treats everyone equally and equitably within the law. We are not, and will not, be influenced by current political and social debates in the media," Roberts said. "We have taken steps to rectify this issue and insure that this will never happen again. I understand the concern of those who may have found this offensive, and for that I apologize."
However, many on Twitter criticized Roberts after King's tweet went viral. "Really? Doesn't the Union County Sheriff in Arkansas have better things to do?" asked WMAR anchor Kelly Swoope.
"I guess the Sheriff thought this was a good idea," actor and rapper Ice-T remarked. "And he's the Fn Sheriff."
"And yet they still bought the shirts," actor Francis Maxwell quipped. "Can't have racism without stupidity."
Kaepernick's protest was highly divisive. Many on the left praised him for using his platform as an NFL player to draw attention to systemic racism and police violence in America, while many conservatives characterized his protest as a sign of disrespect to American veterans. President Trump sided firmly with the latter camp, saying at a 2017 rally that when a player kneels during the national anthem, the owner of their team should "get that son of a b*tch off the field."
"He's fired," Trump said, pretending to be an NFL team owner. "He's fired!"
Although Kaepernick wasn't fired, he became a free agent in 2017 and hasn't been signed to a team since. That year, he filed a grievance against the NFL arguing that team owners have colluded to keep him off the field since his protest.
Kaepernick and Nike haven't commented on the incident involving the Union County Sheriff's Office.