A Pennsylvania Physician Was Arrested At Trump's D.C. Hotel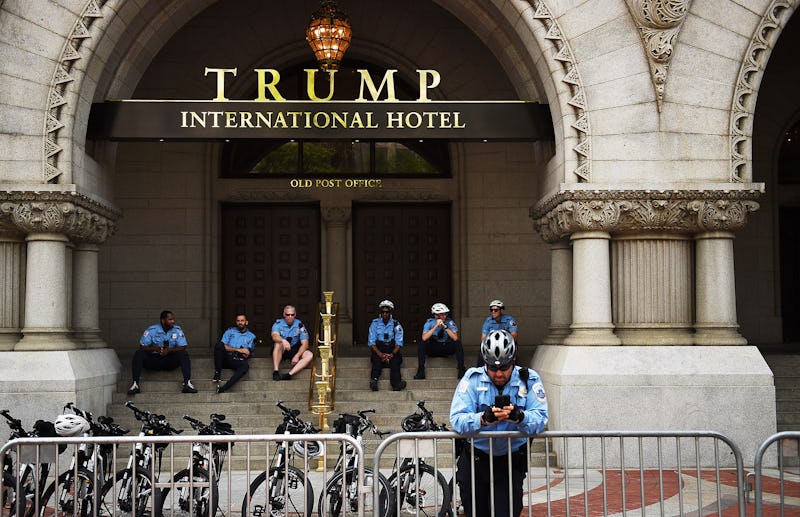 Astrid Riecken/Getty Images News/Getty Images
In the early hours of Wednesday morning, a Pennsylvania physician was arrested at the Trump International Hotel in Washington, D.C. after police found a Bushmaster assault-style rifle and Glock 23 pistol in his car, The Washington Post reported. They also reportedly discovered 90 rounds of ammunition in the car. The man, Bryan Moles, had allegedly been making threatening remarks and behaving suspiciously prior to his arrest, which took place after police officers acted on a tip and saw a weapon in plain view in his car.
The man was inside the hotel when authorities and hotel security workers located his car and discovered the weapons. The 43-year-old physician had checked into the hotel as a guest, and the police acted quickly after receiving a tip that he had made threatening remarks. Authorities are not yet able to confirm what motivated him to travel to D.C., nor have they released any information about his intentions. D.C. Police Chief Peter Newsham appeared at a news conference on Wednesday morning to say that authorities "don't have enough information right now to charge [Moles] with making threats."
Nonetheless, Newsham acknowledged that Moles' presence at the hotel — which is located close to the White House — and his possession of weapons could have led to a potentially dangerous situation.
"I was very concerned about this circumstance," Newsham said, "and I believe the officers and our federal partners, and in particular the tipster, averted a potential disaster here in our nation's capital."
Newsham added that Moles was being interviewed, and that he was cooperating with police.
According to the Los Angeles Times, police said that Moles has been charged with carrying a pistol without a license outside a home or business and having unregistered ammunition. A U.S. Secret Service spokesmen said Secret Service agents were able to conclude that Moles "posed no immediate threat to any Secret Service protectees."
Although Moles was arrested in D.C., he is from Pennsylvania, and the Pennsylvania State Police reportedly obtained pertinent information about Moles' whereabouts prior to his arrest. Ryan Tarkowski, the communications director for the Pennsylvania State Police, told the Post that his agency had received a tip that Moles "was possibly in Washington, D.C. with weapons. We immediately contacted local authorities in Washington and related that information." Tarkowski did not tell the Post where this information had come from.
An official statement from the U.S. Secret Service indicated that an investigation into this incident is still ongoing.