Arnold Schwarzenegger & Emmanuel Macron Took A Climate Change Video Selfie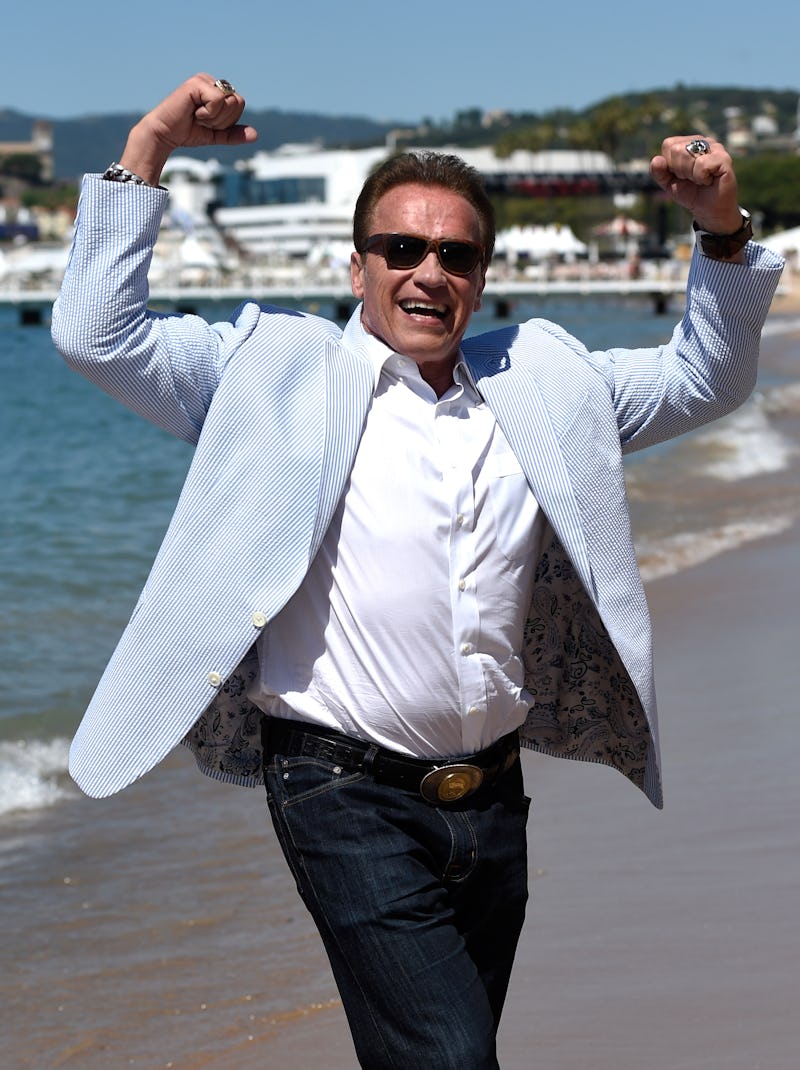 Antony Jones/Getty Images Entertainment/Getty Images
To the delight of supporters of the fight against global warming, French President Emmanuel Macron and Arnold Schwarzenegger recorded themselves talking climate change together, and posted the video on Twitter Friday. "I was truly honored to meet with President @EmmanuelMacron about how we can work together for a clean energy future. He's a great leader," the former California governor of California tweeted on Friday.
"I'm here with President Macron, we're talking about environmental issues and a green future," Schwarzenegger says in the video. Macron follows up with: "And now we will deliver together to make the planet great again."
The words "With President Macron, a great leader!" — which President Trump has said about leaders such as Argentinian President Mauricio Macri and German Chancellor Angela Merkel — remained in a banner across the screen throughout the 10-second clip. Macron quoting Schwarzenegger's tweet and adding "The let's #MakeOurPlanetGreatAgain project takes form. Glad to work on it with @schwarzenegger."
Schwarzenegger is a noted proponent of implementing policies to combat climate change and pollution. In 2010 he launched the R20 Regions of Climate Actions, a network of local authorities, companies, NGOs, and other types of institutions and allies, to push environmentally "green" policies and projects through government.
Some interpreted Friday's video as a dig at Trump. In early June, Schwarzenegger criticized Trump's decision to exit the Paris agreement. "One man cannot destroy our progress," he said in a video. "One man can't stop our clean energy revolution. And one man can't go back in time [...] You see, the people will rise up. Local and state governments will rise up. Other leaders from local governments will rise up and fill the void that you are creating."
Macron, for his part, has vowed to uphold the Paris climate agreement after Trump announced that the U.S. would pull out of it. The French leader's "Make Our Planet Great Again" phrase — which he unveiled in a tweet in response to Trump's decision on the Paris accord — was widely considered a jab at the American president.
"To all scientists, engineers, engineers, entrepreneurs, responsible citizens who were disappointed by the decision of the United States, I want to say that they will find in France a second homeland," Macron said in an accompanying statement. "I call on them: Come and work here with us — to work together on concrete solutions for our climate, our environment. I can assure you, France will not give up the fight [...] Because we are fully committed, because wherever we live, whoever we are, we all share the same responsibility: Make our planet great again."
It remains unclear if President Trump believes in climate change. Over the years, he has tweeted remarks denying its existence, including once posting, "The concept of global warming was created by and for the Chinese in order to make U.S. manufacturing non-competitive." After Trump's Paris accord decision, when reporters asked White house officials whether the president believes in climate change, they did not give a straight answer.
"Honestly, I haven't asked him," Spicer said. "I can get back to you. … I don't know. I honestly haven't asked him that specific question."
According to ABC News, Schwarzenegger described his one-hour climate change meeting with Macron as "wonderful." The two are set to launch a campaign for an international pact to safeguard the environment on Saturday alongside other world leaders.