Arnold Schwarzenegger Swings Back At Trump's Dig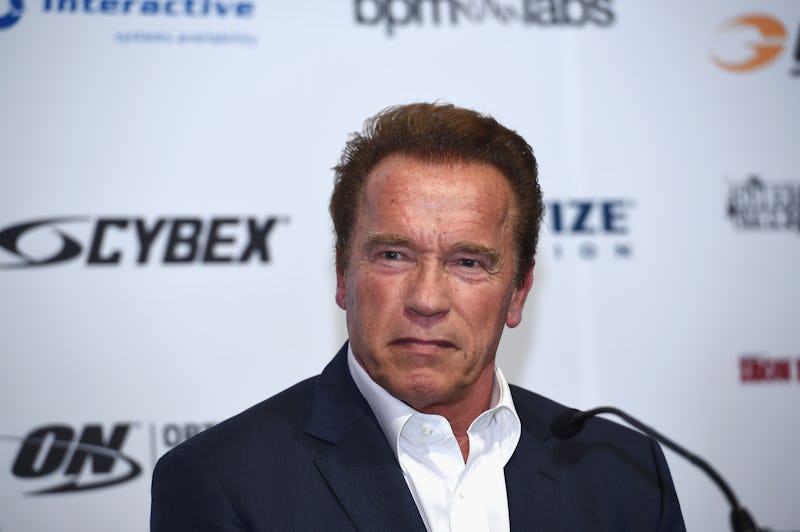 Vince Caligiuri/Getty Images Entertainment/Getty Images
President Trump suggested that Celebrity Apprentice ratings could use some prayer at this morning's National Prayer Breakfast in Washington, D.C. Then, the show's new host, Arnold Schwarzenegger, sent a video message to the POTUS, and he's not holding anything back.
Trump opened his comments by expressing his disappointment in how Apprentice ratings have dipped in his absence as host. Trump name-checked Arnold Schwarzenegger specifically, saying, "They hired a big, big movie star to take my place. And we know how that turned out. The ratings went right down the tubes. It's been a total disaster ... I want to just pray for Arnold if we can, for those ratings, OK?" The audience laughs, and it's clear Trump meant it at least partially in jest.
But of course, this is not the first time the new POTUS has targeted Schwarzenegger in a public manner. Earlier this year, Trump tweeted out that falling Apprentice ratings under Schwarzenegger could never compete with the "ratings machine, DJT." In response, Schwarzenegger insisted the two were friends, but it looks like his tune might be changing.
This morning, following the president's National Prayer Breakfast comments, Schwarzenegger released this video on Twitter.
Suffice it to say, Arnold Schwarzenegger is not mincing words: "Why don't we switch jobs? You take over TV, because you're such an expert in ratings. And I take over your job, and people can finally sleep comfortably again." Taken with even a grain of seriousness, those are fighting words.
And it does appear that Schwarzenegger is indeed serious. However, another era of the two Apprentice hosts' shared history might be worth considering here. You know what I'm talking about: World Wrestling Entertainment, better known as WWE.
WWE is a world that brings to life obviously staged "fights," but with a mock-seriousness and manufactured set of high-stakes as dramatic as any Greek legend. Trump is a big fan of WWE, having appeared on several shows himself, and even appointing Linda McMahon, of WWE ownership and billionaire fame, to head up the Small Business Administration.
Schwarzenegger is no stranger to WWE. The former governor of California first came to fame through body-building, earning the wonderfully hyperbolic title of Mr. Universe at the tender age of 20. He became a household name through his film roles, most notably The Terminator franchise.
But he also made some guest appearances on WWE TV. And while it seems unlikely, who could put it past Trump to use a highly-publicized smackdown to help drive more viewers to his beloved Apprentice series? After all, without the exposure provided him by the show, it is most improbable that Trump would be sitting where he is today.
It will be fascinating to see if Trump de-escalates the feud, or exercises his much-bragged about compulsion to counterpunch.