As A Jewish Woman Of Color, I Know Just How Unsafe Trump Has Made America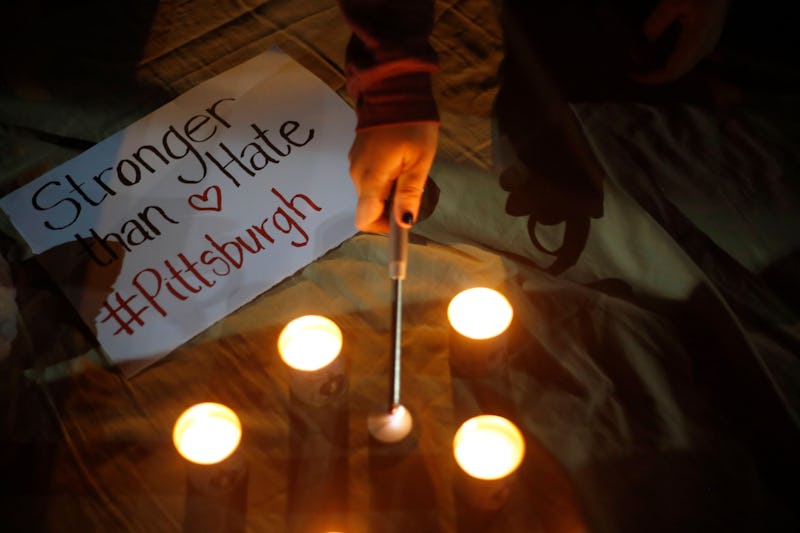 Ariel Schalit/AP/Shutterstock
In this op-ed, Ginna Green of Bend the Arc: A Jewish Partnership for Justice writes about the deadly shooting at a Pittsburgh synagogue and explains why President Trump and Republicans are making Jewish people — and other communities — feel unsafe.
President Trump and the Republican Party have been stoking fear in the American people. Because of that, the Jewish community, the black community, immigrants, refugees, Muslims, LGBTQ people, people with disabilities have all been under attack. The attack in Squirrel Hill was no doubt targeting Jews for being Jews. But we can't make a mistake and forget that in this moment, all of us are under threat.
As a Jewish woman of color, I have felt unsafe in many spaces at a time. For Jews who aren't people of color, this moment has felt incredibly crushing and in some ways shocking. But Jews of color, who walk through American life differently, knew differently. There were two African Americans murdered by a white supremacist in Kentucky a few days before there were 11 Jews murdered in Pittsburgh. For us, this has felt like more of the same.
While anti-black violence and anti-Semitic violence are not new, the Trump administration and the Republicans have brought these attacks and this violence to a new level.
Our blood is on their hands.
Most attacks don't make headlines. But anti-Semitic attacks have been growing in number, according to the Anti-Defamation League (ADL). White supremacist and white nationalist groups have been growing in number. The president can say he sends his thoughts and prayers, but he also says he's a nationalist. He can't have it both ways. He's part of this movement that is deliberately undermining the safety of Jewish Americans, people of color, Muslims, LGBTQ folks, and people with disabilities. That can't be denied.
This is an opportunity for us all to realize that our fates are intertwined. We're all in this together, and the future is ours to win. There has been a tremendous outpouring of support for the Jewish community. Christians, Muslims, and interfaith and diverse folks are coming out and showing support for the Jewish community in Squirrel Hill. There is a recognition that for those lives that are threatened by white nationalism, the only way we can win is together. It lies in our unity and our solidarity.
We need to push the Jewish community to recognize that it isn't just about us being murdered, and it isn't just about an anti-Semitic attack on Jews. It is about an attack on all of our values and our fundamental democracy. We need to support the Jewish leaders of Bend the Arc: Pittsburgh who have said to Trump that he is not welcome in the city until he fully denounces white nationalism; ends his assault on immigrants and refugees; stops targeting and endangering all minorities; and commits himself to passionate democratic policies that recognize our common dignity and humanity.
The tragedies and the attacks are all indicative of a sickness that Trump and the Republican Party have brought to our nation.
The question of the moment is what we do next. We're eight days away from being able to make monumental change in who runs this country — and with the way Trump has run the country, Nov. 6 is a crucial marker in our history. This is the most important election that we have seen in a generation.
In other words, Election Day is next. We channel this rage and pain into power and resolve.
The tragedies of the last week and the last year and the last two years, and the attacks on immigrants, refugees, Muslims, Jews, and African Americans are all indicative of a sickness that Trump and the Republican Party have spread throughout our nation. Our chance to cure it is on Election Day.
As told to Celia Darrough.