The Disappointing Reason Behind This All-Woman Festival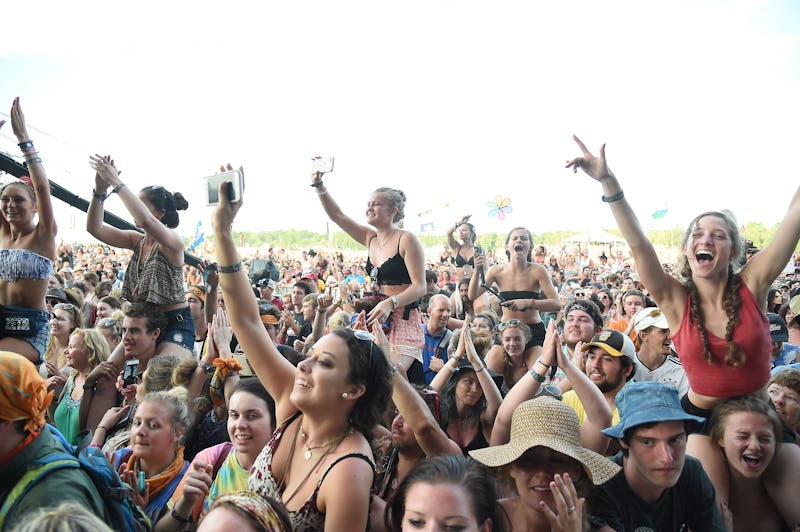 Jason Merritt/Getty Images Entertainment/Getty Images
Last weekend, the organizers of Bråvalla, Sweden's largest music festival, announced that the 2018 festival was cancelled after reports of dozens of sexual assaults at this year's event. Now it seems, the show will go on, but with one slight adjustment: next year, Bråvalla will be replaced by a man-free music festival.
Over the course of the four day festival this year, which featured performances by The Killers, the Chainsmokers, and Linkin Park, attendees reported four rapes and 23 sexual assaults, including one woman who was forced to have sex after she had revoked consent.
"Certain men… apparently cannot behave," Bråvalla's organizers wrote in an official statement following those close of this year's festival, "It's a shame. We have therefore decided to cancel Bråvalla 2018."
Swedish Prime Minister Stefan Lofven also condemned what he called "obnoxious acts" by "deplorable men".
This is not the first time the festival has come under fire for its instances of sexual violence. In 2016, festival-goers reported five rapes and 12 sexual assaults. The numbers were so shocking that Mumford and Sons and Zara Larsson, the year's headliners, later condemned the festival and refused to return, with Larsson tweeting: "Damn you people who shamelessly rape a girl in public. You deserve to go to hell." Ticket sales also dropped from 52,000 in 2016, to 45,000 in 2017.
After the cancellation was announced, Swedish comedian and radio host Emma Knyckare took to Twitter to suggest a possible alternative.
"What do you think about putting together a really cool festival where only non-men are welcome, that we'll run until ALL men have learned to behave themselves."
Knyckare's idea gained traction, and she later confirmed on Instagram that the festival was on.
"Sweden's first man-free rock festival will see the light next summer," she wrote. "In the coming days I'll bring together a solid group of talented organizers and project leaders to form the festival organizers, then you'll hear from everyone again when it's time to move forward."
Although this is not the first women's music festival (the Michigan Womyn's Music Festival was the first widely known feminist music festival, and was held every August between 1976 and 2015) it will likely be the largest. And, by designating it a man-free festival instead of a women's-only festival, organizers hope to create a welcoming space for transgender and non-binary individuals.
While music festivals around the world have long been plagued by sexual assault, event organizers have only recently begun to take steps to combat the violence. Last year, the Glastonbury festival in England offered a stage that was only available to female-identifying fans. In the U.S., Do LaB, L.A.-based concert promoters that collaborate with Coachella and various other festivals, are now offering a new class for staff and fans called "Creating Safer-Braver Places: Consent Culture & Social Care". They will also have medical teams available who are specifically trained in fighting sexual harassment, and counselors available for victims.
As wonderful as this man-free festival sounds (I'm basically picturing the first 20 minutes of Wonder Woman, but instead of women combat training, it's a bunch of gals laughing and dancing and drinking and inevitably misplacing their personal belongings) it is also an acknowledgement that we live in a world where men and women can't exist in the same space without men sexually assaulting women. And that doesn't seem like something we should celebrate.