Ashley Graham Has A Genius Tip For Finding A Strapless Bra That Fits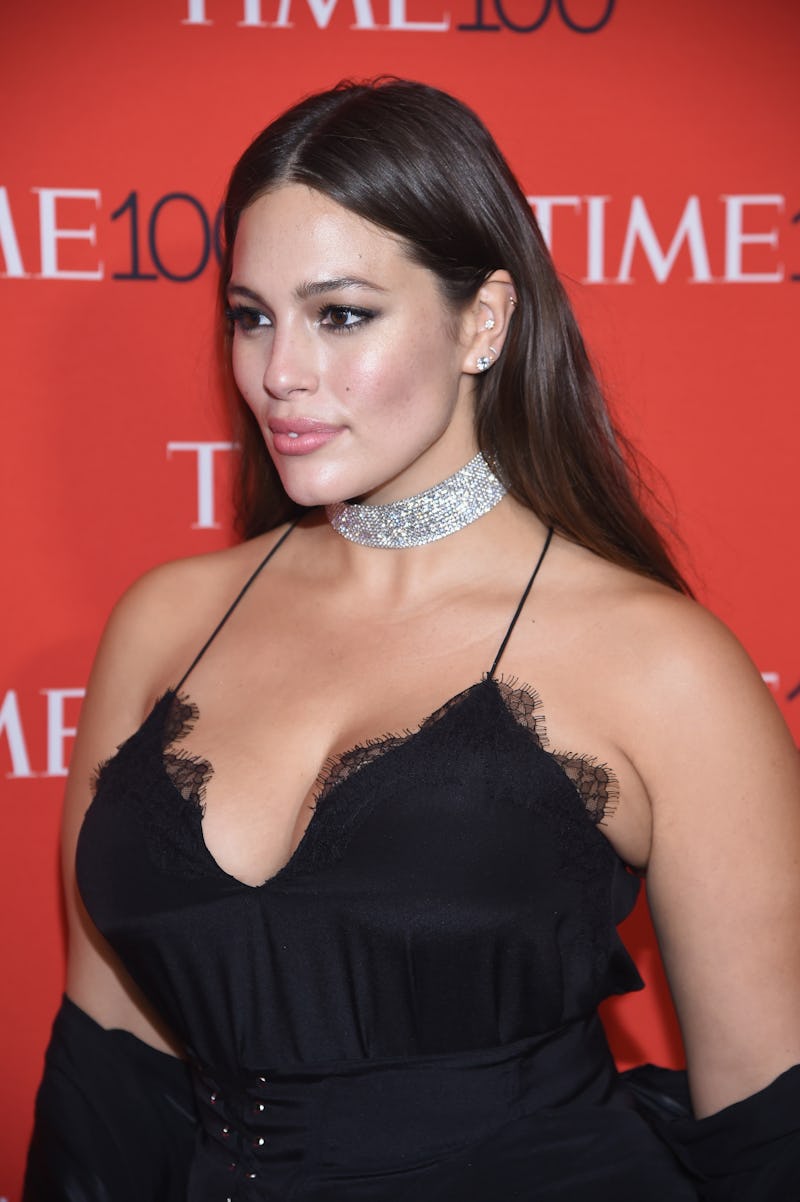 Dimitrios Kambouris/Getty Images Entertainment/Getty Images
If there's one woman who knows a thing or two about bra fit, it's this model who also happens to have her own lingerie line with Addition Elle. Ashley Graham shared a genius strapless bra tip on Instagram, and her advice is coming just in time to basically save your life this summer season.
According to her Instagram post, the key to making sure your strapless bra stays put is to "go down a size only in the band." That way, your cup size remains the same, but your the fit will be a little tighter and, as Graham puts it, "Keep the girls lifted without suffocating them." Well said, Graham. Well said. This tip works for Graham, but it's important to make sure you're trying on different band size/cup size variations to make sure you find the perfect fit for you! Because "the perfect bra" is definitely something that differs for everyone, not to mention that cup size is relative to the size of the band, so going down a from a 38 to a 36 will slightly change the cup as well.
Once you nail the cup size/band size ratio, you really be comfortable in your strapless pieces this season, according to bra expert Psyche Terry, the Founder and designer of the Inspire Psyche Terry lingerie company. Terry shared some tips with Bustle via email, and her advice adds to Graham's excellent tip. It's really more about look and feel than "size" per se. According to Terry, "No one likes a bra that's fighting with your boobs for attention. Your bra cups should always align flush with your breasts - they should NEVER dig in. If you're experiencing spillover on the top, sides and/or bottom (we're looking at you, underboob) try sizing up in the cup and/or band."
In other words, strapless lingerie shouldn't make you feel squished, just make sure everything's in place. It's definitely a little tricky to get the fit just right, but if you keep the proper cup fit in mind as well as make sure the band fits you snugly, you'll be well on your way to nailing your strapless look.
I'd definitely trust Graham with all things lingerie.
Because she rocks it on and off the runway.
Phenomenon Convertible Bra With Choker, $27, Addition Elle
She's got some pretty amazing pieces in her Addition Elle collection, too. This unique silhouette was going for $27.49 (aka 50 percent off the original price) at the time of publication.
Chantilly Lace Long Line Multiway Bra, $64, Inspire Psyche Terry
If you're looking to nail cup size, you may want to give one of Terry's designs a try. This version seems like a great option, considering the straps can be styled in a variety of ways. Perfect fit and versatility? What more could you want from a bra, you know?
24/7 Classic Strapless Bra, $72, Thirdlove
In case you're searching for that perfect fit, the Thirdlove brand is worth looking into, considering they offer half-cup sizes and have a personal survey you can take to ensure you find the size for you. You can even give the piece a trial run for 30 days. If you don't love it — return it.
With this bra knowledge at your disposal, you're bound to finally master sizing and styling strapless outfits (without all of the hassle), and it just doesn't get better than that.