Ashley Judd Shares The Reason She Waited To Talk About Harvey Weinstein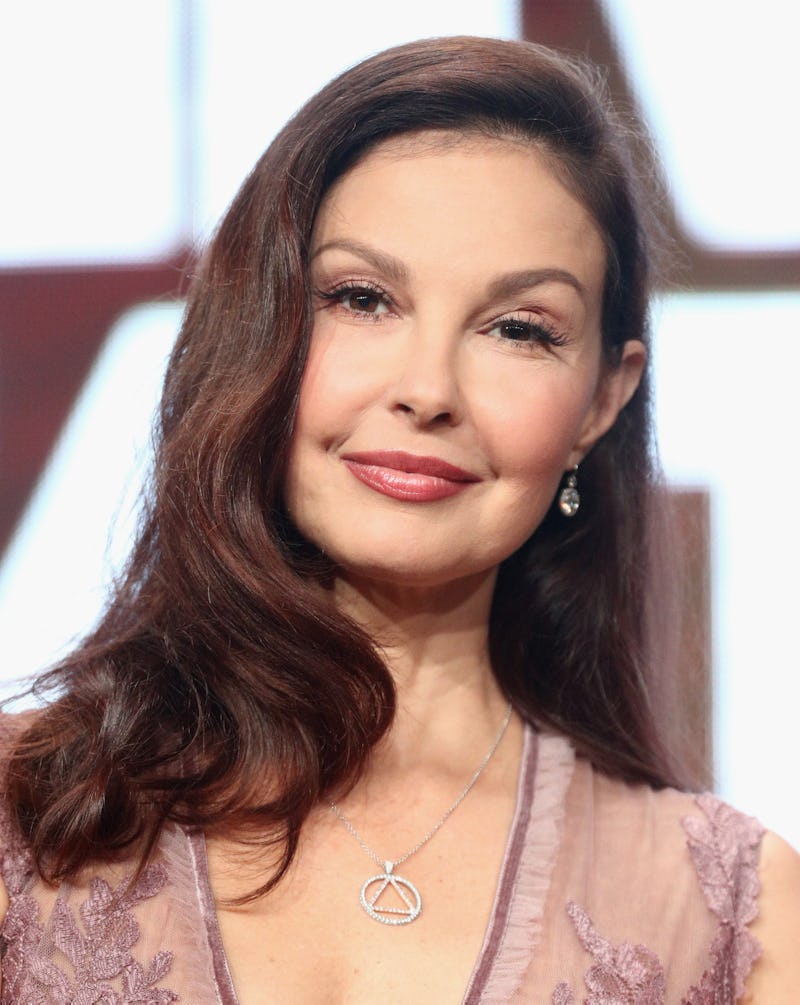 Frederick M. Brown/Getty Images Entertainment/Getty Images
Since allegations against Harvey Weinstein started making headlines earlier this month, many women have come forward to share their claims of sexual assault and harassment involving the producer, including Ashley Judd. On Thursday, Judd opened up about Weinstein allegedly harassing her during an interview with Diane Sawyer on Good Morning America. Not only did she share details about what made her come forward, but she also shared what she'd tell Weinstein today.
While talking to The New York Times earlier this month, Judd claimed that while she was filming the 1997 movie Kiss The Girls, she was sent to Weinstein's hotel room, where he allegedly "appeared in a bathrobe and asked if he could give her a massage or she could watch him shower." This allegedly occurred 20 years ago, but only now does Judd feel comfortable speaking about it, and according to her account, there were several reasons why she couldn't tell anyone what was going on when the allegedly incident happened.
Weinstein released a statement in response to the original NYT story in which he apologized for past actions, but did not confirm or deny the allegations. His spokesperson later released the following statement in regards to the many allegations:
"Any allegations of non-consensual sex are unequivocally denied by Mr Weinstein. Mr Weinstein obviously can't speak to anonymous allegations, but with respect to any women who have made allegations on the record, Mr Weinstein believes that all of these relationships were consensual."
Bustle has reached out to Weinstein's spokesperson and lawyer regarding Judd's new interview, but did not receive a response at the time of publication.
In the interview, Judd explained that although she kept saying no to Weinstein's alleged advances, he allegedly "kept coming back at me with all this other stuff." So, she claims she told him she'd give in when she won an Oscar for acting in one of his movies and bolted.
Judd added that she told her parents and other people like agents and fellow actors what allegedly happened, but she never reported Weinstein and no one she'd told in Hollywood took action.
"I don't know that I would've been believed," Judd said. "Who was I to tell? I knew it was disgusting. Was I going to tell the concierge who sent me up to the room?"
Originally, Judd's attitude was to never speak publicly about the incident, but once the allegations began coming out, she knew she had to say something. She said:
"I went on a run, and thought, 'Oh, sometimes people say they pray on runs or they get clarity on things, and they use it to process and sort.' So that's what I did on this particular run ... I made the most important decision I'll ever make years ago, which is to turn my will and my life over to the care of a loving god, and it was like, 'I'm so taken care of, I'm totally going to do this.' I also talked with my dad and I also talked with my mom [Naomi Judd] and told her what I was thinking about doing and she said, 'Go get him.'"
And now that Judd has made her story known, despite the fact that she once felt she didn't have a voice, her attitude toward Weinstein is an unexpected one, but it's also what's helping her cope. Toward the end of the interview, Sawyer asked Judd what she'd say to Weinstein if she had the opportunity to talk to him today.
Judd said:
"What I would say to Harvey is 'I love you, and I understand that you are sick and suffering, and there is help for a guy like you, too. And it's entirely up to you to get that help.'"
According to Us Weekly, Weinstein left a weeklong therapy program in Arizona last week, but it's unclear if he has plans for further treatment.
It's surprising to hear Judd express love for Weinstein, but she told Sawyer, "Frankly, it's an easier way to roll through the world."