Brett Kavanaugh's Wife Ashley Is Reportedly Receiving Death Threats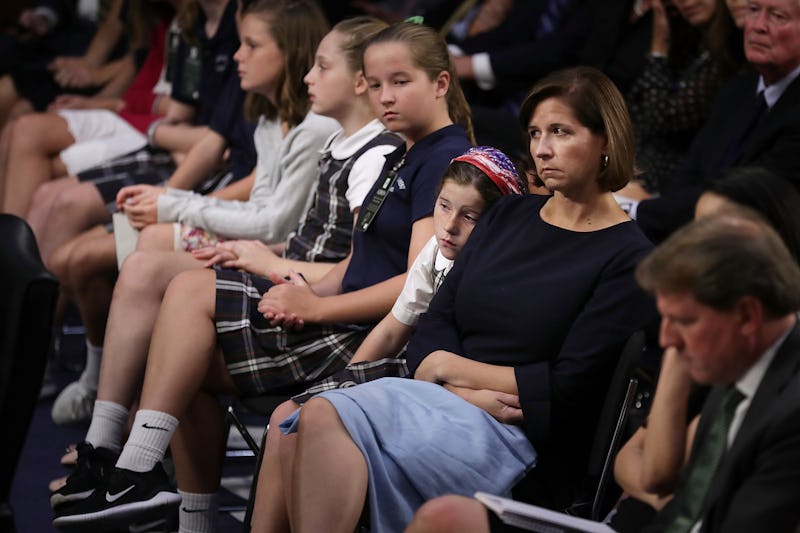 Chip Somodevilla/Getty Images News/Getty Images
Supreme Court nominee Brett Kavanaugh has received around-the-clock protection from U.S. Marshals since his nomination. However, the SCOTUS nominee's wife, Ashley Kavanaugh, is reportedly getting death threats following the sexual misconduct allegation against her husband. Kavanaugh's accuser, Christine Blasey Ford, has also received violent threats since coming forward, forcing her and her family to move out of their home, according to her lawyers.
"May you, your husband and your kids burn in hell," said one violent email addressed to Ashley, according to USA Today. Another supposedly suggested she tell her husband to "put a bullet in his … skull." The horrific emails are being investigated by the U.S. Marshals Service.
"The threats are real, they were directed at his wife, and that's serious stuff. And they've heightened in recent days," said a White House official, according to CBS News.
Ashley, the mother of two daughters, is the town manager in Chevy Chase, Maryland. She received the threatening emails via her government address. Most of them reportedly relate to Kavanaugh, often referring to him as a rapist, while employing a slew of swear words.
"My condolences to you for being married to a rapist. Although you probably deserve it," read another email, according to CNN.
In addition to facing skepticism from Republicans after revealing her identity in an interview with The Washington Post on Sunday, Ford has been subject to terrifying threats as well. Kavanaugh has denied Ford's allegation that he attempted to rape her while the two were in high school during the '80s.
"This is a completely false allegation. I have never done anything like what the accuser describes—to her or anyone," he said in a statement Monday, CNBC reports.
According to a statement from her lawyer, Ford "is currently unable to go home, and is receiving ongoing threats to her and her family's safety." In another statement, her lawyer said Ford's "email has been hacked, and she has been impersonated online," CNN reports.
These threats have been reported to the FBI.
Ford, who is married with two teenage sons, has said she is willing to testify, but not on Monday as the Senate Judiciary Committee wished. In a letter to the Committee, Ford's lawyer wrote that she will testify later in the week, provided they can agree upon "terms that are fair and which ensure her safety." Ford and her lawyers have also asked for an FBI investigation to be conducted prior to the hearing.
In addition to both Ford and Kavanaugh's wife, lawmakers have been receiving threatening messages since the beginning of the nominee's hearings as well. A spokesman for Sen. Dianne Feinstein, who first received Ford's letter containing the allegation, said the office has gotten calls including "threats of bodily and sexual harm against staff," The Hill reports.
Kavanaugh, meanwhile, still plans on testifying, The Washington Post reports. "I continue to want a hearing as soon as possible, so that I can clear my name," he wrote to the Committee. "Since the moment I first heard this allegation, I have categorically and unequivocally denied it. I remain committed to defending my integrity."