Ashley Madekwe Is Obsessed With This One Makeup Product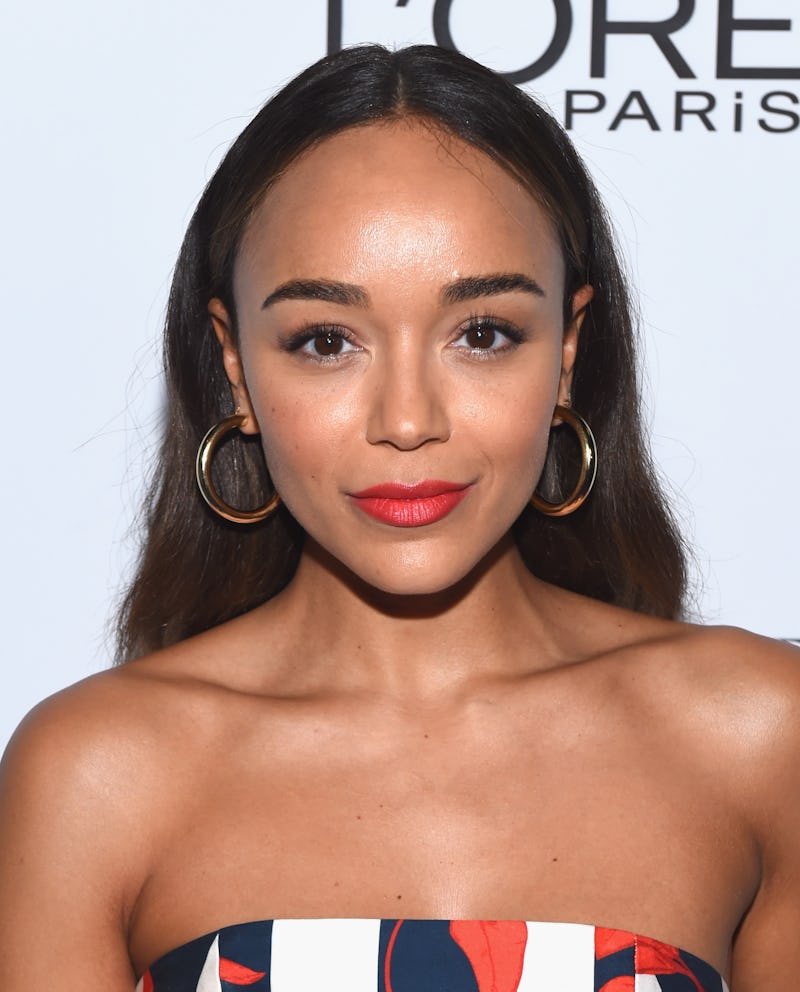 Emma McIntyre/Getty Images Entertainment/Getty Images
Ashley Madekwe is absolutely radiant. Like, really, truly radiant. We're sitting inside a room at the Montage Hotel in Beverly Hills and the light through the window is hitting her skin like a soft spotlight, highlighting the warm hues of her gorgeous caramel skin. Though I'm not one to use foundation, the bareMinerals ambassador is making a great case to start.
"This product, the bareMinerals BarePro Foundation is just next level. The second I tried on the foundation, I was sold," the actress tells me when I ask her about her glowy appearance. "You don't need a lot, as well. It's like half a pump on the back of your hand. I use this brush; it's really soft and really dense, so I put a pump on the back of my hand and I dot on my face and then I just buff with this brush in seconds."
Madekwe also shares that because the foundation feels light, she can wear it all day long with it getting cakey. As for what other makeup she wears to complete her look, Madekwe goes for a great lip and nothing on the eyes. "I think that looks really young and fresh," she tells me.
bareMinerals Performance Wear Liquid Foundation SPF 20, $34, Sephora
BareMinerals' new 24-hour foundation — with SPF 20! — will get you through anything and everything, no matter the weather, according to the actress.
Of course, not only is Madekwe knowledgeable about beauty trends. She certainly knows a thing or two about fashion, too. After all, the actress has her own fashion blog, Ring My Bell, where she shares her favorite looks with her fans. During our interview, she's donning a silk Where Mountains Meet matching set, totally owning the pajama trend of the season.
When I ask her what her favorite trend for fall is, she's quick to answer: feathers. "I'm obsessed with the feathers from Prada," she tells me, excitedly. Madekwe predicts that the look will trickle down from high-fashion into every girl's wardrobe in some way or another. "It looks so good, the marabou trim on all their shirts, the hems of their pants, even the backs of their shoes, it's just very girly and whimsical."
When she's not sporting the latest fashion and beauty looks, Madekwe is hard at work on sets. After finishing up her work on Salem, the actress shares that she's currently working on the pilot for for TNT. "It's a murder mystery. That's my favorite thing. My channel that I watch is the Investigation Discovery Channel," she shares with me. "[My husband] talks about when we lived in London. It was a bright sunny day, and he came home. All the lights were off, the curtains were drawn, and I was on the couch with the cat and a quilt watching Couples Who Kill."
There you have it — in case you didn't already know, this sweet, cheerful actress is not only beautiful, but also edgy and mysterious — all the makings of a super cool it girl. I'll have whatever she's having, please.