Ashley Nell Tipton's Jewelry Collection Caters To Plus Size Babes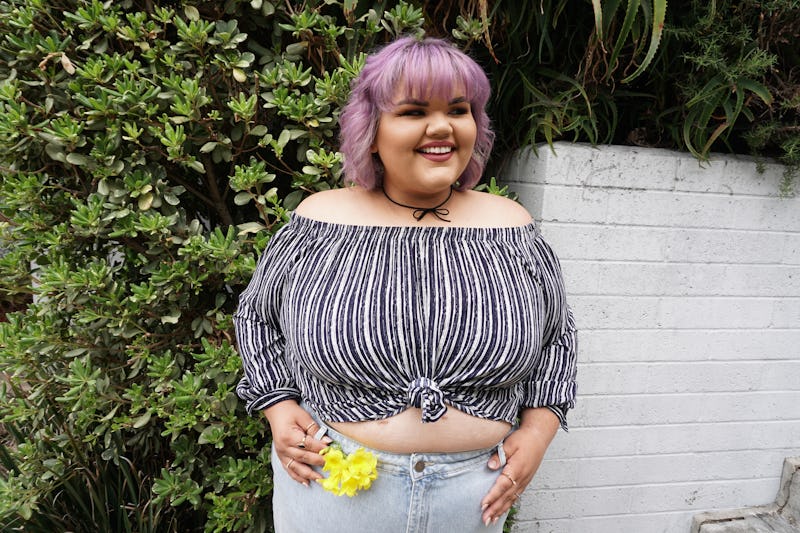 Ashley Nell Tipton
Every plus size person has experienced the disappointment of too-small jewelry. Unbelievably, finding cute, well-made plus size accessories sometimes feels even more difficult than finding plus size clothes. But thankfully, designer Ashley Nell Tipton's plus size jewelry line is here, and this super cute set is made specifically with plus size babes in mind.
Tipton, who won season 14 of Project Runway and is plus size herself, tells Bustle that she wanted to create pieces that are "on trend, simple, and most importantly something that FITS."
Her 12-piece set offers items across the board, including a wide-fit bar ring ($9.99), a wide-fit pearl-and-gold bracelet ($19.99), and a wide-fit suede, crystal, and gold wrap choker ($19.99).
"As I have been given the platform as a designer, I realized that my 'community' was living a life of 'compensation,'" she explains. "Nothing was being created for the community. Everything available was an 'extension' of [what was] created for 'regular' sizes, so it didn't fit."
And if plus size folks did have to buy the largest of pieces made for straight sizes, as is often the case, Tipton says, "It was uncomfortable, nonflattering, and what other people thought we 'should' be wearing."
Using her new resources, Tipton wants to lead a shift in perception. After all, she says, 67 percent of U.S. women are considered plus size.
"Someone needs to get this world to wake up," she says. And, "Someone is here!"
Check out some of the trendiest looks from Tipton's collection below.
1. Lace Pearl & Crystal Ivory Bib
Ashley Nell Tipton Wide-Fit Lace Pearl & Crystal Ivory Bib, $24.99, liveinexcess.com
This is a totally perfect piece for plus size folks who can never find jewelry that's feminine enough for their styles.
2. Wide-Fit 3-Pack Choker
Ashley Nell Tipton Wide-Fit 3-Pack Choker, $19.99, liveinexcess.com
Finally, there are adorable plus size chokers. Not to mention this set can be work separately or together — and will be cute AF either way.
3. Rose Gold Love Ring
Ashley Nell Tipton Wide-Fit Rose Gold Love Ring, $9.99, liveinexcess.com
This rose gold ring is available in sizes 11, 13, and 15, making it the perfect way to show your fingers a little love.
To shop the complete collection, visit XS Accessories' shop. There's certainly a market out there for collections like Tipton's, and hopefully other designers will join her in her goal to make plus size items available to the many people who want and need them.