Here's Why Ashley Tisdale's New Album Will Be Her Most Personal Work Yet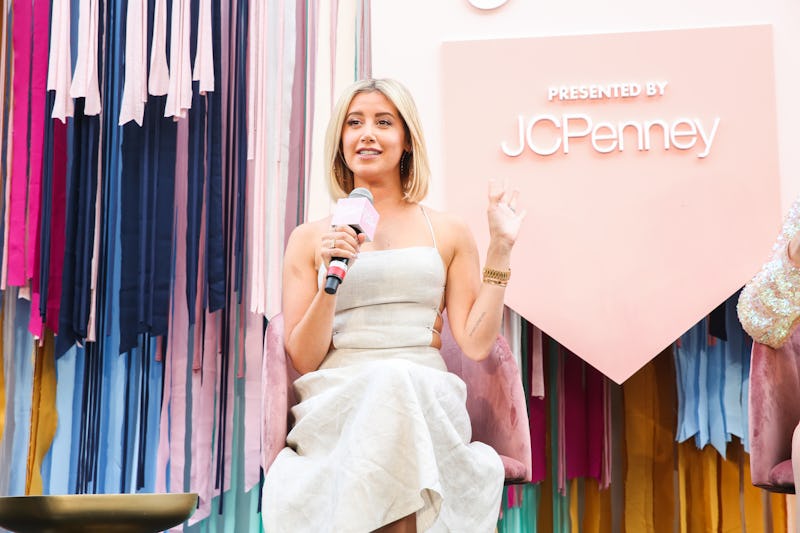 Robin Marchant/Getty Images Entertainment/Getty Images
For fans of Ashley Tisdale's work on the screen and in music, it feels like forever since she's released any new projects. And so when Tisdale recently revealed that her album Symptoms was coming soon, fans only had one thought: it's about time. During a recent appearance at the Create & Cultivate Chicago conference, Ashley Tisdale revealed that her new album, which is set to come out in the fall, was inspired by her struggles with anxiety and depression, giving fans a new, intimate look at the star.
Speaking on the Digital Darlings panel at the Create & Cultivate conference — created to help women build companies and brands — on Aug. 25, Tisdale gave fans a sneak peak at Symptoms. "I have to say it took me a while to get back into the studio," Tisdale told the crowd. Symptoms is an album that's been in the works for past four years. The last time she released an album was 2009's Guilty Pleasure. "I recently was super inspired and I have to say, out of everything I've done in my career, this is the most authentic thing I've ever done," she said. "It's very vulnerable and puts me in vulnerable place."
Considering she's done so many things — from playing the high-maintenance-yet-fabulous diva that is Sharpay Evans in High School Musical to recording and producing videos for her current YouTube channel — it's exciting to hear that this new album will be the "most authentic" fans have seen Tisdale, and that's coming from the singer herself. Tisdale continued:
"The inspiration behind it kind of was, I deal with anxiety and I've dealt with it probably my whole life but became super aware of it over the last two years. And so kind of through that and through kind of having some moments of depression, I was just like, you know what, we're in a state of anxiety I feel, and so I really wanted to do an album that made someone at home not feel so alone."
Tisdale's described her new album as "upbeat, pop-electra," a genre similar to her past two albums. Headstrong, which came out in 2007, was very dance-y and had a little techno-dance pop vibe, while Guilty Pleasure was much more pop rock.
"So [Symptoms]'s really just a fun album that has an undertone of that but is just you know for me, my experience, my journey and what I've been through," she said.
Tisdale added that, though she acknowledges that depression and anxiety can be difficult to talk about publicly, she hopes that her openness helps open up the conversation. "But I think it's one of those things where we need to talk more about it, especially because the 'depression' word, I think, is a big one," she said. "So I just feel like when you take the stigma out of that and just talk to each other about it, and be OK and know that you're not alone."
Erasing the stigma around mental health is important. And it's clear from her statements that Tisdale wants to make sure that those that suffer from mental illness don't feel isolated or shamed. Music that strives to make people feel good — and embrace their flaws and quirks — while also speaking frankly about those struggles, is always refreshing and definitely important. Based on Tisdale's statements, Symptoms seems like it's going to be a nice mix of all those things, in addition to showing off a new side of the multi-hyphenate. It really can't get any better than that.