Ashton Kutcher Finally Met His Lookalike Jared Haibon & All Is Right In 'Bachelor' Nation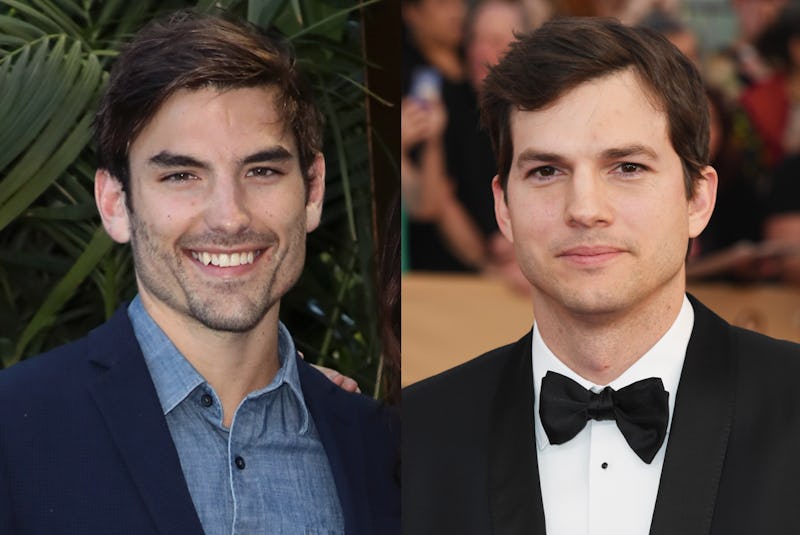 David Livingston/Getty Images Entertainment/Getty Images; Alberto E. Rodriguez/Getty Images Entertainment/Getty Images
Most of us want to meet our favorite reality TV stars and celebrities, but sometimes, they also want to meet each other. Over the weekend, Ashton Kutcher and Mila Kunis met Jared Haibon and Ashley Iaconetti. And as Bachelor Nation likely knows, this meet-up has been a long time coming because of the mutual fandom between these two couples.
On Sunday, Jared shared a selfie of the four of them with a brief summary of their history:
"In 2015, Ashton Kutcher tweeted a side by side photo of our faces. In 2017, he said he got into watching The Bachelor because a guy named Jared looked like him. In 2018, we met and bonded over marrying our best friends."
The Bachelor in Paradise alum posted the photo from the sixth annual Ping Pong 4 Purpose charity event, according to E! News. Jared's caption is definitely a great synopsis of their bond, but there are actually a lot of interesting and entertaining details. It all comes back to Kunis' extreme (yet totally relatable) fandom over the Bachelor franchise.
In 2015, Kunis first revealed her Bachelor viewership in a Reddit AMA:
"At the moment... I watch... well... it would be... WALKING DEAD, HOMELAND, Downton Abbey, Game of Thrones, and currently, I guess the only thing I have to watch is The Bachelor? But that's so depressing. It's the first season I'm ever watching it. But it's so addictive. I mean, it's unbelievably addicting. In all 15 seasons or so they've done this, I've never sat down to watch it. But now - oh my god, these women are crazy!"
Then Kunis took things to the next level watching Bachelor in Paradise Season 2, which Ashley I. and Jared appeared on. She made Kutcher pose next to a close-up of Jared on the television screen after seeing a striking resemblance between the two of them.
Back in September 2015, Kutcher posted the photo and wrote ,"I'm trying to figure out why mila is making me take this picture @ashleyiaco who are you? And who is this guy?"
Ashley I. responded to the tweet and agreed with Kunis about the resemblance. She also suggested that Jared also looks like Joe Jonas. So who knows, maybe this is just the start of Jared getting to meet all his celeb lookalikes.
At the time, Jared responded on Twitter as well, but admitted, "I can see the resemblance, but Ashton grows a much better beard."
Two years later, Kunis' fan dreams came true when she and Kutcher appeared on an episode of Rachel Lindsay's season of The Bachelorette.
During that appearance, Kutcher mentioned that he looks like Jared. Of course, Jared was watching and could not help tweeting his reaction to that declaration.
During an episode of The Late Late Show, Kunis told James Corden that Kutcher was the reason they appeared on her favorite reality TV show.
The Spy Who Dumped Me actor revealed, "His old assistant now produces, he's one of the on the producers on The Bachelor, so he goes, 'you wanna go on The Bachelor'?"
She even admitted, "And I was like, 'I married the right man', like I know at that point that I married the right human. Yes, I do. We put on jeans and t-shirts and we're like we will do anything."
Yes, she did. Not only did her husband help Kunis appear on an episode of The Bachelorette, but now it all comes full circle and her doppelgänger suspicions have been confirmed when the two couples finally got to meet in real life.