Ashton Kutcher's Congress Speech Is So Important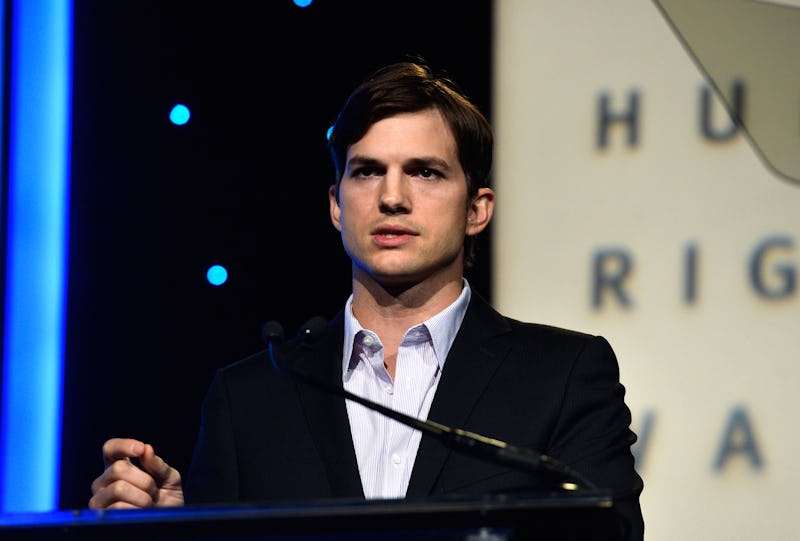 Frazer Harrison/Getty Images
Brace yourselves, because the following statement is as unexpected as it is awesome. On Wednesday morning, Ashton Kutcher testified before Congress to help end human trafficking, and his testimony is actually incredibly important to the cause. The hearing, which was organized by U.S. Sen. Bob Corker in a bid to examine efforts to end modern slavery and sexual exploitation, featured the celebrity for a good reason. Kutcher is the chairman co-founder of Thorn, an organization that uses technology to combat the sexual exploitation of children. Clearly humbled and honored to be in attendance at the hearing, his speech wasn't just impassioned and powerful, but it was also smart, devastating, and incredibly endearing. And it was proof of the positive power that celebrity can hold in the realm of politics.
Beginning by saying, "I'm here today to defend the right to pursue happiness," Kutcher went on to talk about the efforts of Thorn in protecting that right for children around the world. He also took a moment to defend his own credentials in talking about such a political issue as a celebrity:
This is the point where internet trolls tell me to stick to my day job… Let me tell you about my day job. My day job is as the chairman and co-founder of Thorn... my other day job is that of the father of two, a 2-month-old and and 2-year old. And as part of that job that I take very seriously, I believe that it is my effort to defend their right to pursue happiness and to ensure a society and government that defends it as well.
Kutcher repeatedly sounded close to tears in recounting his experiences with human trafficking as part of Thorn's efforts against it. His testimony demonstrated just how driven the actor is in helping to progress efforts to help end sexual exploitation and human slavery in a manner that goes beyond what could ever be considered to be "celebrity activism". You can watch his entire speech below. Be aware, however, that it does contain disturbing content of a sexual nature:
It feels significant, if a little sad, that Kutcher felt immediately compelled to defend his political credentials against "internet trolls," during the start of his speech. After all, less than a minute following this juncture in his testimony, it's clear that we weren't hearing the superficial commentary of a celebrity out for publicity. Rather, we were hearing the genuine concerns and feedback of a man who has been directly involved in political efforts, with little fanfare, for longer than most people have been aware.
This is a man who has clearly witnessed the absolute horrors of human trafficking for himself. Who hasn't just settled for the easy position as front man or mouthpiece for the cause, but who has actively engaged with the uncomfortable truths of sexual exploitation in order to understand it and help end it.
There's something incredibly timely about seeing Kutcher, as a celebrity, being active with his politics and his beliefs, rather than just talking about them on a superficial level. Considering that we currently live in a time when celebrities are more outspoken than ever regarding their political beliefs, and are being criticized for it by some factions of the media, it's refreshing to see Kutcher proving that his financial privilege and influence can be used in powerful ways to help incite change.
It's understandable that, for some, celebrity attempts at political activism are worthy of nothing more than cynical roll of the eyes. And, trust me, I get it: a tweet or Instagram selfie isn't the most powerful tool for social change. But that isn't to say that politics and celebrities don't make for great partners, because I'd actually argue that they do. Celebrities have a rare platform of influence that means that they can raise widespread awareness about important issues. They can help to push for change, educate people, and provide pivotal boosts for a plethora of political issues that politicians and actual activists often don't have the social power to achieve.
And, as Kutcher has proven, celebrities shouldn't be underestimated when it comes to their attempts at activism. I mean, who besides his fans even knew that the actor was the chairman and co-founder of such an impressive organization? Or that he'd been working with the FBI and actively out there in the field, witnessing such horrors? Most would mention That 70's Show or Punk'd as their first association with the name Ashton Kutcher.
With that in mind, I have so much respect for the actor right now that it's unreal. Not only has he helped to raise further awareness of the efforts in ending human trafficking, but he's also done so in a way that has utilized his celebrity without pandering to it. He managed to achieve these results without publicizing his work on a self-gratifying level, and I find that truly refreshing to witness from a celebrity.