This University Actually Thinks Expulsion Is "Too Severe" For Rapists With Good Grades — UPDATE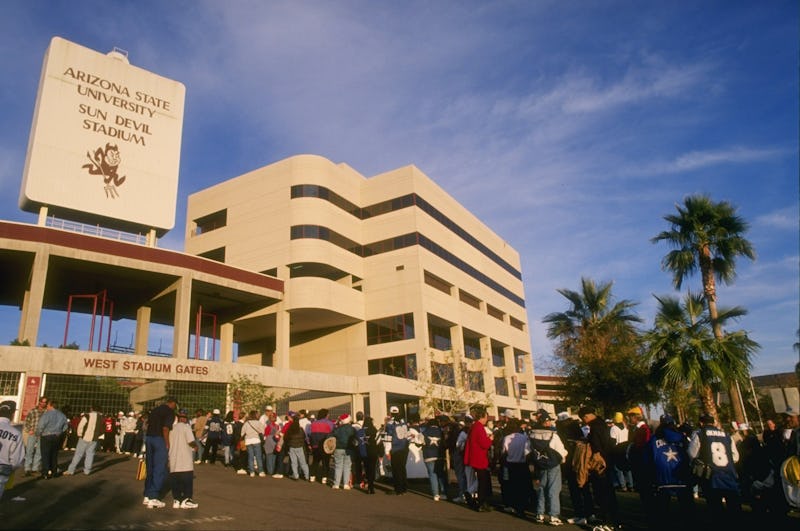 Jamie Squire/Getty Images Sport/Getty Images
A campus sexual assault survivor seeing people defend the man she says assaulted her because he has good grades and talent is an unfortunately all-too-familiar story. But in the case of Arizona State University (ASU) student Brooke Lewis, who was allegedly sexually assaulted in March this year, it almost seemed like the narrative would unfold differently. The university's Title IX team tried to expel Lewis' alleged assailant earlier this year — but he appealed the ruling, and now an ASU hearing board is apparently trying to overturn the expulsion because he carries "a 3.9 grade point average and is considered an essential member of one of ASU's research teams."
UPDATE: A day after this story was published, ASU's senior vice president of educational outreach and student services declined to follow the recommendation of the appeal board and upheld the male student's expulsion. "I do not accept the board majority's rationale for a modification in sanction nor do I accept their recommended alternative sanction," he wrote in a letter to the student. "Violations of the student code of conduct that threaten these conditions, such as sexual misconduct, are among the most serious and warrant a commensurate response."
EARLIER: A statement from the board, which was obtained by Babe.net, grants that Lewis' assaulter acted "in violation of sexual misconduct," which is "an egregious offense." However, it claims that expulsion is "too severe" a punishment. Instead, the board recommended that he receive a two-year suspension and take an awareness course about sexual misconduct. Bustle has reached out to ASU for comment.
Lewis' alleged assault occurred on March 31 of this year, when she says she was too drunk to consent. She told ASU that she had been out drinking for over seven hours at a bar, where she met a man who is referred to in Babe.net's article by the alias "James." They bought each other drinks and headed home together, after which she alleges James "brought her down to the floor by shoving her against a wall and placed his fingers around her neck," saying he "ripped off her clothing and then had sexual intercourse. After attempting to fight back, she passed out."
Lewis claimed that she woke up and was "subdued" and raped by James twice more. James denies the allegations, saying that he stopped trying to have sex with Lewis after she protested. He claims that she then "asked him to resume sexual activity" later in the evening.
While a police investigation into the incident is ongoing, ASU's Title IX force completed its own investigation. The team concluded that an assault had likely occurred and ruled to expel James in August.
According to Babe.net, James claimed that many of Lewis' accusations were "unsubstantiated allegations." He defended himself by writing, in part:
I am an advocate of gender equality, including equal opportunity, equal pay for equal work and access to essential, basic healthcare for women. ... However, as has historically been the case for previously under-represented groups, there is an over-compensation where the pendulum swings too far in the opposite direction and creates another injustice.
He argued that the "injustice," in this case, was that expulsion would prevent him from continuing his work on sustainable engineering with an ASU research team. "We are attempting to invent and implement ways of ensuring we can feed a population of soon to be ten billion on a rapidly degrading planet," he wrote.
The ASU appeal board's recommendation to the university's senior vice president for educational outreach and student services argues for softening James' punishment. Its Nov. 20 letter states that "the majority believes that the sanction of expulsion is too severe," citing his grades, research contributions, and the fact that he is "a significant member of the ASU community."
Following the recommendation, ASU students created a Change.org petition, which had received more than 8,000 signatures (out of a 10,000 goal) at the time that this article was published. The senior vice president has 20 days to decide whether or not to follow the advice of the appeal board, which means that he should make a determination sometime this week.