At Least Eight Trans Women Have Been Killed So Far This Year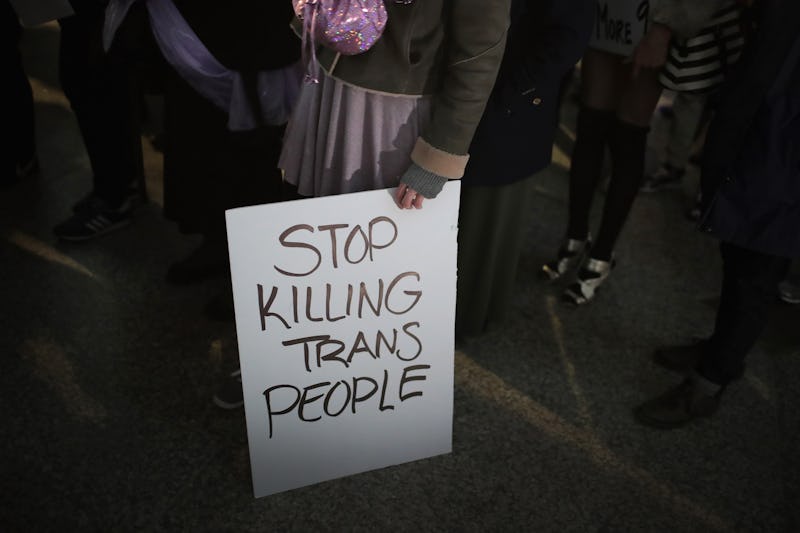 Scott Olson/Getty Images News/Getty Images
Last year was the deadliest on record for transgender people in the United States; GLAAD says that 24 transgender people were reported murdered in 2016, with most of those victims being women of color. And, tragically, 2017 is not looking any better. Eight transgender people have been reported murdered this year, and all of them are women of color.
Alphonza Watson, Jaquarrius Holland, Ciara McElveen, Chyna Doll Dupree, Keke Collier, JoJo Striker, Mesha Caldwell, and Jamie Lee Wounded Arrow all lost their lives to violence this year. Holland, Gibson, and Collier were murdered in one week alone. News of their deaths, their misgendering and deadnaming in media reports, and the Trump administration's attack on trans rights has meant trauma after trauma after trauma for transgender communities nationwide. And the sad reality is, the murders of transgender individuals are likely underreported due to the same widespread transphobia that victimizes them in the first place.
At this time last year, eight transgender people had also already been reported murdered. So, despite the awareness that was raised last year around the epidemic of transphobic violence in the U.S., 2017 is on track to be just as violent and deadly as 2016. That's a sickening and unacceptable premise.
These tragic losses of life are part of the widespread violence that transgender people, and especially transgender women of color, experience daily in this country. The fact that the FBI didn't even start tracking gender identity-based hate incidents until 2013 should give you some idea of how long it has taken for law enforcement agencies to start taking the protection of trans lives seriously. The FBI tracked 118 hate incidents motivated by gender identity bias in 2015, the latest year for which such statistics are available.
So what can be done to prevent violence against transgender individuals and keep 2017 from becoming another deadliest year on record? The New York City Anti-Violence Project (AVP) has a number of recommended action steps for individuals looking to get involved in actively fighting anti-LGBTQ hate violence. The National Center for Transgender Equality is another organization that can help you get involved and keep track of your state's legislation related to transgender rights and discrimination. Much onus falls on government agencies to make sure the law protects transgender rights and lives. Law enforcement must also be held accountable for preventing transphobic hate incidents. Overall, stay informed. The tragic violence that is inflicted on transgender people is only compounded by the fact that so many are unwilling to take notice.