This Recording Of Migrant Moms Begging To Get Their Children Back Will Just Crush You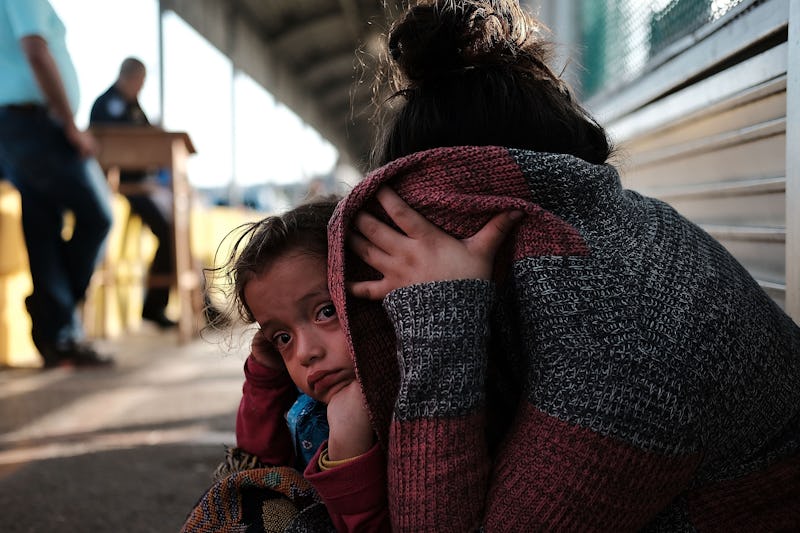 Spencer Platt/Getty Images News/Getty Images
Though the Trump administration's so-called "zero-tolerance" policy on undocumented immigration has been formally reversed, the horrors of the policy are continuing for those affected by it first-hand. In a new soundbite obtained by CNN, separated mothers are heard begging for their children in court.
The mothers featured in the audio clip are reportedly at separate asylum hearings, which CNN reports took place before Judge Robert Powell at the immigration court at the Port Isabel Detention Center. Powell denies asylum claims at an above-average rate, according to CNN. The names of the women on the recording have not been released in order to ensure their safety.
"Your honor, I want to say also that when I had the interview, some questions I did understand and others I did not. At that time I was feeling very desperate because I was separated from my son. My son remained back at the ice box, he was on the floor, and I didn't know anything about my son at that time," one mother says, via an interpreter.
The same woman told Powell that she was requesting asylum because her brother, who she says is affiliated with a gang, threatened to have she and her 7 year-old son killed. Powell declined to grant her asylum, CNN reports.
In audio of a second hearing, Powell asks the woman about her reasons for claiming asylum. According to Powell's questions, the woman said she was raped by a family member back in 2000, and more recently, was nearly robbed by two different people.
"What I want is to be with my son," the woman tells Powell. When he continues to question her, she says, "I cannot continue with this anymore. What I want is to be with my son."
A few seconds later, according to the clip, she simply responds, "I feel really ill."
CNN reports that attorneys asked the judge to grant the woman a new hearing because of "mental instability" induced by being separated from her child. Judge Powell reportedly declined.
The two women represent thousands of families that were torn apart after the Trump administration elected, for a period of time to prosecute every single adult caught illegally crossing the U.S.-Mexico border. The zero-tolerance policy resulted in a massive uptick in immigration-related family separations, because children are not allowed to be kept in jails. Therefore, they were sent to a series of detention centers while the adult family members they crossed the border with awaited judicial proceedings.
The policy resulted in large-scale public protests, and the administration eventually rescinded the zero-tolerance rule. However, even though they formally backtracked, thousands of children remained in custody, and reuniting them with their families has proven to be no simple task.
According to CNN, both women on the audio clip were eventually reunited with their children, and as of Tuesday, have not yet been deported. There is a current moratorium on deporting families that have been reunited, as a related court case plays out, seeking to institute a permanent one-week window between reunification and potential deportation.