Audrina Patridge & Ryan Cabrera Might Be Dating & It's 'The Hills' All Over Again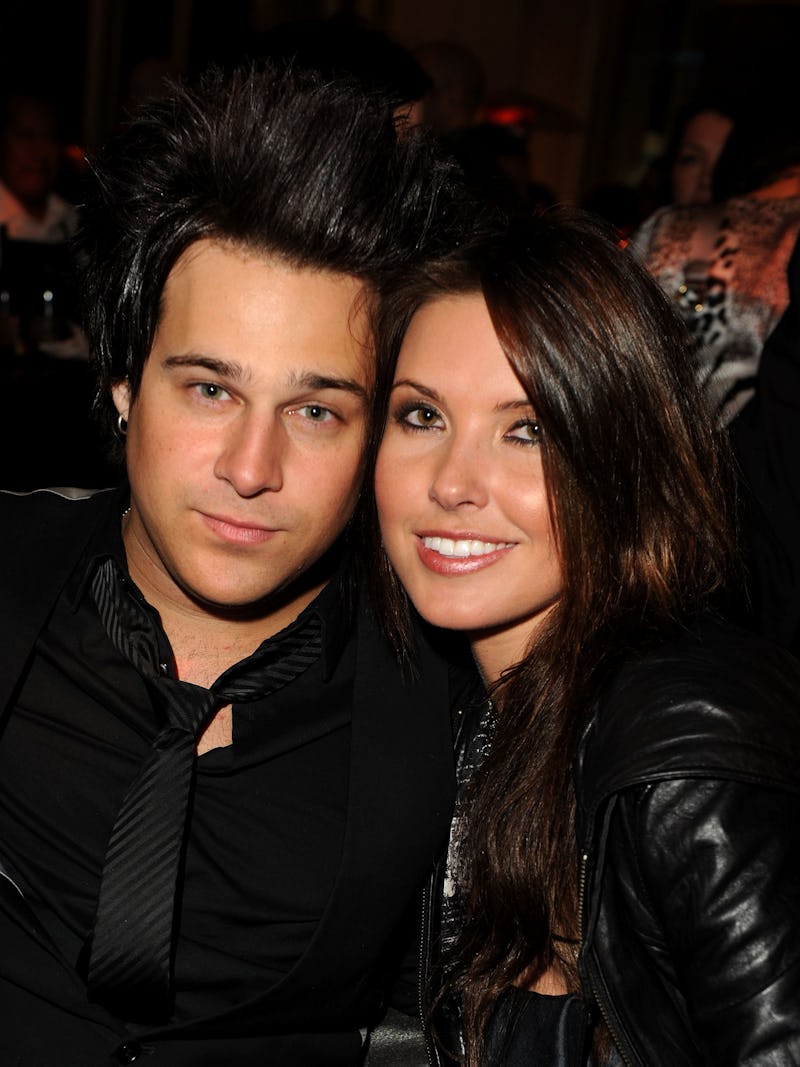 Jason Merritt/Getty Images Entertainment/Getty Images
Fans of The Hills, here's proof the rest really was unwritten. According to People, Audrina Patridge and Ryan Cabrera are dating — again. You read that right. The former reality star and singer have reportedly reunited and are pursuing a romance for the second time. A source said, "They're dating. They've been spending a lot of time together recently and are having a good time." Neither Patridge or Cabrera have commented on the dating reports. Bustle reached out to their reps, but did not receive a response at the time of publication.
They also recently attended the 2018 Stagecoach country music festival together, which is fueling romance rumors even further. Based on photos shared by Us Weekly, it looks like they had fun. They even posed for pictures together at the event held in Indio, California. At one point, they were captured with their arms around each other.
According to E! News, Cabrera shared videos of himself and Patridge "sitting close together on lawn chairs and hanging out with a couple" at Stagecoach on his Instagram story.
A source who reportedly attended the music festival and saw the two, told E!, "They looked like a couple and really happy. Nobody was bothering them and they seemed like any other couple just enjoying the festivities." A different source told the publication, "They are so together. At first they were acting super low-key, not really showing any PDA. But as the party went on they got comfortable and affectionate. He grabbed her butt a couple of times while they were walking."
What has people even more convinced they are truly dating is that Patridge's stylist, according to E!, posted an Instagram story of the two getting hydrating IV drips together on Thursday, April 26. E! News also reported an insider spotted Patridge and Cabrera at a W Hollywood jazz night event in early April. According E!'s source, "She sat with him and they were very close and had their arms around each other. They were holding hands at one point too."
For those unaware, Patridge filed for divorce from her husband, Corey Bohan, citing irreconcilable differences and due to an alleged domestic violence incident in September 2017 after requesting a temporary restraining order against him. Her rep told People at the time of the divorce filing, "Audrina's number one concern is for her daughter [with Bohan] and she asks for privacy at this time." At the time of the report, Bustle reached out to Patridge's rep, but never received a response. Bohan couldn't be reached for comment.
Whether she and the "On the Way Down" singer are or aren't dating, the news definitely brings fans of The Hills back to 2010 when Patridge and Cabrera initially dated in January 2010. Their breakup was even filmed for the hit MTV reality series. In a June 2010 episode (Season 6, Episode 9) titled "Break-Up to Make-Up", Patridge called it quits with Cabrera.
"In my mind, I feel like it's coming to an end," she told Stephanie Pratt, Lo Bosworth, and Kristin Cavallari during the episode, according to the MTV recap. "I made a mental list of pros and cons. It's not going to work." Then, she went over to Cabrera's house and officially broke things off.
According to other reports about their 2010 split, Patridge reportedly didn't like Cabrera's partying ways. "Ryan's a constant partier and that became an issue," a source told Us Weekly in May 2010.
Fans of The Hills are, of course, reacting to the dating rumors. Really, when it comes to any news about the beloved reality series, fans always have something to say.
It Makes You Feel Young Again
Wait, What Year Is It?
Time Travel Is Finally Happening
It's So The Hills
2018 Just Got So Much Better
Fans Need The Truth
Who knows if Patridge and Cabrera will ever comment on the dating rumors, but at least The Hills fans have the reality series to relive their relationship over and over again — and this awkward gif of Cabrera high-fiving Justin Bobby's fist bump:
Oof. What's worse? This or Justin Bobby's combat boots at the beach?